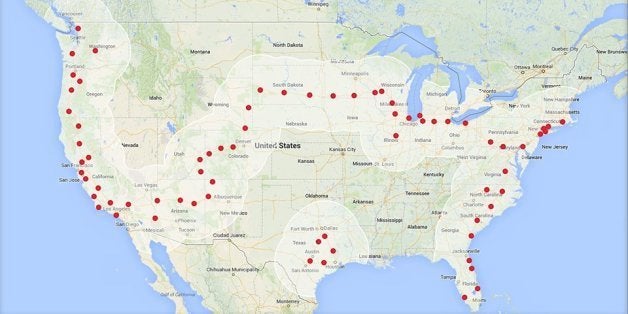 Driving cross-country just got a whole lot easier for some Tesla owners.
Tesla's CEO Elon Musk took to Twitter early Sunday to announce that his company's network of Supercharger quick-charging stations has expanded coast to coast in the United States. This means Tesla Model S owners can now travel from New York City to Los Angeles for free, since the company doesn't charge its customers for the electricity used to recharge their vehicles at these stations.
At least one Tesla Model S owner has taken advantage of the expanded Supercharger network. Wired reports that Model S owner John Glenney left New York on Jan. 20 with his daughter Jill as his co-pilot. The duo arrived in Los Angeles on Jan. 26. Stopping to recharge at 28 Supercharger stations, the two put 3,619 miles on the Tesla during the journey.
It looks like Musk is also going to be doing some traveling in the near future. Shortly after his announcement of the coast-to-coast network, the CEO tweeted that he and his family will make the cross-country trip during spring break.
Calling all HuffPost superfans!
Sign up for membership to become a founding member and help shape HuffPost's next chapter