Featuring the awe-inspiring courage of an abandoned dog named Tessa and the love-filled determination of the woman who saved her, this incredible rescue video is sure to punch you in the heart.
Tessa was dumped at a Los Angeles city shelter by her owners at the beginning of January. In a desperate and malnourished state, the pooch was scheduled to be euthanized within days.
Fortunately, however, the worst didn't happen.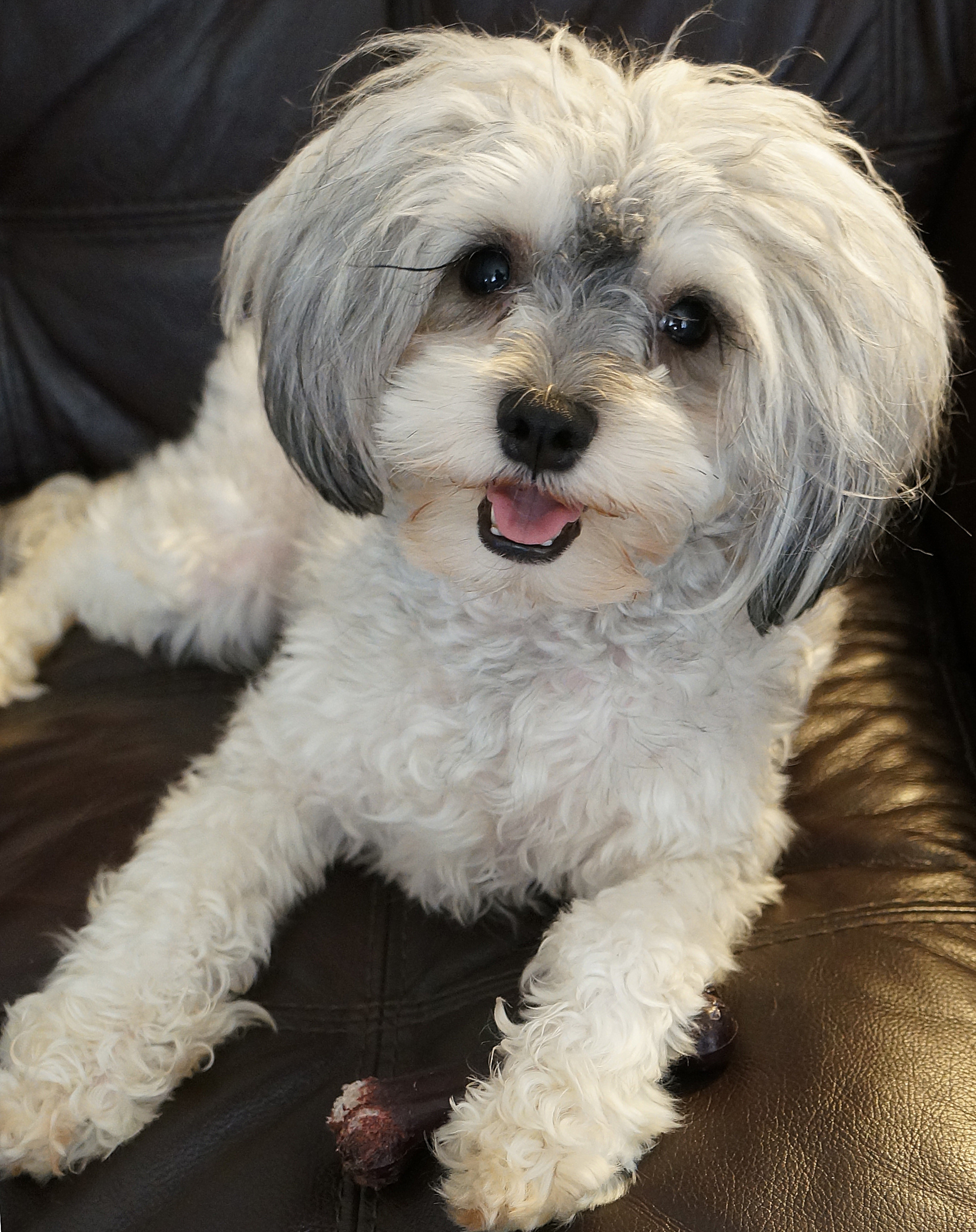 Tessa, seen here in a recent photo. (Photo credit: Annie Hart)
Hart is the executive director of the Bill Foundation, a Beverly Hills-based rescue organization that rehabilitates and finds homes for dogs taken from shelters and from the streets.
In an interview with The Huffington Post on Monday, Hart said that she had gone to save Tessa after hearing about her plight from a shelter worker. Though already expecting to find a broken animal, Hart said that she found Tessa in an even worse state than she had imagined.
"She was really suffering," Hart said.
Over the next few days, Hart, who had decided to take Tessa into her own home during the animal's rehabilitation, brought the pooch to several doctors. After numerous tests, including a scan in an MRI machine, it was finally determined that Tessa had hydrocephalus -- "water on the brain."
Tessa's neurologist speculated that the animal had likely developed the condition in utero and had been asymptomatic until recently. The hydrocephalus had led to Tessa's blindness and had also likely led to her developing vertical nystagmus, a ophthalmological condition that causes her to feel extremely dizzy. These conditions, the doctors said, had likely contributed to Tessa's inability to walk.
"The initial prognosis was very grim," Hart said. "Her doctors agreed that it was very likely a hospice situation."
But Hart refused to give up, deciding instead to put Tessa on a regimen of both Western and Eastern medical treatments, including medication and acupuncture.
Incredibly, Tessa soon showed signs of improvement.
Since then, the dog has stunned everyone in her life as she's beaten the odds to get back on her feet.
"Doctors are in awe. Nobody expected her to make this much progress," Hart said, calling Tessa's recovery "magical." "She was truly a shell of a dog when she first came home with me. It's been like watching a lotus blossom."
Unfortunately, Hart, who says she doesn't have the bandwidth to take Tessa in permanently, has yet to find a perfect new home for the courageous pup. Still, she insists she's hopeful that the right owner will soon come along.
"Tessa just wants to be part of the family. With the right home, she will continue to progress," Hart said. "She's pretty gutsy. I've never met a dog like her -- an animal with such a light spirit, such a willingness to live."
Though many may say that it was Tessa who's benefited most from being rescued by the Bill Foundation, Hart -- who has had her own share of medical problems -- insists that she's the one who's been "blessed" by the meeting.
"I feel I owe her a lot. She taught me a lot," Hart said. "She's a reminder that you can always find a way to live -- no matter what cards you're dealt. There is a way. If she can overcome being abandoned and overcome suddenly being blind and still be so full of joy and life… why can't we?"
Related
Popular in the Community