Betty Thorn, an 84-year-old grandmother who lives in an assisted-living facility in Austin, Texas, has voted in every major election in her life since she became eligible. But Thorn didn't vote this year, her granddaughter says. Thanks to Texas's new voter ID law, considered one of the strictest in the country, she couldn't get the right identification.
Amy Gautreaux, Thorn's granddaughter, told The Huffington Post that Thorn's driver's license had lapsed because she doesn't drive anymore. Gautreaux found time a few days before the election to take Thorn to the driver's license office to get a regular ID, but her proof-of-address documents weren't sufficient. The two asked for an election identification certificate, but Thorn didn't have her birth certificate, so she couldn't get that either. (The Austin North Lamar driver's license office could not be reached for comment.)
"When the voter ID law was announced, I didn't understand the big deal. I figured most people have ID," Gautreaux said. "Now that it's happened to me, I'm devastated. This is what happened to an elderly person who has family to help her. I can only imagine how many don't have any help."
Thorn is one of the hundreds of thousands of Texans whom Justice Ruth Bader Ginsburg predicted might have trouble voting after the Supreme Court ruled that Texas could implement a restrictive voter ID law in this year's midterm elections. The law has strict identification requirements, allowing concealed carry permits and election identification certificates to serve as voting documents, but not out-of-state or student IDs. The Supreme Court didn't rule on whether the law was constitutional, a question that the U.S. Court of Appeals for the Fifth Circuit is now expected to take up.
Whether or not the Texas law is allowed to stand could have major ramifications for voters in the rest of the United States. The Justice Department is challenging the law under Section 2 of the Voting Rights Act, a provision that prohibits governments from passing laws that discriminate against minorities. This is a section that survived after the Supreme Court gutted the law last year. But the Texas case will test how strong this provision is, and could determine how it will be applied to voting laws in other states in the future.
In this week's election, Texas served as a case study for what happens when a state passes voter ID laws without federal permission. In some cases, the law deterred people from going to vote at all.
Brenda Lauw, a 62-year-old great-grandmother and former teacher, has spent almost two decades in Texas, including a 14-year stretch from 1978 to 1992. In the late '70s, she worked on the campaign of famous Texan George H.W. Bush, who was then running for the Republican presidential nomination. But this year, Lauw didn't vote.
Lauw moved back to Texas in 2008 from Louisiana, hoping that her 30 years of experience teaching art and special education would help her find a job. But thanks in part to the financial crisis and subsequent recession, schools weren't hiring. She did find a job at a school, but was later laid off and worked at a call center. She decided to move into an RV to save money. She now lives in her RV in Crystal Beach, Texas, which she said is "cool as heck" because she doesn't have to rely on government housing. But it makes proving her residency difficult.
Though she's now based in Texas, Lauw still has a Louisiana driver's license. She has tried to get one from Texas, but all the documentation she provided to The Huffington Post -- including her teaching certificate and her honorable military discharge from her time in the Army -- is under her married name. Lauw, who is divorced, has her birth certificate but not her marriage and divorce certificates or two proofs-of-residency, all of which she needs in order to get a Texas driver's license.
Lauw didn't bother trying to register or get an election identification certificate for this election, because she was discouraged by the new law and she thought she wouldn't meet the requirements. She was partially right: While a proof of residence isn't needed for the voting card, Lauw would have needed to show a marriage or divorce certificate.
"Isn't that a part of being disenfranchised? Laws so complicated that a college grad can't figure them out," she said. "I shouldn't have to hunt for a 40-year-old document."
Madeleine Pearsall, 61, also ran into trouble with the new law. She moved to Austin, Texas when she was just five weeks old. "I never put my feet down anywhere but Austin," she told The Huffington Post. She's a Democrat, but keeps a framed picture of former President Richard Nixon on her wall because he signed the 26th Amendment as a witness after it was ratified by the states, giving her the right to vote the year she turned 18.
Last month, when Pearsall first tried to vote early, she learned she was unable to do so. She was on a payment plan to pay off parking tickets, and her license had been expired for too long, rendering it unfit under Texas' new law.
"Driving is a privilege, but voting is a right," she said. "I've always been so proud to vote, because I have friends who went to Vietnam and didn't come back, and they couldn't vote."
Last Friday, Pearsall went to a driver's license office on South Interstate 35 to get an election identification certificate. She was told she couldn't get one because she didn't have the right documentation, she said. When she realized she might not be able to vote this year, she raised a fuss. "I didn't cuss, but I'm loud," she told HuffPost.
Officers were called to address the disturbance, the Austin Police Department confirmed. It turned out that Pearsall did still qualify for a regular Texas identification card, which cost money. Pearsall said a trooper offered to help pay for it. The cops "got it," she said, "how wrong this was."
Tom Vinger, a spokesman for the Texas Department of Public Safety, confirmed that a "trooper kindly offered the patron a few dollars," which she ended up not needing because she qualified for the senior $6 rate. So Pearsall got her ID.
But many others were probably not so lucky. Prior to Tuesday's election, critics of the law estimated that up to 750,000 people in Texas wouldn't have sufficient ID and would need to get an election certificate to vote. Yet between June 2013 and the week leading up to Tuesday's midterms, only 371 certificates had been issued, the Houston Chronicle reported.
"The new voter ID laws are ridiculous," said Lauw, who said she has been politically active her whole life. Though she once served as vice president of a local Republican women's club, she now considers herself a liberal.
"Back then, I really was a Republican," Lauw told HuffPost. "But they weren't like they are now."
Before You Go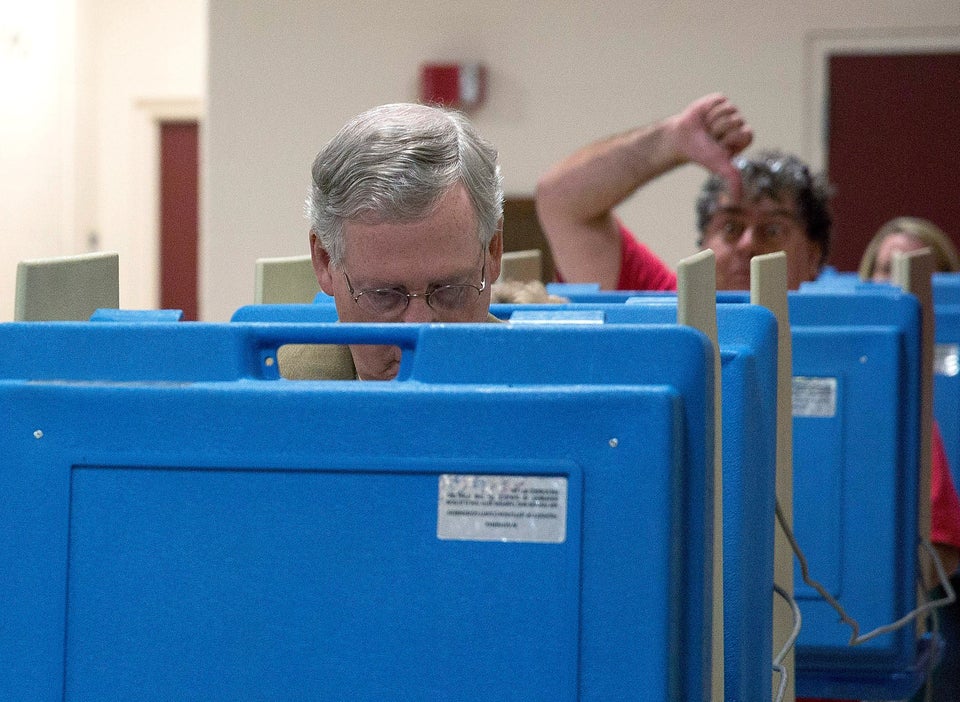 Scenes From Election Day 2014
Popular in the Community