The week of Thanksgiving is in full force here in the United States, so we imagine that many of our readers are currently in the process of preparing for an enormous, multi-course meal surrounded by friends and family of equally rapacious appetites. Who can resist a full day dedicated to gorging yourself on a cornucopia of turkey and its various side dishes, followed by the ritualistic, food-induced coma?
To celebrate this time of festive eating, we've put together a list of the 15 best banquets in art to help you make your Thanksgiving the greatest feast possible. These works of art span the decadent dinners of the Roman Empire to medieval Europe all the way to 20th century America, capturing the day of plenty in all its sumptuous glory.
1. John Currin's "Thanksgiving," 2003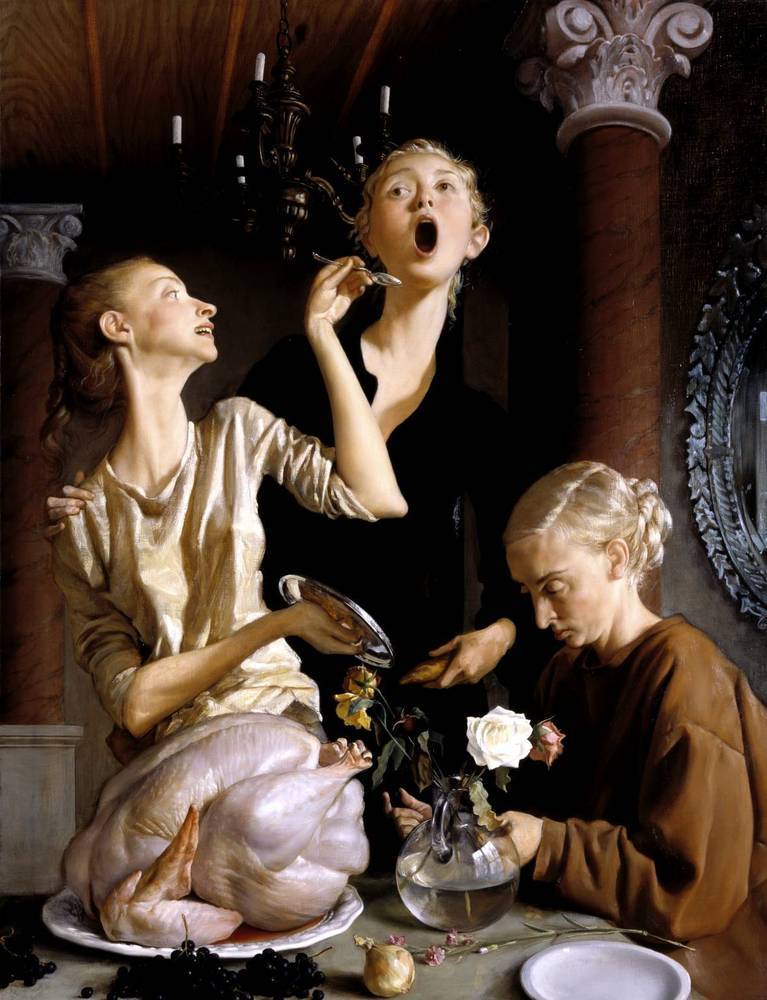 Is this what your Turkey face looks like?
2. Jan Mandijn's "Burlesque Feast," c. 1550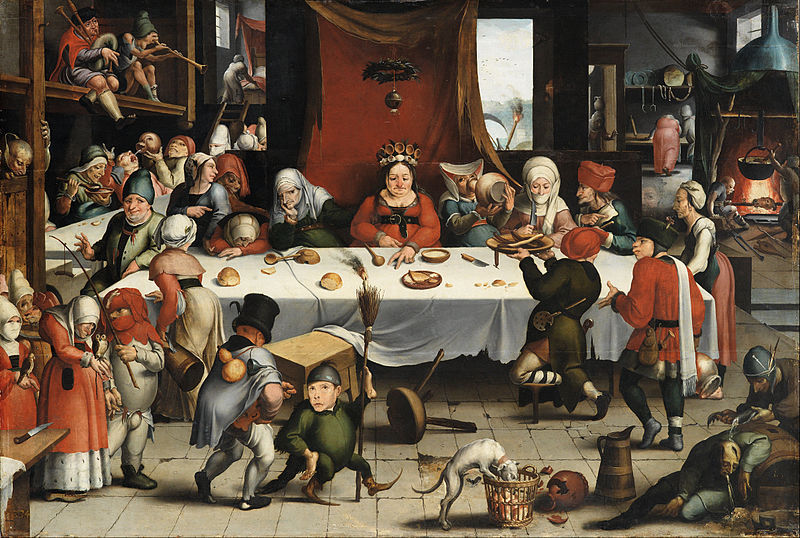 This is like a snapshot straight out of your Thanksgiving family album, right?
3. Norman Rockwell's "Freedom of Want," 1943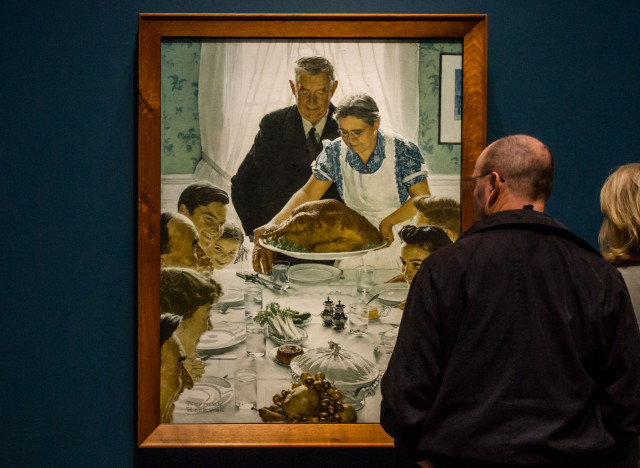 The most iconic of the American feast paintings, don't you think?
4. Jean Leon Gerome Ferris' "The First Thanksgiving," c. 1912-1915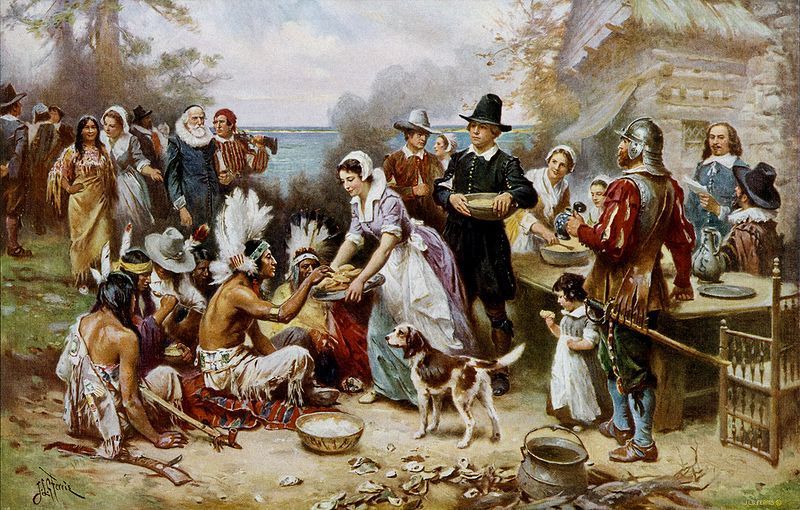 We highly doubt the first Thanksgiving really looked like this, but we'll let you be the judge of that.
5. Diego Velazquez' "The Triumph of Bacchus, or the Drunkards," 1629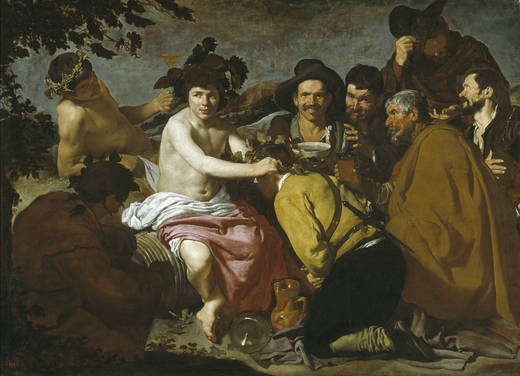 When in Rome.
6. Kent Bellows' "Self-Portrait with Wine Glass (Gluttony)," 2000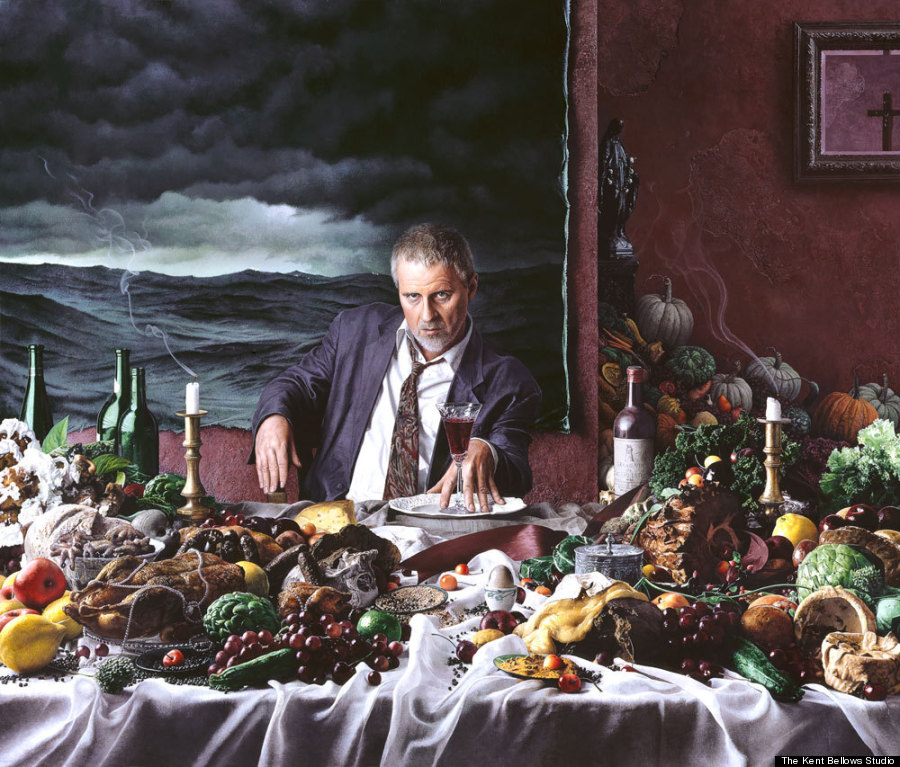 Hands down the most intimidating diner we have ever seen. (Courtesy of The Kent Bellows Studio & Center for Visual Arts)
7. Jan Steen's "The Merry Family," 1668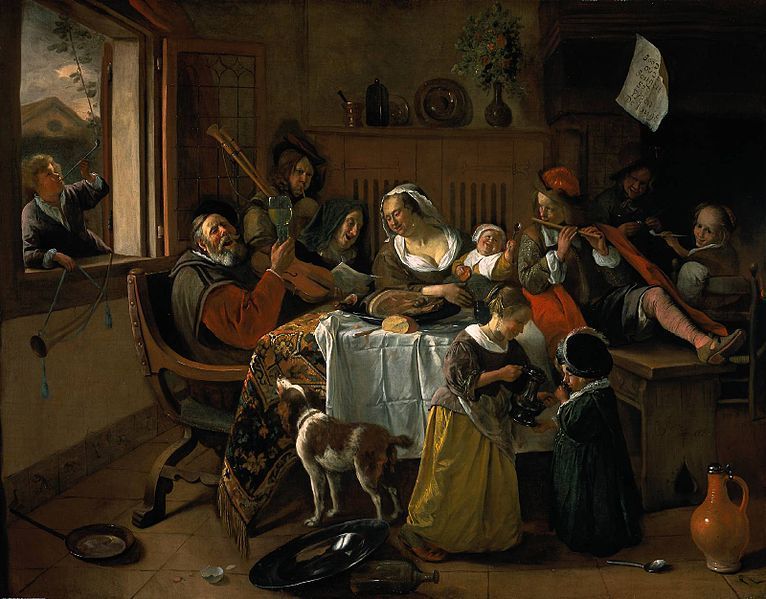 Look, even the infant is getting into the festivities.
8. Doris Lee's "Thanksgiving Dinner," 1935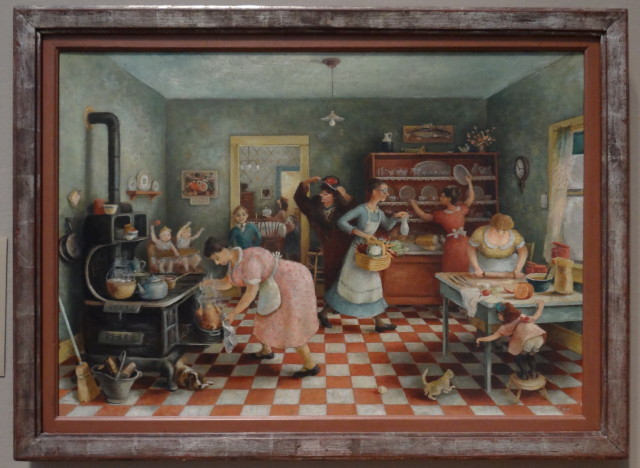 Where are all the male chefs, amiright?
9. William Hogarth's "An Election Entertainment," 1754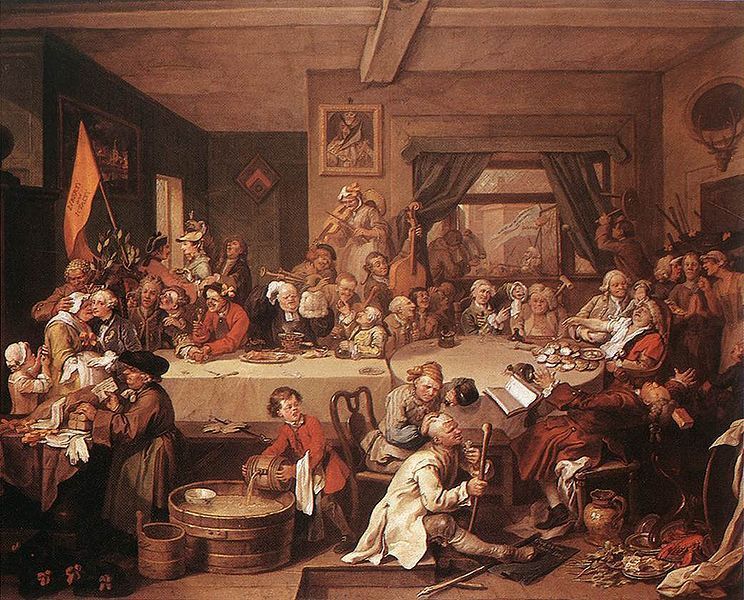 These electoral entertainers really know how to feast.
10. Vincent van Gogh's "The Potato Eaters," 1885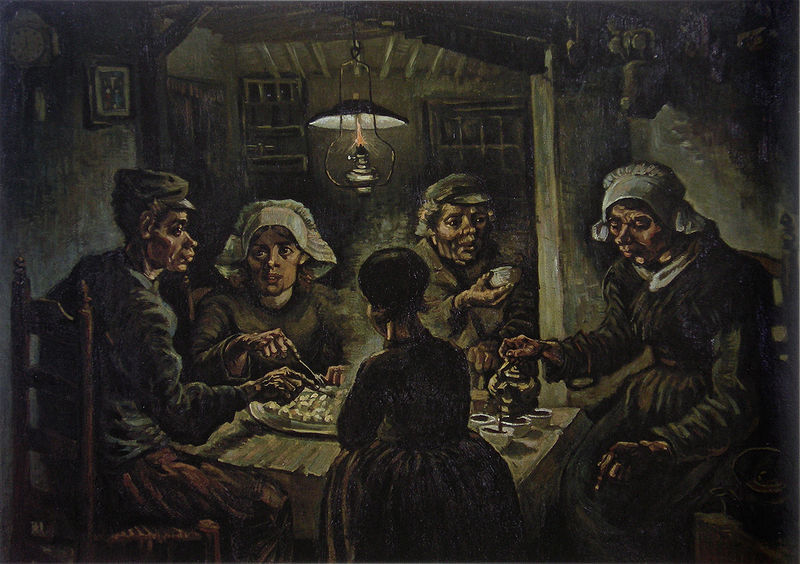 Times were hard, but at least there was tea and starch to be had.
11. Pieter Brueghel the Younger's "Wedding Feast in front of a Farm," c. 1620-1625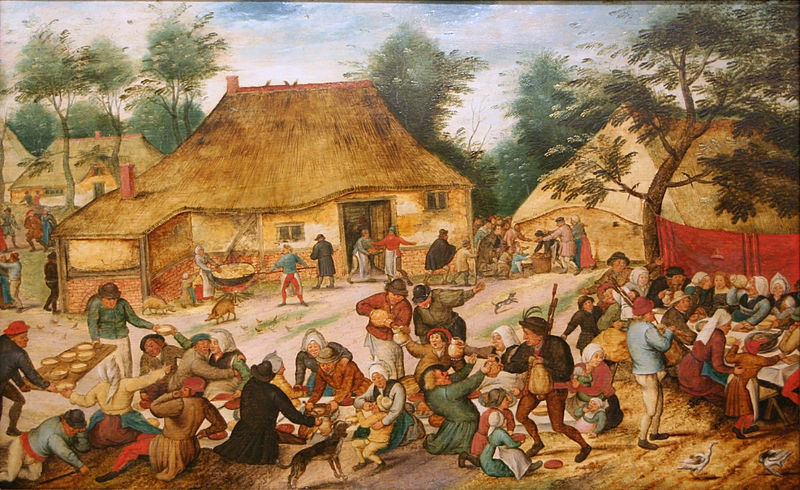 Literally farm-to-table, guys.
12. Jacob Jordaens' "Fest des Bohnenkönigs (Feast of Beans)," c. 1640-1645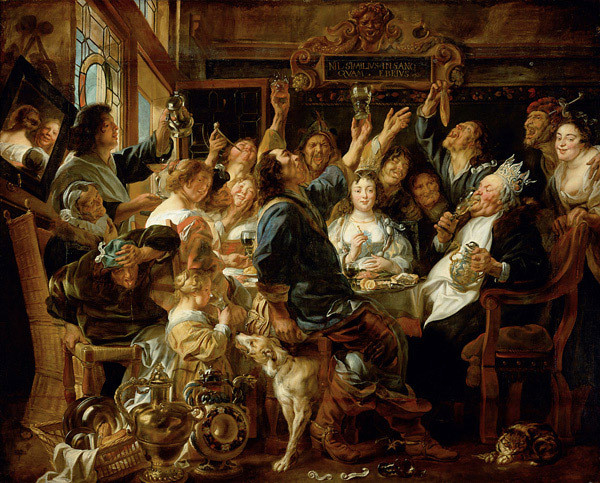 While they're not potatoes, you can't really forget the bean's crucial role in proper dining either.
13. Adriaen Brouwer's "Das Schlachtfest," c. 1630-1640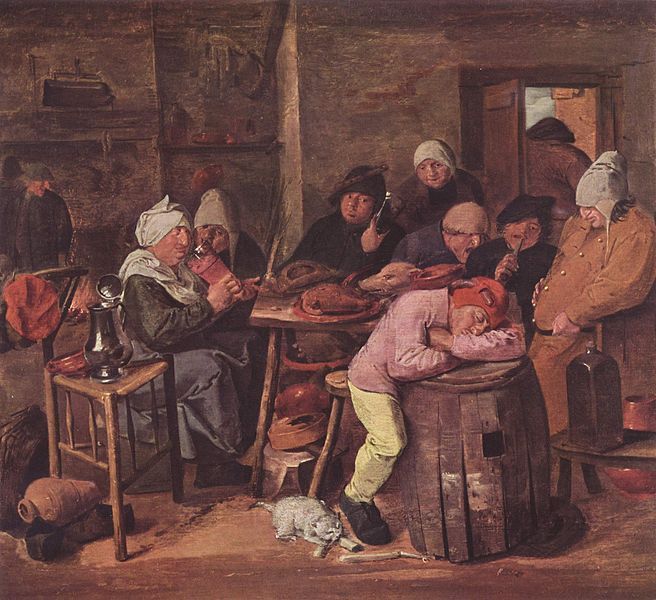 These guys are clearly in the post-eating phase. Hence the many passed out revelers.
14. Leonardo da Vinci's "The Last Supper," 1495-1498)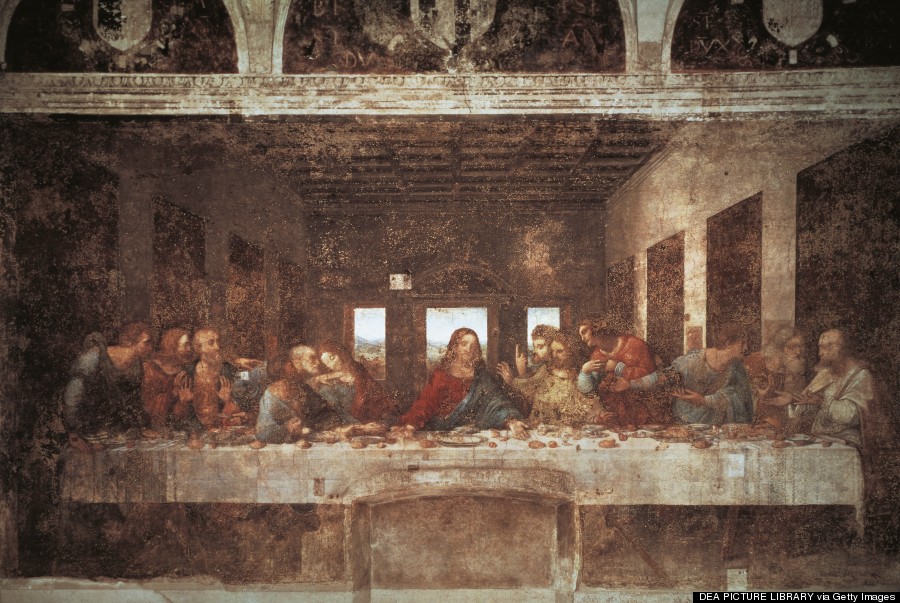 THE feast.
15. Judy Chicago's "The Dinner Party," 1974-1979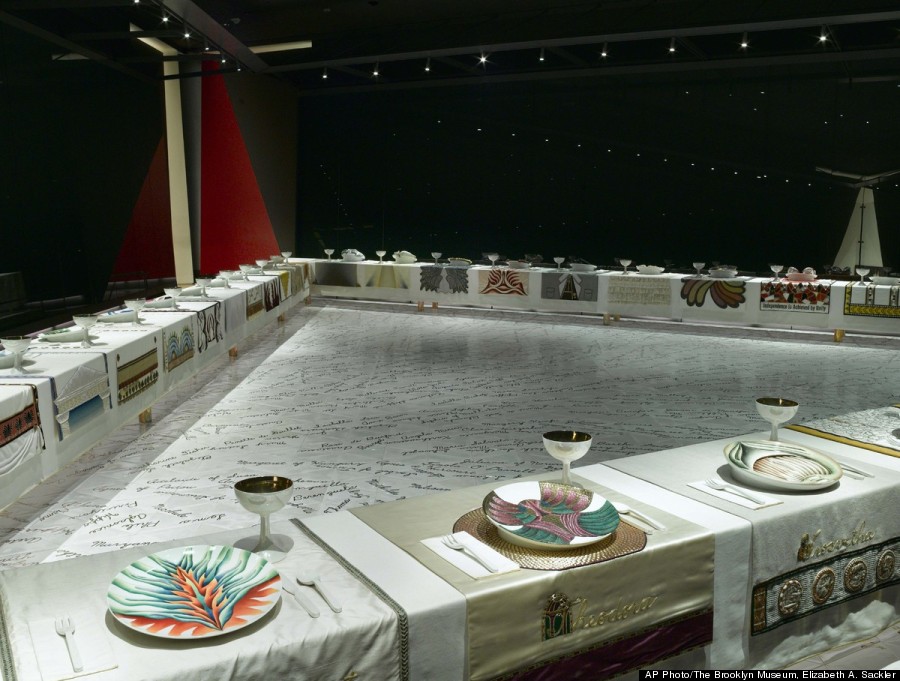 Let's face it. At times you'd rather dine with Virginia Woolf and Georgia O'Keeffe than your weird relatives.
In honor of Thanksgiving, we're featuring an article originally published last year.
Related
Popular in the Community