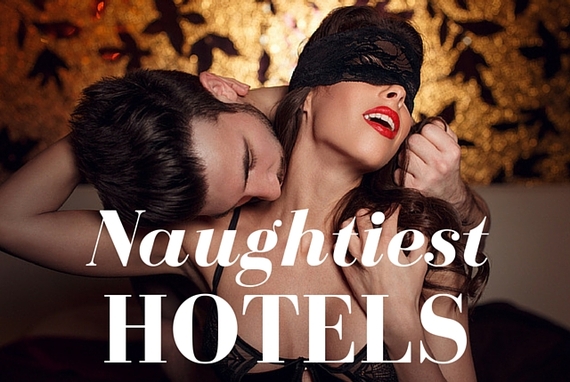 Thanksgiving has passed and you now have less than a month to redeem yourself for your holiday debauchery before Christmas. (Santa saw that you had a few too many glasses of spiked cider, and got into an argument with your uncle over gun control -- again.) We think you stand a chance, but some people -- and hotels, for that matter -- will always wind up on the naughty list; at least the positive is, they rarely seem to care. We might be in need of some redemption as well (after all, we visit every hotel on our site, including these), but to make ourselves feel better, we made a list of the 13 naughtiest hotels in the world. Let's just say, they're definitely getting coal.
If CBS decides to add "CSI Sosua" to its crime show franchise, producers needn't look any further than the New Garden Hotel to shoot the show's iconic sketchy hotel scenes. Conveniently, the network won't even need to supply seedy props, as condoms, cigarettes, and sketchy, single men are already on hand -- not surprisingly, perhaps, since the hotel primarily caters to the sex tourism industry, which is legal in the Dominican Republic. The 40 dank rooms, with their barred windows, moldy ceilings, and mismatched furniture, complete the look, along with two dirty pools.

2. Liberty Inn, New York City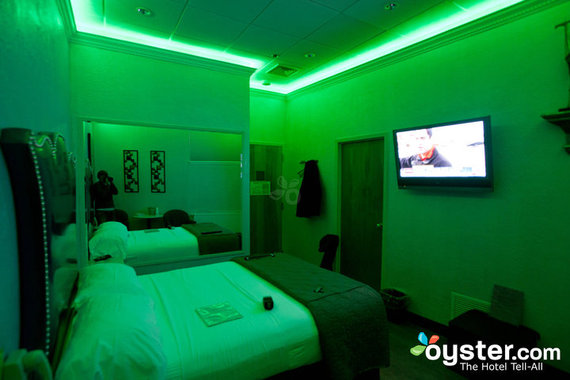 When it comes to hourly-rate hotels, very few are as heavy-handed with sexual overtones as the Liberty Inn. The experience starts with guests selecting their room type, checking in with the man behind bulletproof glass, and walking past the vending machine stocked with condoms and sex toys. It continues with the lewd in-room drink menu, six channels of free porn, romantic mood lighting, and provided "exercise pillows" to help guests...uh...work out. The hotel isn't nearly as flat-out dirty as one might expect, but it's hard to spend time there and leave without feeling slightly violated.

3. Don Juan Beach Resort, Dominican Republic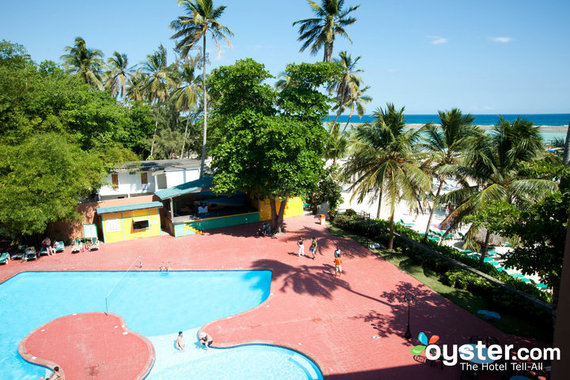 Located in the D.R.'s sex-tourism capital, this resort's trash-strewn beach is frequented by prostitutes, local hecklers, and merchants. Small pools, dark, dingy rooms, disgusting food, and outrageous rates -- Don Juan is about the worst pick in the D.R. Unless, of course, you're in town to participate in the sex tourism industry.
Spice Lanzarote is an adult-only, clothing-optional, mid-range hotel in a quiet part of Puerto del Carmen. This racy all-inclusive draws open-minded heterosexual couples of all ages and nationalities with a large outdoor whirlpool with adult-oriented entertainment, a room for private and group sex games, a spa offering regular and sensual body treatments, and services such as couples' erotic photo shoots. Everything is allowed here as long as it is not offensive to others, and there is a strict "no means no" policy to ensure everyone feels comfortable. Just note that most rooms are worn and have basic amenities.
5. Desire Resort & Spa Riviera Maya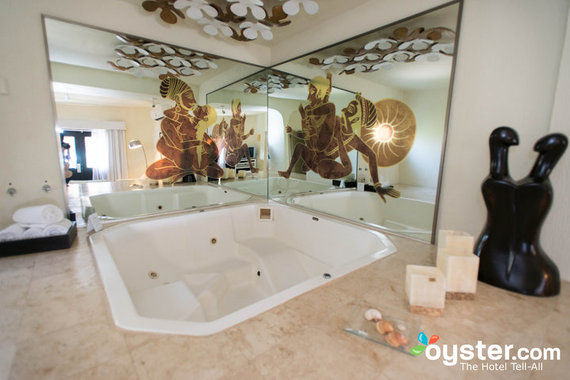 Desire Resort & Spa is an all-inclusive, couples-only, clothing-optional resort that attracts a range of couples, from older married couples to young nudists to swingers. This is a place only for those interested in a raucous vacation (sex is allowed in some public spaces, such as the whirlpool area and the Sin Room) -- but as a four-pearl resort, it offers a wide array of amenities: There is a nice pool and a large whirlpool (both with ocean views), a well-equipped fitness center, a small spa with treatments for two, a nightclub with a stripper pole, and four restaurants. Rooms at Desire are contemporary and well-equipped, but are smaller than those at most other Riviera Maya resorts. They all have spacious bathrooms and naughty decor, such as Kama Sutra-themed artwork.
The Desire Pearl is a couples-only, clothing-optional, all-inclusive resort located on a beautiful white-sand beach right outside quiet Puerto Morelos. It draws a range of young and middle-aged couples (strictly heterosexual) looking for some adult fun in the sun. It is racy, but somewhat quieter and younger than its sister property, the aforementioned Desire Resort & Spa Riviera Maya. Entertainment ranges from foam parties to strippers nights, but sex is only allowed in two public spaces (namely, the whirlpool and the Sin Room, located adjacent to the nightclub).
The Artisan has a dark, artsy vibe with a kinky twist. Paintings and mirrors line the walls and even the ceilings throughout the hotel. There's an eclectic mix of erotic art and reproductions of classics by Van Gogh, Da Vinci, and Rembrandt decorating the common areas and guest rooms. The hotel is aimed towards the sexually adventurous -- some room packages provide extras such as copies of the Kama Sutra and so-called Intimacy Love Kits, while porn stars regularly perform karaoke for guests, and the pool is topless. The opulent and gothic decor includes red velvet and black leather furniture, candlelight, and marble. The 64-room, mid-range property is tiny by Vegas standards, appealing to a niche market as a real party hotel with an erotic edge -- strictly for those 21 and over.
8. Island House, Key West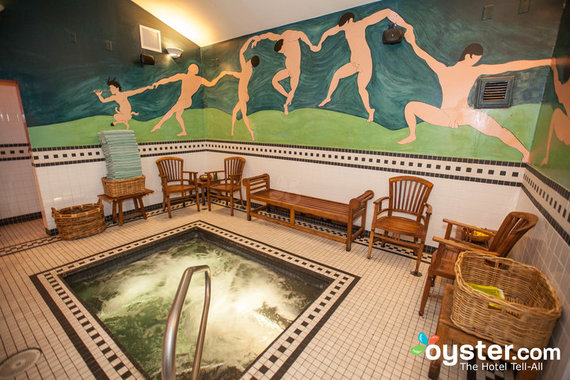 Located in historic Key West, Island House is a 34-room boutique designed exclusively for gay men. There's a medium-sized, outdoor pool with lush foliage, a hot tub, and a clothing-optional policy, as well as an on-site bar open till 4 a.m. that is a popular meeting area for nightlife and socializing. Decor in the spa and various rooms veers towards the erotic, and Island House has a 24-hour erotic video lounge for guests' use. For guests looking to explore, the hotel offers gay nude sailing trips to nearby reefs, gay snorkeling outings, and trips to secluded beaches.

9. Cove Haven Resort, Pocono Mountains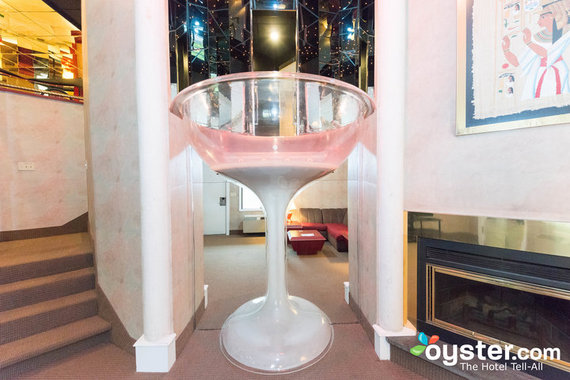 A throwback to the glory days of heart-shaped bathtubs and gaudy theme decor, Cove Haven Resort is a couples-only property stuck in the summer of love. A honeymoon destination since the 1960s, this Poconos getaway has become an American institution whose founder invented the heart-shaped Sweetheart Tub. All rooms have round beds with a copious amount of mirrors, many on the ceilings. Most feature heart-shaped whirlpool tubs with split-level sitting areas that have fireplaces andtube-style TVs, or guests can opt to book a room with a Champagne glass-shaped whirlpool.
Paradise Stream Resort is the most conveniently located of three couples-only resorts in the Poconos region owned by Cove Haven, though it has fewer on-site amenities than its sister properties. It's otherwise similar in terms of its all-suite rooms designed to ignite passion with wood-burning fireplaces and heart-shaped whirlpool baths, and a hand-painted sign outside exclaims, "You Are Entering the Land of Love."

11. Hotel Amour, Paris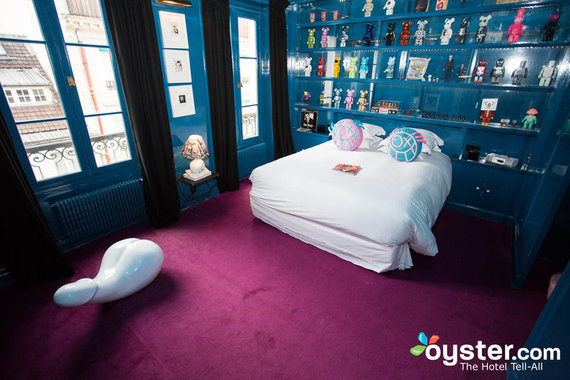 Wait. In the bottom left corner, is that..? Yes, yes it is. In fact, Hotel Amour is replete with phallic and nude-y paraphernalia. The hotel's design was inspired by the Japanese model of love hotels, and the owners have invested a tidy sum of money in developing the concept; for example, they hired the services of well-known fashion designer Chantal Thomass to design certain rooms, like the one shown above, that are sure to get guests in the mood for "amour." Appropriately situated in the heart of the Pigalle quarter, which is known among tourists for its sex shops and adult theaters, the hotel is just a 10-minute walk from the infamous Moulin Rouge.

12. Cypress Cove Nudist Resort, Kissimmee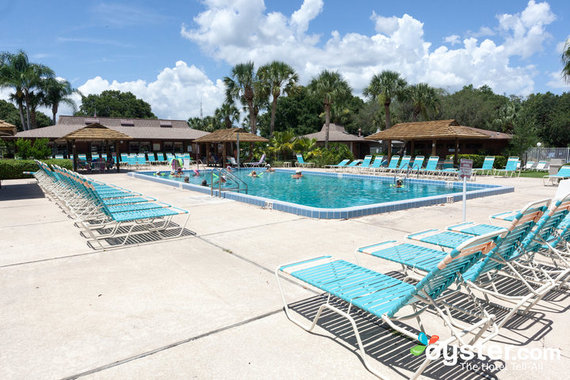 Cypress Cove Nudist Resort is a nudist property after all, but it falls towards the end of our list as it largely caters to families who practice a nudist lifestyle. Open since 1964, there are clearly some parts of the property that could use an update. There are two swimming pools (no swimwear in the pool), and the poolside bar, Cheeks, offers both indoor and outdoor seating on plastic patio furniture. Throughout the year, the hotel hosts special events such as Parrot Head festival, Nude Palooza, family-friendly weekends, luaus, and more. Guests can opt to stay in the hotel rooms and villas, or camp out on the grounds in tents or in their RVs.
13. Bryant Park Hotel, New York City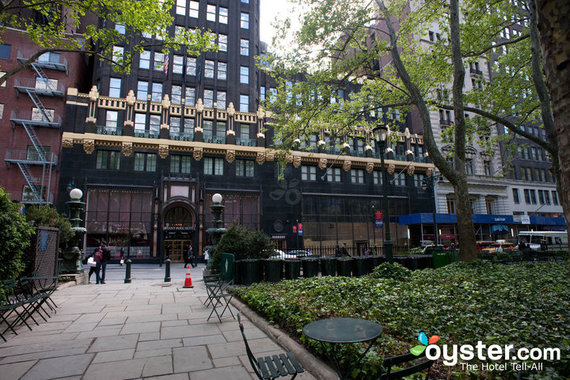 The luxurious Bryant Park Hotel, which overlooks the beautiful Midtown park, has a sex toy menu in every room, with options for couples and singles, so even if you're flying solo, you can still get your kicks. And it looks like some guests certainly have. The hotel once tweeted "One of our guests last night purchased $1,975 from our pleasure chest sex toy menu-WOW." Toys include hand-crafted glass dildos and gold cigar vibrators. The property's Cellar Bar is also a popular spot for debauchery with low lighting, scantily-clad waitresses and dancers, and a rowdy after-work crowd.
Toronto's Drake Hotel also features a sex toy menu with plenty of naughty options.
Every room at Night Hotel New York has a Kama Sutra book in the drawer of the bedside table.
With numerous specialty suites, The Palms Erotic Suite goes all out with a stripper pole and a rotating bed underneath a mirrored ceiling. Typical Vegas.
Popular in the Community