Sometimes you want to head out on a vacation, but you just don't feel like getting on an airplane. Enter, the perfect opportunity to explore traveling in a road trip car that will put you right at ease. For the trip, consider the state of Louisiana offering a smorgasbord of treats and activities with no city in the state as all-encompassing as Lafayette.
It's the home of Cajun culture and the unofficial county seat of "Acadiana" or "Cajun Country." Foodies love it, folks looking for a little outdoor time will find it a worthy destination and, for those looking to discover the local culture, you have definitely turned up in the right place. Take the town by storm in a bright and shiny red Honda Civic and it can't get much better. The Honda is faced with competition by not only the Ford Focus, but also the Mazda 3 and the Hyundai Elantra, but it still stands strong.
Indeed, the Honda Civic can certainly keep up with its competitors and the brand has many loyal fans too. For those car buyers still on the fence, here's some information to whet your knowledge about the Honda Civic in 2014.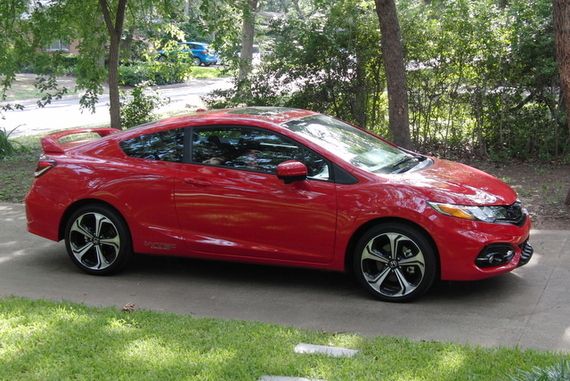 First of all, the Civic has been totally restyled front and back and there are some upgrades in the interior too. On the five-speed, automatic transmission in years past has now been changed to a continuously variable transmission (CVT) and there is also a larger touch screen display in keeping with the times.
The Honda Civic comes as a coupe or sedan and within those two body styles you choose from the LX, EX, EX-L and EX-L Navi or the hybrid versions and one sporty Si. On the sedan there is a fuel-efficient HF, Hybrid and Natural Gas trims that are available and the Civic Si can be had in a coupe or sedan as well.
Cost for the 2014 Honda Civic 2Dr SI Navi price tag is $25,080 and you will get 22 miles per gallon in the city and 31 miles per gallon on the highway with a 1.8-liter four-cylinder engine offering 143 horsepower and 129 pound-feet of torque. You can choose between a five speed, CVT or manual transmission on the Civic LX sedan. On the EX, EX-L and HF sedan the CVT is standard and on the coupe the manual comes standard.
On the Civic Hybrid it's a 1.5-liter gasoline four-cylinder engine and along with the electric motor and lithium-ion battery pack you get 110 horsepower and 127 pound feet of torque with CVT. For the sportier Civic Si the engine is a 2.4-liter that is 205 horsepower and 174 pound feet of torque with a six-speed manual.
In the backseat, leg room stands above par, but even so there is plenty of leg and headroom for all passengers no matter the seat. There is 11.7 cubic feet space for storage and hauling and on the sedan it goes up to 12.5 cubic feet. Of course the hybrids are a bit more cramped with the battery pack taking up a bit more of the room.
Ready for a road trip now, indeed since all together the 2014 Honda Civic is an easy ride and a good reason to head to Lafayette?
Lafayette, Louisiana is known as the heartbeat of Acadiana and it is here you can really feel the pulse of it all. Surprising to some visitors is how the culture in Lafayette blends with a sophistication that is hard to find anywhere this side of Europe.
Lafayette has two village attractions that recreate the early days of Cajun and Creole life in the area. There is Acadian Village, a folk life museum representing 19th-century Acadiana and displaying homes and architectural landmarks from that time. Vermilionville is a living history attraction with a look at life in rural southern Louisiana between 1765 and 1890.
Just outside of Lafayette there are a number of historic homes where docents tell stories of local ghosts and at Chretien Point Plantation you can hear the story of the infamous pirate Jean Lafitte.
Lafayette offers some great choices for spicy food too and there are plenty of restaurants to visit, many with the local delicacies like seafood gumbo, crawfish étouffé and jambalaya.
One favorite Cajun past times is the good, old-fashioned crawfish boil. Considered sacred in these parts and called "mud bugs" or "crawdads," crawfish are served with potatoes, onions and corn or you might also find crawfish served in the local gumbo, bisque, étouffée or jambalaya. Some of the best foodie finds in town include Meche's Donut King where folks line up for the freshest lemon-filled glazed donuts. For slow-smoked barbecue ribs its Johnson's Boucaniere also served with sticky jambalaya or you might have heard of Prejean's Restaurant because since 1980 the chefs have been winning culinary competitions. These days Prejean's holds the record for the most medals captured by any culinary team in the south
The state of Louisiana has been called "Sportsman's Paradise" and there is both freshwater and saltwater fishing to be found whether you opt for the swampy wilderness of the Atchafalaya Basin or the Gulf of Mexico.
It's only a short drive to the 838,000-acre river/swamp ecosystem, Atchafalaya Basin and there are a variety of swamp tours with the most popular being alligator watching all day or just for a few hours.
For bird watching, the area has numerous options like America's Wetland Birding Trail. Landscapes on the trail range from coastal wetlands to hills and prairies. The trail has 115 sites offering a good look at a variety of Louisiana's coastal habitats including fresh and saltwater marshes, cheniers, upland pines, cypress-tupelo swamps, bottomland hardwood forests and open meadows.
Alongside all the excellent food, culture and outdoor activity, Lafayette also boasts a cultural music scene that is as eclectic as anywhere you will find. With jazz to blues to traditional Cajun or Zydeco, there is something for everyone in Lafayette no matter what you want your Cajun country experience to encompass.