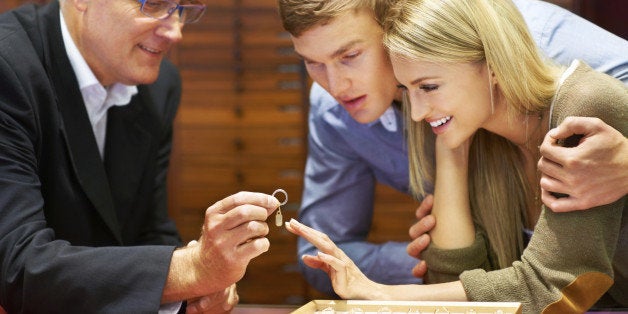 Summer's just around the corner, bringing with it wedding season -- a time of great joy, but also great stress for many couples. Perhaps most daunting of all is choosing an engagement ring. We've consulted with our expert gemologists and jewelry appraisers to compile some helpful tips for navigating the process. Regardless of the ring you decide to buy, understanding its value will help you make an informed financial decision.
Do Your Homework
There's simply no way around it. If you want your search for the ultimate engagement ring to be a positive experience, do your homework. Getting the right ring at a fair value requires extensive research and, most importantly, patience. No matter how much you plan to spend, it is critical to buy a ring from a reliable source with an excellent reputation. Otherwise, you risk overpaying or getting a product with an undisclosed flaw, or a custom design that's not exactly what you had in mind.
There are a number of credible sources from which to purchase a ring, including traditional brick-and-mortar stores as well as online vendors, which are rapidly growing in popularity. Whether you decide to use an online site or a local jeweler, be sure to read the reviews of the vendor you're dealing with to make sure that there are no serious past complaints against them, and that you understand their return policies. Will they return your money, no questions asked, within a reasonable time if you change your mind, or do they only offer store credit? Is there a re-stocking fee? Finally, make sure to leave enough time to have your purchase verified by an independent appraiser.
Quality Doesn't Always Equal Value
Big box stores sell the same quality rings as those offered in brick-and-mortar stores and online websites, and often at a lower cost. While a ring from a high-end retailer often looks identical to a ring from big box store, the difference in price can be significant, saving you a lot of money if having a brand name isn't critical. However, if the resale value of your ring is important to you, then where you buy it matters more. The provenance and collectability of a high-end retailer will make a significant difference in the return on your investment.
Ask for the Grading Report
With the prevalence of various high-tech treatments that can improve the appearance of a diamond, such as laser drilling, fracture filling, and high-pressure high-temperature (HPHT), one of the most important steps you can take when shopping for an engagement ring is to ask for the grading report -- a detailed document grading the quality of the diamond based on several categories, including shape, size, color, and clarity. Just remember that not all reports are created equal and it is very important to ensure you are getting a reliable report that will give you an excellent idea of the quality of the diamond and the fairness of the vendor's price. Two of the more notable organizations that produce grading reports are the Gemological Institute of America and the American Gem Society Laboratory. They invented the grading system used to evaluate diamond quality.
Be Aware of Treatments
Many consumers buy rings marked as "clarity enhanced" without understanding what that means. When diamonds have fractures, or "feathers" as they are called, they often undergo "clarity enhancement" or "fracture-filling" -- a process much like using a filler to make a crack in your windshield less visible. Another treatment, called "laser-drilling," can drill a hole finer than a human hair into the diamond, to reach a dark, unsightly crystal. Then, an acid is introduced through the drill hole to bleach the blemish, making it colorless and invisible to the unaided eye. Enhanced rings can look great, but they are valued at a lower price than untreated, unblemished rings. Enhancements should be clearly labeled on a diamond grading report and on your receipt. Some treatments are stable, while some, like fracture-filling, can be damaged when you have your ring repaired by a jeweler.
Don't Skip the Appraisal
While many stores will offer the buyer an appraisal with the purchase, it is important to seek an outside opinion, that of a professional appraiser. After purchasing a ring, take it to an independent appraiser to obtain an objective opinion to ensure that you paid a fair amount for a ring without major undisclosed flaws. The sooner you get an appraisal, the easier it will be for you to seek a refund or return your ring, if necessary. It's also possible to hire an appraiser before purchasing a ring to walk you through the buying process, help you get a better sense of the market, and give you an idea of the average price for the specific type of diamond you're seeking.
Buying an engagement ring can be incredibly stressful. For many, it is one of the largest purchases they have ever made. The above tips will equip you with the knowledge you need to move through the process with confidence and ease. Regardless of your budget, knowing what a ring is worth is the first step to making an educated decision.
Related