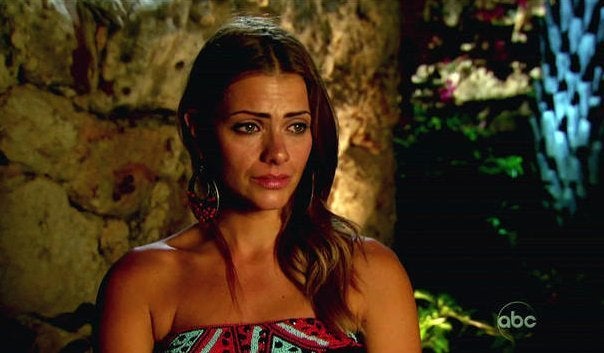 The episode began with Chris Harrison telling the women it would be one of the best weeks of their lives. But there seemed to be an awful lot of drama this week, which made me wonder if (horror or horrors!) Chris Harrison might have been wrong.
The date began with a helicopter ride. (Thanks to Brad's racetrack therapy, Emily seemed to be over her traumatic past and fear of flying.) They flew to a private island, where they had a picnic. Both of them said they were nervous, ostensibly because they like each other. (Or did they fear ABC was launching a reality version of Lost?) They had a heart to heart where they repeated the same things they say to each other every week and then made out.
At dinner, Brad said he wanted to meet Ricky (which is the name of both Emily's live daughter and her dead fiancé in case you were confused). Emily was torn about it and scared because things were becoming "so real." "It's real. It's definitely real," Brad agreed. Then Brad broke the "rules" and told Emily she was getting a hometown date. He said he'd fallen "very very hard" for her and she said she was "the happiest person in the world."
Brad said this date was about seeing Shawntel in "an everyday environment." On a foreign island. As tourists. With a camera crew. Their awkward interactions with the locals made Shawntel realize Brad was a "perfect guy" she "would love to marry". She told him she was falling in love, but Brad wondered if she could compare Emily, with whom he "connected on such a deep level."
At dinner, Brad brought up his daddy issues and felt great that he could talk about them with Shawntel. It started to rain and they made out. Then Brad surprised her with a concert by "probably the most famous singer in Anguilla." Shawntel said being with Brad felt "so right." Then they disrobed, jumped in the water and made out some more.
Britt was happy to finally get a 1 on 1, but worried she was still behind the other women. First, they went cliff jumping and Britt was scared, but eventually she did it and Brad was "so proud of her." Britt told him she wasn't good at showing emotion and he pondered the fact that he didn't have the urge "to just grab her and kiss her."
At dinner on a yacht, Britt thought everything was perfect, but Brad didn't feel a spark. He told her she was "a woman that any guy would be lucky to have." By now, we'd learned this was his break-up line, but like the other No Longer Potential Future Wives before her, Britt mistook it as a compliment. Brad told her that even though there was no rose on the date, he was sending her home because he didn't see a future with her. She asked to stay "to keep discovering if something's there" but he sent her off on a lifeboat. Then she had to go back to the house to pack and have a tearful goodbye with the Still Potential Future Wives.
Group Date of Partial Nudity and Complete Despair
Brad woke up Michelle, Chantal and Ashley at 2am for the start of their date. Ashley and Michelle emerged in sweats and Chantal wore a little red dress, confirming my theory that she is the saddest one of the bunch. They found out they were going to be in a photo shoot for the Sports Illustrated Swimsuit Edition and Chantal was "freaking out" because she felt fat and not sexy. But she apparently got over that because she took topless photos, rolling around in the sand. The more modest Ashley used tactfully placed seashells. Brad noted that watching each woman's shoot other women he was on a date with was "a little bit awkward for everyone involved."
Michelle wouldn't take her top off for the camera, but she would roll around in the sand making out with Brad. Afterward, he thought Michelle had gone "too far," even though there had already been two group dates where the women had to watch Brad make out with other PFWs in front of them.
Then there was a "pool party" (I use this term loosely), where no one was in a partying mood. Brad told Michelle he worried they were "a little too much alike." Chantal told Brad she felt like he was pulling away because he wasn't being affectionate and he told her he was just "showing respect" by being "restrained." (Too soon!) Ashley told Brad she was scared and asked him not to sent her home.
Brad decided to give the rose to Ashley, which delighted her and depressed Chantal who started to sob yet again. Brad consoled her by saying "there's so many things I think about when giving a rose." He told her to tell him she was okay, even though she clearly was not. Brad called the whole experience "the date from hell" and "one of the longest and most brutal days of my entire life."
Chris Harrison Therapy times is back! Now Brad can get advice from a real expert on love, and not some professional therapist. Brad told Chris he yet again wanted to "break the rules" and skip the rose party, because he'd already decided who to send home.

Rose Ceremony
On the dark, ominous beach, Brad told the women what a great guy he was for breaking the rules and not stringing them along. The first rose to went to Emily, the second to Shawntel N., and it came down to was Michelle and Chantal O. Michelle was worried because she hadn't been able to talk to (i.e. manipulate) Brad and Chantal said, "there's so much confusion and turmoil like within myself right now" and cried.
Booted: Britt and Michelle. Before the Rose Ceremony Michelle said "If I go home to night I'm gonna be BLEEP pissed" and pissed she was. When she left, she wouldn't even speak to Brad. In the limo, she lay down, and stared into her Brad-less future, while super-dramatic background music played. For once, she didn't say a word.
REAL LIFE. REAL NEWS. REAL VOICES.
Help us tell more of the stories that matter from voices that too often remain unheard.