Can Good News Revive a City? A new media experiment is underway in Baltimore, Maryland to find out. One goal is to inspire social change by celebrating the city's positive outliers, offering them a microphone and giving them public praise. Another is to introduce the world to Baltimore's eclectic and vibrant cultural scene. Academics, activists, artists, and entrepreneurs are taking on the challenge of creating a better quality of life for an often misunderstood city, and a third goal is to document this renaissance. As it sounded like in Brooklyn, I decided to investigate.
What Weekly Magazine was conceived in the midst of the great media disruption of the 21st Century. The founders provide an alternative narrative to Baltimore's post-industrial collapse as depicted in the popular television series The Wire.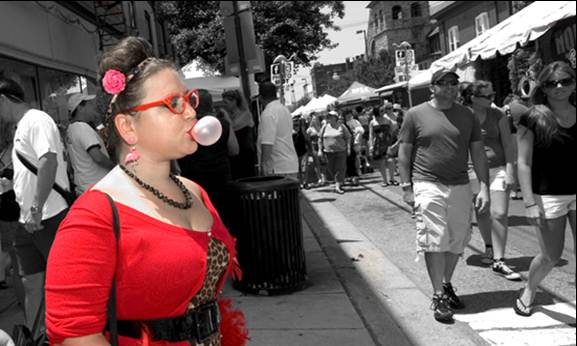 HonFest in Baltimore, Maryland. Photo by Brooke Hall.
By offering only good news, What Weekly rejects mainstream media's mantra: If it bleeds, it leads. When asked about the inspiration for What Weekly, co-founder Brooke Hall told me:
We experienced problems and looked for solutions. Baltimore's reputation seems to hinder the city in so many ways. We wondered if we could use new media to change the perception of a city, instill civic pride, and ultimately encourage healthier lifestyles by celebrating positive behavior. The power of media is enormous. It shapes cultures, sways opinions and provokes behaviors - good and bad.

So, we asked ourselves, what if we could show a different side of Baltimore (the story HBO's The Wire didn't tell)? Is it possible for media, used in right way, to make Baltimore internationally known as a cultural hotspot for artistic and intellectual pursuits? We believe anything is possible. So it became our experiment and What Weekly, our laboratory.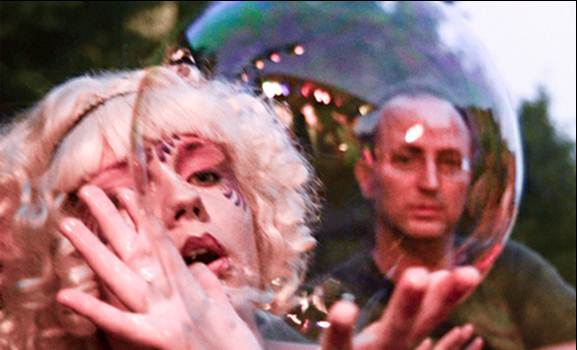 Bubble Fairy Jennifer Stephens at Artscape - American's largest free arts festival.
Photo by Philip Laubner.
Baltimore exists between the cultural (and financial) gravitational pull between New York City and Washington, D.C. The physical landscape is characterized with unoccupied houses and long-neglected warehouses and factories, interspersed with distinct pocket neighborhoods increasingly colonized by small business and cultural entrepreneurs. The city is also home to several world-class institutions such as Johns Hopkins University and Medical Campus, the Maryland Institute College of Art, and the Peabody Conservatory, the second oldest operating music conservatory in the United States. These institutions, and the other 12 universities that call Baltimore home, are both generator and magnet for a lot of human capital. It's a perfect incubator for artists and others searching for low cost living and ample space to innovate.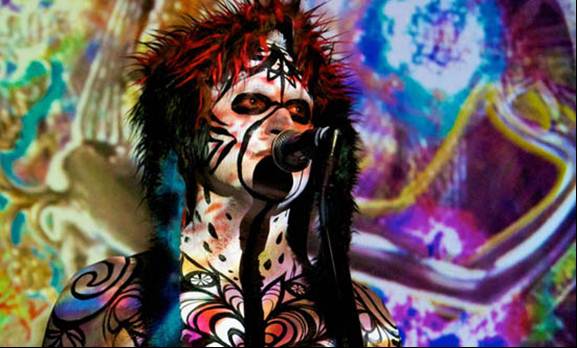 Ian Hesford of Telesma. Photo by Theresa Keil.
"Baltimore is home to a dense population of creative thinkers," remarks Justin Allen, the other co-founder of What Weekly. He continued:
Most of the coffee shops, bars, restaurants, and alley ways, for that matter, double as gallery or performance space." What Weekly's tagline is "Documenting the Baltimore Renaissance," and that renaissance is palpable to those that are living it. The Baltimore scene has a distinct feeling of authenticity, which can be attributed to the fact that it has not been co-opted by corporate glamorization, like New York City, or sewn up tight with politics and money, like D.C.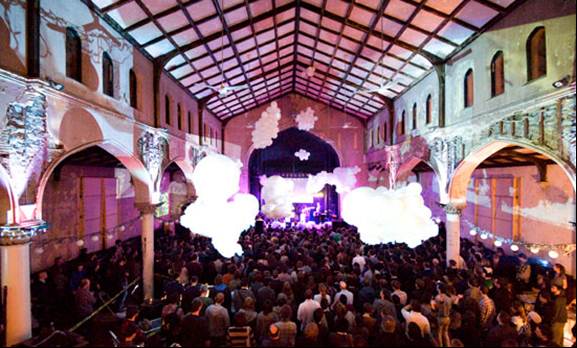 Future Islands and Celebration perform at 2640. Photo by Brooke Hall.
Starbucks and The Gap are not rushing in to fill the void left by 20th Century urban decay but, here, innovators see opportunity. Justin continues, "What's undeniable is that there is a decentralized movement here, and it has manifested, most visibly, in a wondrous creative spirit. Technologists, activists, educators, entrepreneurs, and others are connecting here, and we're re-imagining this city for the better."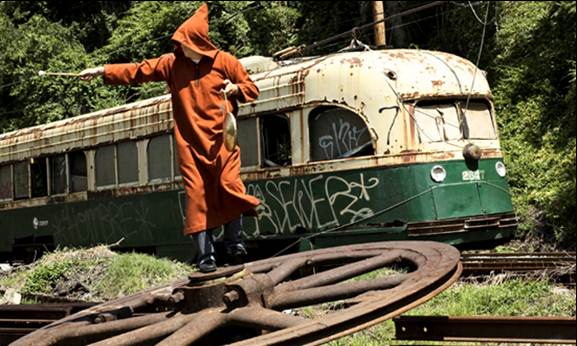 Geodesic Gnome Performance. Photo by Brooke Hall.
Along with cofounders, Brooke Hall and Justin Allen, the creative core of What Weekly consists of long time contributors Philip Laubner, Theresa Keil, Matt Kelley -- and a collective of over 25 volunteer writers and photographers. In February of this year, professional magician David London joined the team as the new managing director, to oversee day to day operations, and add his magic to that already imbued within the publication. While in its mission to "document the renaissance," What Weekly seeks out and reports on arts, culture and local business, it is itself an art project as much as a journalistic one. By eschewing snarkiness, blood-sport criticism, partisanship, and agit-prop, What Weekly is free to celebrate and connect the creative and entrepreneur community while cutting through the sound and fury of Big Media.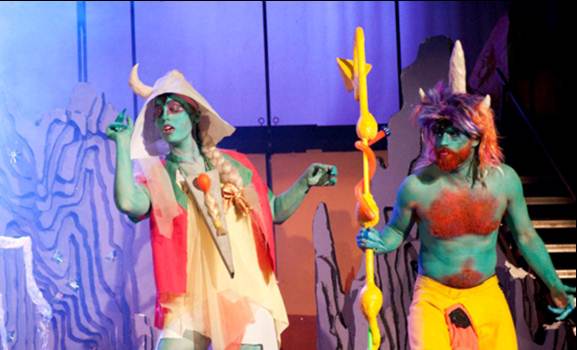 Balto Rock Opera Society. Photo by Brooke Hall.
Consider the example of The Baltimore Rock Opera Society (BROS). Founded in 2007, BROS is the Baltimore answer to Broadway-centric musical theater. Founded by Aran Keating, Dylan Koehler, John DeCampos, Jared Marguiles and Eli Breitberg-Smith, BROS solicit the artistic community to mount exhilarating productions that play renegade to the domesticated mainstream. The group is renovating a theater in downtown Baltimore. This means artists coming together to create authentic work on a large scale. What Weekly functions on a similar social enterprise model. Readers often assume a large and conventionally contracted staff produce the weekly issues, and are astonished to learn that this lean organization is fueled by the photographic, journalistic and editorial output of its founders and dedicated contributors and editors, as a labor of love.
A random sampling of connected artists and contributors includes:
Christopher Schafer, voted Baltimore's Best Taylor two years running, returned to hometown Baltimore after an extensive sartorial vision quest in London. A custom clothier tweaking tradition with real expertise to create a new style is just as Baltimore as The Wire.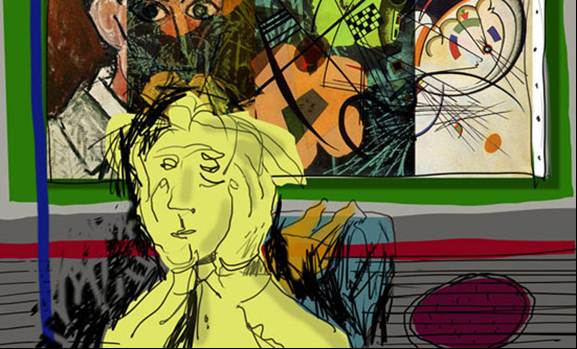 Who We Am photo. Art by Lee Boot.
Contributor Lee Boot, a film/ video professor and director of the Imaging Research Center at the University of Maryland, Baltimore County, has offered terrific insight into culture's place in society in his What Weekly column, "Who We Am."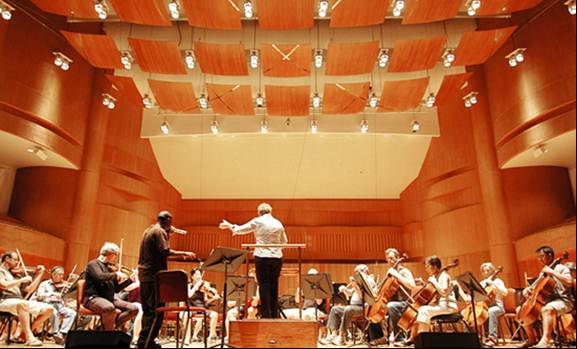 Beatboxer Shodekeh. Photo by Brooke Hall.
Beatboxer Shodekeh is a Baker Artist Award winner and a Baltimore native. He's performing with the Baltimore Symphony Orchestra this summer, just one of many inspired endeavors from this indelible serial-collaborator.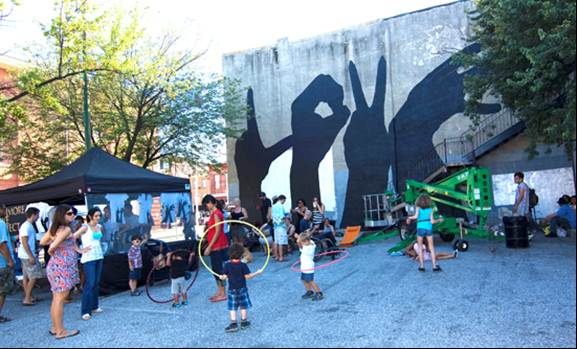 Baltimore Love Project. Photo by Brooke Hall.
Immeasurable creative output flows from The Maryland Institute College of Art and Johns Hopkins University, and the Baltimore Love Project is a case in point. Michael Owen (MICA), creator and lead artist, and Scott Burkholder (JHU), Executive Director, have engineered a unique urban mural project that stresses commonality in disparate parts of the community.
Contributor David Warfield writes about the local film scene in a digressive and idiosyncratic style that seeks to inform filmmakers, as well as film consumers. "We don't need more reviews of Hollywood movies, or news about celebrities. I'm interested in local and regional filmmakers and crafts people and what there existential challenges are. We're in the midst of another "new wave," it's a far more decentralized cinema than that of the past, and Baltimore is part of it."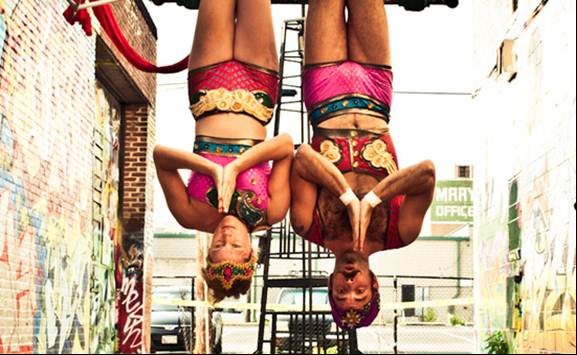 Alley Aerial Festival. Photo by Tedd Henn.
What Weekly covered Education Hack Day, a two-day hackathon conceived by Baltimore developer Mike Brenner. The goal: Invent hi-tech solutions to teacher's real-world problems, really fast. The event was hacker competitive, and held in an inner city school (Digital Harbor High), with teachers present. The idea being that the hackers' work would be better informed by being in the actual environment with the actual people where their design ideas were needed.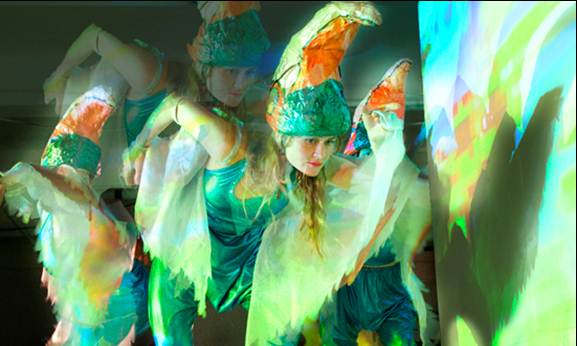 Transmodern Festival. Photo by Brooke Hall.
What Weekly cross-pollinates well with Create Baltimore (which organizers David Troy, J. Buck Jabally, Andrew Hazlett and Scott Burkholder describe as "a gathering of people building creative community in Baltimore"), and also The Creative Alliance, The Maryland Film Festival (led by the dedicated and visionary director Jed Dietz and programmers Eric Hatch and Scott Braids), Transmodern Festival, and D.I.Y. Baltimore artist and history happenings like Rob Brulinski and Alex Wein's The Copycat Project, and many other start-up and ongoing endeavors.
The result is a renaissance not only in colonization and action by the builders of this city's future, but in their ever-increasing connectivity and "offline/online" interactions. The people are there, they are doing great stuff, and What Weekly isn't just talking about it, What Weekly's doing it with them. My maternal grandmother, born in 1886, moved from Baltimore to Boston to marry my grandfather. I grew up hearing about Maryland. I believe What Weekly depicts a city that she would not know. However, as a New Yorker, I am intrigued and want to know more. What Weekly is my window on the eclectic and vibrant cultural scene that is Baltimore.
Justin Allen & Brooke Hall, Global Advisors to The James Jay Dudley Luce Foundation, married the city of Baltimore with the production of What Weekly. They will marry each other in August. Shown here with their dog Gatsby. Photo by RaRah.
See Stories by Jim Luce on:

Brooklyn | Film | Media | Music | New York |
Photography | The Stewardship Report | Theater

The James Jay Dudley Luce Foundation (www.lucefoundation.org) is the umbrella organization under which The International University Center Haiti (Uni Haiti) and Orphans International Worldwide (OIWW) are organized. If supporting young global leadership is important to you, subscribe to J. Luce Foundation updates here.
Popular in the Community