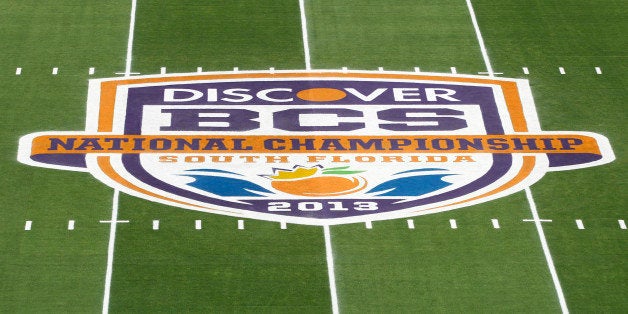 The Bowl Championship Series probably couldn't have picked a better year to call it quits, with an exciting National Championship that saw freshman Heisman Trophy winner Jameis Winston lead his Seminoles to a huge win over SEC champ, Auburn, in a game that went down to the very last second. Now college football gets the facelift we've all been waiting for, so it appears.
Because now, as the BCS morphs into the CFP, or College Football Playoff, everyone gets a fair chance, right?
Cue Lloyd in Dumb and Dumber.
Call me old-fashioned, but I'd like to see every FBS program get a legitimate shot at playing for a national title, and unfortunately, that still won't happen under the new system.
Will we be closer? Yes, but it still won't be enough.
Under the CFP, four teams will be selected to play in two national semifinals, hosted on a rotational basis by six different bowl games: Rose, Sugar, Orange, Cotton, Chick-Fil-A and Fiesta. A CFP committee will then choose the four semifinalists and will provide rankings of their own throughout the season, yet they will be free to choose any four teams they want without being bound to the poll. The champions of the five "power" conferences -- ACC, Big 10, Big 12, SEC and PAC 12 -- will be automatic qualifiers to one of the six aforementioned bowls with a sixth spot guaranteed to a team from the Group of Five conferences, which include the AAC, C-USA, MAC, MWC and Sun Belt.
So while you could say Middle Tennessee State now has a reasonably better shot of playing in a big money bowl game, their prospects of playing in the championship haven't much improved.
Of course, that begs the question, would they even have a team capable of winning it all?
And the answer is we'll never know until the playoffs are expanded. And that's what matters.
The beautiful thing about Division I basketball is that any one of the 351 teams have a chance of winning it all. Who could have ever imagined that a small school like Butler would play in the National Championship game? Who would be insane enough to believe the Bulldogs could do it two years in a row? Well, it happened just a few years ago.
Personally, I'd prefer an eight-team playoff to accommodate all 120 Football Bowl Subdivision teams.
Still acknowledging the strength of the power conferences, whose teams play a more strenuous regular season schedule, the quarterfinals would include the champions of the Big 5 with the "best" team from the Group of Five, chosen by committee, to go along with two at-large bids, where Independents could also receive consideration, also chosen by committee.
If we were to seed the teams this year, and if I was to play the committee in this hypothetical, the quarterfinal matchups would look like this:
(1) Florida State vs. (8) Central Florida*,
(2) Auburn vs. (7) Ohio State,
(3) Alabama vs. (6) Baylor, and
(4) Michigan State vs. (5) Stanford.
I'm not arguing that this would be a perfect system. But I'm making an argument for a feasible and more optimal alternative to what's currently in place.
Of the teams not mentioned above, Oklahoma, who looked dominant in the Sugar Bowl, would have been left out. Does that mean we go to 16 or 32? Not necessarily, although 24 seems to be working pretty well for the FCS.
But the point is that Oklahoma would still have that legit chance, by winning its conference title, and now Utah State, Bowling Green and every other FBS team would so too.
It is hard for me to see a scenario where a Group of Five team gets one of the four semifinal spots in the current system. At the minimal, that team would not only have to go undefeated but would also have to play a non-conference schedule that would rival any in the country.
First of all, it's nearly impossible for a Group of Five school to schedule four to five power conference schools in one season, which it would have to do -- and secondly, even if that team could get that kind of schedule and win every one of those games, there would still be clamoring for a one-loss team from a power conference to get the invite, and probably would, mainly for reasons political.
This year alone we ended up with four one-loss power conference teams. If we had the four-team playoff this year, and if Central Florida was able to beat South Carolina early in the season to finish without a single blemish on their record, would the Knights honestly get in over Michigan State, Stanford, Ohio or Baylor, assuming Alabama, Auburn and obviously undefeated Florida State get the other three spots? And this might not even be a fair assumption to make, considering UCF played in a league that was technically a BCS conference this year, although it won't be a CFP AQ conference next year.
Furthermore, it is my impression that in the fervor to win as many television markets as possible, the five power conferences will slim down by one, which would be the "perfect" number for a four-team playoff. But this is for another blog.
Unless the NCAA decides to reclassify Division I, such as a IA for the power conferences, IAA for the Group of Five and IAAA for the FCS schools, I don't see how a Group of Five school could ever play for a national championship.
Calling all HuffPost superfans!
Sign up for membership to become a founding member and help shape HuffPost's next chapter