Katmai National Park and Preserve in Alaska was established to protect the Valley of The Ten Thousand Smokes, the site of the world's largest volcanic eruption occurring during the 20th century. The reason that most people visit Katmai, is to see bears.
The best-known bear viewing spot in Katmai (and probably the world) is at Brooks Falls, where coastal brown bears paw sockeye salmon from the river as the fish end their yearly run en route to their spawning grounds in the Brooks River. You've probably seen the iconic pictures and/or bear cams that illustrate the scene. That we as humans are able to experience this activity live on video and in person is one of our great fortunes as a collective people--to be able to see bears thriving in their natural habitat is an experience like none other.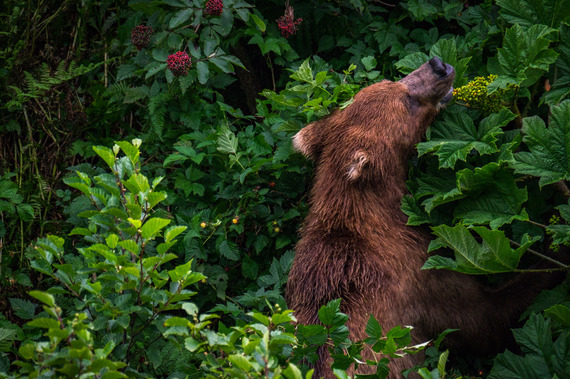 A full grown sow feeds on berries. Photo credit: Jonathan Irish
While Brooks Falls is undoubtedly a remarkable place to view brown bears in action, the remaining 4-million acre expanse of the Katmai wilderness allows us to experience the habitat extending far and wide beyond the most popular viewing center. At the Katmai Wilderness Lodge on the Shelikof Strait, we sought out a more immersive experience away from the tourist fray. There we teamed up with two of the most experienced bear naturalists in the area and a small band of other travelers. From the moment we touched down by float plane, we were in the throes of witnessing bear activity on coastal waters and in inland fields, learning from the start about their behaviors in both environments. Each evening after a day in the field, we hung up our muck boots and exchanged stories about what each of us saw during a day in the life of what is arguably the most treasured of all American wildlife.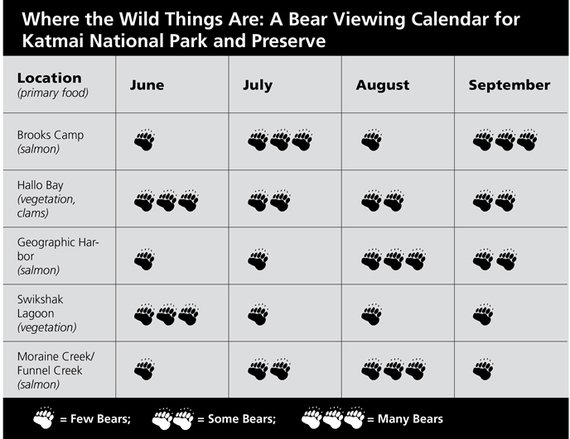 Time to plan 2017 travel! Here is a bear viewing calendar for Katmai during 2016 to help guide you to your accommodations. Graphic credit: National Park Service
When to go: June, July, and August is prime time for bear viewing in Katmai--this is during the annual salmon run when bears are most active and when weather is at its best. Shoulder season (early June and September) is a great alternative to bypass some of the crowds and find cheaper prices.
What to do and see: In Katmai, bear viewing is the star of the show, but that's just the start. You'll find upon arriving that the environment, the habitat--the context--is equally compelling. Other wildlife viewing opportunities will fill your days in the moments that are bear free, as you are also in the habitat of moose, red fox, the rare "cross fox", sea otters, seals, bald eagles, puffins, and other birdlife and coastal wildlife. Katmai is also an important habitat for salmon--whether you are trying to spot them jumping into a bear's mouth from the water or pull them up on a line, they will in one way or another become part of your exploration of Katmai.
As we mentioned in the intro, the parkland was established to preserve the unique natural landscape, one that invites adventurers to hike and camp in the backcountry, document sights through photography, learn about wildlife from impassioned naturalists, and to drop a line with sport fisherman who fly in from around the globe to hook a fish in the abundant waters. And if that isn't enough, kayaking the coastline, soaring above the wilderness on a flightseeing tour, and conversing with fascinating locals is ripe for the grab. In our experience visiting each of Alaska's national parks, Katmai offers the most inclusive gathering of the best the state has to offer.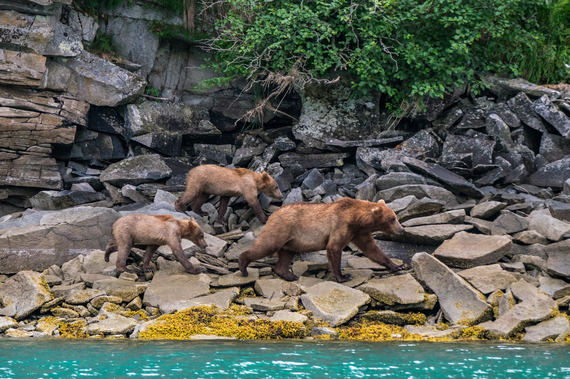 A coastal brown bear sow (mama) and her cubs navigate the beaches in search of shellfish to feast on before hibernation. Photo credit: Jonathan Irish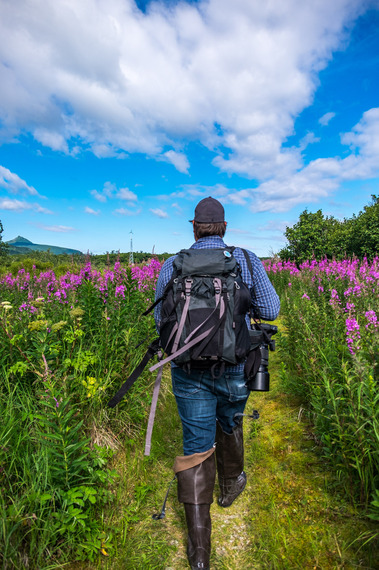 Jonathan Irish hikes through vibrant fireweed on his way to the boat at the Katmai Wilderness Lodge on the Shelikof Straight. Photo credit: Stefanie Payne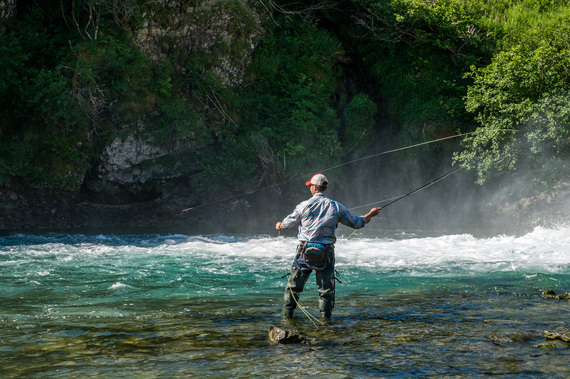 Our new pal Brenden casts a line into the bountiful river and pulls up a salmon within minutes! Photo credit: Jonathan Irish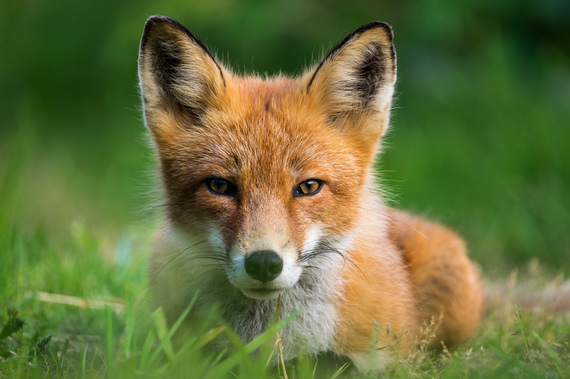 Face to face with a red fox. This fox enjoys the Katmai Wilderness Lodge as sort of a sanctuary -- near people and away from predatory bears. This isn't a "socialized" fox, he just happened to spend a good deal of time with us during cocktail hour after a day of bear exploration in the field. Photo credit: Jonathan Irish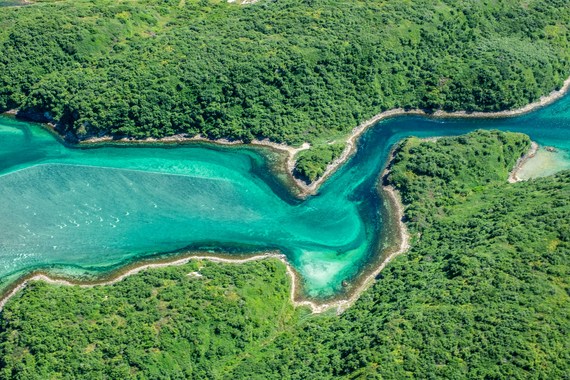 Katmai from the air (as captured on a flight with Andrews Airways) is so beautiful, that it inspired a full gallery of the mesmerizing landscape that we were fortunate to see on our many bush flights in Alaska. Stay tuned, we'll unveil it at the end of our Alaska park lineup! Photo credit: Jonathan Irish
Where to stay in Katmai:
Katmai Wilderness Lodge: We spent the majority of our time exploring park #32 at the Katmai Wilderness Lodge, managed and operated by Angela and Perry Mollan who met and married at Brooks Falls more than 20 years ago. By their side is Chris, a relative newcomer to the operation who is rich with captaining skills. Through their collective experience, guests are exposed to a wealth of knowledge of bears in the area and can rest assured that they are getting close to wildlife in a way that is safe for all parties. They know when, where, and how to find coastal brown bears, marine animals, birdlife, fox, as well as the elusive "cross fox"--a fox with a mutated gene that is charcoal-colored with white speckles. In the chef's kitchen in the communal lodge is where you'll find Roger, a master of flavor who served up some of the best meals we've eaten this year. And after long days, we found rest in individual cabins that overlooked the bay on the Shelikof Straight. The lodge is very popular and books out well in advance, as it should... between the good people, bear expertise, sighting possibilities, safety, and the serene coastal environs where it is all located, guests are in for a more intimate experience than what can be found at the very popular lodge at Brooks Falls.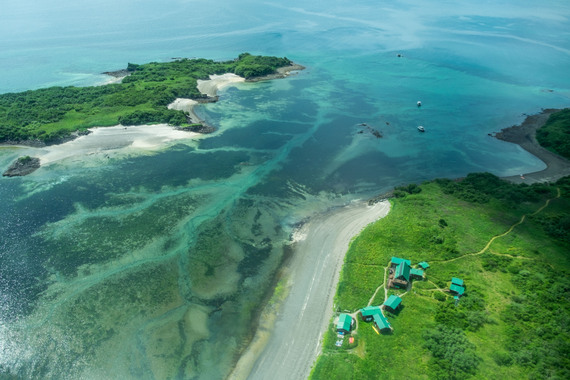 The Katmai Wilderness Lodge as seen from the air on our descent into the secluded area of the Shelikof Straight. One of our favorite things about the wilderness lodge (and why we chose it to serve as our basecamp) is that there was nobody around except for the team who runs it, us, and small group of people also staying there--with whom we became fast friends. As you can see, the accommodations are right on the water, it is freakishly beautiful in every direction, and the property only has a few cabins allowing guests to experience Katmai in a more intimate way.Photo credit: Stefanie Payne
Brooks Lodge at Brooks Falls: Location can't get any better than the Brooks Lodge located next to the famed bear viewing spot at Brooks Falls. It books up well in advance and it is pricey (nearly everything is in Alaska,) ...but if you are going to visit, you might as well adopt the mentality "when will I ever be here again?! I might as well do it right." Especially, when you know what you will see while there. In the Brooks River and at the falls, brown bears congregate to fish sockeye salmon swimming up river as they complete their annual run. The sight is surreal: bears standing in the river, thousands of fish jumping upstream, and seagulls intent on savoring the byproduct of the catch. It is a vision that is completely alive and wild, and worth every penny in our opinion.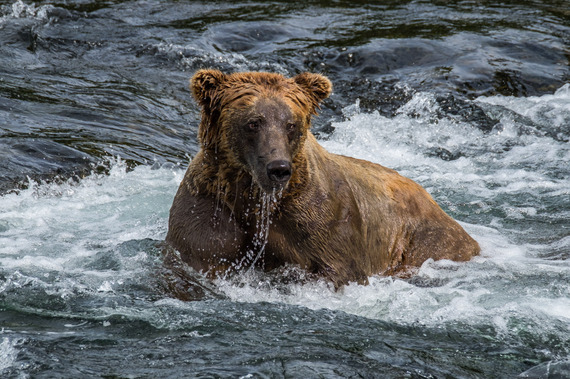 Visions from Brooks Falls, just a short walk on the property from the Brooks Lodge. This is without a doubt the most busy place to stay in Katmai, so save up and book well in advance! Photo credit: Jonathan Irish
How to get around: You cannot drive a motor vehicle to or around Katmai National Park and Preserve--isn't that wonderful? Most transit is done on a float plane, (also known as a seaplane) that lands upon the water at popular destinations; and most travel once you have reached your destination is done by boat. To get to and from the Katmai Wilderness Lodge, we traveled with Andrew Airways from Kodiak Island (where we flew to from Anchorage.) Not only are their captains some of the best in the business--and in Alaska, bush plane air travel is a really big business--but they have stories about goings-on in this area of Alaska that will make your jaw drop even harder than the brilliant aerial scenery you are seeing from the windows of their vintage planes. Flying in Dehavilland and Turbine Beavers, Cessna 206, and Piper Saratogas (some specific call-outs for all of you aero-aficionados out there!) you will be experiencing Alaska by air in a very special way. Perhaps the coolest part is your low-to-the-ground vantage point, allowing for views (and photographs) of wildlife and the landscape from a unique and beautiful perspective.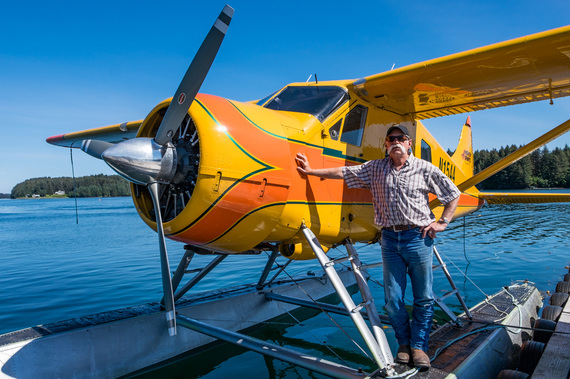 Our bush pilot Willy Fulton from Andrew Airways--one of the most experienced in the business. You might recognize him from the Werner Herzog documentary film "Grizzly Man" which documents the life of Timothy Treadwell's experiences in Katmai. Willy was one of the regular resuppliers to the area where Timothy Treadwell, AKA "Grizzly Man," lived and filmed. Sadly, he was also the one to find the remains of his friend in 2003. Photo credit: Jonathan Irish