Though pockets of it are still holding strong, most of Brooklyn has been swept by a sea of trilby-wearing millennials with waxed beards, who just wanna give back to the neighborhood with an artisanal dog treat shop, you know? But the New York borough is far from the only gentrified hotspot in America. We rounded up the most Brooklyn 'hood in every single state, based on metrics including trendy restaurants, "craft" cocktail bars, bike friendliness, and, of course, urban expansion. By the time you finish reading the list, they probably won't be cool anymore, so hurry up:
Alabama
Avondale (Birmingham)
Occupancy in this Birmingham 'hood shot from 25% to 75% in just four years as more and more young people discovered its potential. As Fast Company points out, Avondale benefited from a $3 million park renovation and brand-new brewery, both of which opened in October 2011. SAW's Soul Kitchen and grilled cheese food truck-turned-restaurant MELT helped pad out the place's reputation, which is sure to build even higher when the Hotbox dudes' brick-and-mortar spot, The Wooden Goat, opens its doors.
Alaska
Spenard (Anchorage)
Anchorage is still a fairly "new" city in some respects, since a devastating 1964 earthquake took out much of the town. That means it's had less time to hone the indie sectors, but Spenard has still managed. The place used to be way seedier (think ladies-of-the-night seedy), but the area's amassed spots like Tap Root (bar with Mason jar ganache on the menu), Middle Way Cafe (coffee shop with tons of local art), and Title Wave Books (used bookstore that's also the largest book shop in the state) in the ensuing years.
Arizona
Pie Allen (Tucson)
You'd expect a college town like Tucson to cater to the young, artsy coeds. But you might not be prepared for just how far the Pie Allen neighborhood (named for a famous local baker) is willing to go. First there's the Food Conspiracy Co-op, whose selection of bulk herbs and homeopathic remedies would make Whole Foods blush. Two doors down is another herbs depot and across the street you'll find Antigone Books, a 100% solar-powered indie bookstore. Keep moving up N 4th Avenue and you'll hit an espresso shop, a vintage clothing store, a tattoo parlor, a recycled art shop, and even one of the best-named bars in America (the Surly Wench Pub). Just to be clear, this is all on one block.
Arkansas
Argenta (Little Rock)
Coffee and comedy are both hugely popular in Brooklyn, and you can get both in the same place in Argenta: The Joint. It serves artisan roasted coffee during the day, and stand-up and improv at night. If that's not your speed, there's always Mugs for even more craft coffee. It's right down the street from Reno's Argenta Cafe, a neighborhood staple that's been satisfying Arkansas with sandwiches, wraps, and pizza for 10 years. The 'hood's changed a lot in that decade, with new houses sprouting up where vacant lots once were, and empty buildings now filled with new business. And while you've been able to get a pint at Diamond Bear since 2000, Argenta is prepping to welcome another brewery: Flyway Brewing is opening soon.
California
Silverlake (Los Angeles)
Over-the-top moustaches. Suspenders. Craft coffee. Over-the-top moustaches and suspenders on people SERVING CRAFT COFFEE? Sound familiar? It should: Silverlake's so hipster, there's a debate about whether it's one word or two. Seriously. It's also home to plenty of little kids wearing Ramones shirts, music venues that double as art galleries, and people dressed in tight jeans and long-sleeve shirts when it's frigging 95 degrees out. Along with its also-gentrified next-door neighbor, Echo Park, Silverlake couldn't be more Brooklyn -- just don't tell the suspendered, moustachio'd barista waiting in line for street tacos. He may not take it well.
Colorado
Highlands (Denver)
I started writing for Thrillist what feels like a million years ago but was only about four. At the time, I was tasked with writing about Denver's new bars and restaurants, and I often found myself in the Highlands. Or Highland. Either way works. Bottom line: it's the epicenter of new Denver. Seemingly the entire neighborhood is currently being converted to outrageously priced modern townhomes, but back in late 2008, Root Down was New York City chef Justin Cucci doing a one-man renovation by turning an old gas station into a restaurant that garnered national attention. Nowadays, many of Denver's finest restaurants and bars are based in LoHi (Lower Highlands) -- the speakeasy Williams & Graham, the beer palace Ale House at Amato's, Linger (Root Down's sibling resto), and because this is Denver -- breweries. Neighborhood faves like Prost and Denver Beer Co. feature huge outdoor patio scenes, and there are also tucked-away gems like De Steeg. Add to that exceptional coffee at Black Eye and a friendly neighborhood butcher with an eye on sustainability at Western Daughters, and it's easy to see why the Highlands are Denver's Brooklyn.
Connecticut
Wooster Square (New Haven)
New Haven: now officially safe for hipsters! Though Yale students have long been warned about venturing into the wrong parts of the city, New Haven's gentrifying with the best of 'em. And Wooster Square is probably the prime example. The place is home to the world-famous Frank Pepe Pizzeria Napoletana and basically the only comedy club in the area, Joker's Wild. Vegetarian eats and organic coffee are available at Fuel. And if you feel like taking pole-dancing classes by the park, well, there's that, too.
Delaware
Trolley Square (Wilmington)
If you've ever looked at a map of the US, you know Delaware is tiny. And if you haven't, you're missing out! Maps are baller as hell. As you might imagine, Trolley Square is not a large neighborhood in what is not a large city: Wilmington. And yet, it's a vibrant, older Irish 'hood with an influx of young whippersnappers attracted to bars like Scratch Magoo's, the stalwart Logan House, Trolley Tap House, and Catherine Rooney's. Brew Ha Ha! provides the coffee for the neighborhood, and there's the requisite spot for brunch that uses organic ingredients, Fresh Thymes. Bring your bike -- it's easy to hop on the nearby Delaware Greenways bike trail with that new fixie.
Florida
Wynwood (Miami)
Wynwood is not a place people in Miami live, but it's certainly a place in which they drink. Ten years ago it was a warehouse district without many places you'd want to drink in at all (unless drinking in alleyways was your thing), but residential development is well underway, and there are plenty of reasons to want to live there: bars like Wood Tavern, Coyo Taco's "secret" drinkery, and Gramps; breweries like Wynwood Brewing, Concrete Beach, and J. Wakefield; and eateries like Wynwood Kitchen & Bar, Joey's, and the newly opened Alter. In the daytime, there are plenty of murals to figuratively drink in, as well as coffee, where Panther's the go-to roaster. If you think art should be confined to the inside of buildings, there are plenty of art galleries to entertain and/or empty your wallet.
Georgia
Little Five Points (Atlanta)
Little Five Points has been nationally recognized for its hipsterdom (see Forbes) and it's easy to see why, when you've got combination comic book-record shops and classic dives like Euclid Avenue Yacht Club in the mix. Acts like Sister Sparrow & the Dirty Birds flock to Aisle 5 (formerly The Five Spot), and serious burger nerds will find nirvana at The Vortex, which has an entrance shaped like a deranged skull.
Hawaii
Kakaako (Honolulu)
Kakaako's the kind of place that has sleek specialty coffee shops (Brue Bar) inside self-proclaimed botanical boutiques (Paiko). Getting the picture? If not, perhaps the deconstructed scallop pot pie with lobster reduction at Chef Chai, free graffiti workshops at 808 Urban, or the litany of new buildings planned for development (in 2013, the Hawaii Community Development Authority ball-parked up to 30) will help.

Idaho
North End (Boise)
Idaho might be one of the most conservative states in the country, but walking around the North End of Boise, and just North of Boise State's campus, you could be fooled into thinking it's only full of hipsters. There's plenty to keep the average youngin' happy, including used copies of a David Foster Wallace novel at Hyde Park Books, Cafe Vicino for delicious Italian food, and beers from the year-old nanobrewery Cloud 9. And for a hipster with an outdoor bent, which is to say most people living in Idaho, the North End is conveniently located close to the Boise Foothills trails.

Illinois
Logan Square (Chicago)
Having taken the coolness title belt from its Blue Line neighbor Wicker Park, Logan Square checks all the Brooklyn-y boxes: there's a whiskey bar with an artisanal donut pop-up shop, an indie coffee shop that's a hive of flanneled musician-people (the numbers go up on farmers' market Sundays), and a vintage theater that will play Space Jam at midnight as it serves you Daisy Cutter tallboys. Nary a new restaurant or public-works project can open without the requisite gentrification pot-stirring, although with news of the neighborhood's Discount Mega Mall set to become "Logan's Crossing," a giant apartment complex and retail space, there's no doubt Logan Square will be "over" in the next five years. Enjoy the Negroni slushies while they last.

Indiana
Fountain Square (Indianapolis)
Craft breweries like Fountain Square Brewery are a quick bike ride from a bustling few blocks that include an enormous entertainment complex with duckpin bowling, a game room in Imbibe, a pub in End of the Line, and the smoked meats emporium at the Smokehouse. Just a few steps away there's English-style pub food at Red Lion Grog House, burlesque and comedy at White Rabbit Cabaret, coffee and gelato at Funkyard, and the nerd cultural center/comic-book shop Hero House. And for the hipster who would rather play a board game than watch TV, there are 1,800+ options of board games to choose from at Game Paradise.

Iowa
East Village (Des Moines)
It's okay if Barcade never expands out to the Hawkeye State, because this hip Des Moines 'hood has its own version in Up-Down, a video game bar with 40+ classic arcade selections and skee-ball. If that's not your kinda bar (who are you??), there's live music at The House of Bricks and history at Blazing Saddle, the city's oldest gay bar. You can get all your fancy cooking supplies at the local "culinarium" as well as all sorts of fancy dog sweaters at Jett and Monkey's. And don't forget about Zombie Burger, the crazed burger joint to beat.

Kansas
Delano (Wichita)
Says a barista at Reverie Coffee Roasters just down the block from Delano, "I grew up there when it was gnarly, before gentrification happened." Delano has changed, and it packs in quite a bit of hipster charm in its tiny domain, with the vinyl emporium at Spektrum Muzik, Monarch for ribs, sandwiches, and a whole lot of bourbon (Delano Barbeque Company is another solid option), Hatman Jack's for the fedora of your dreams, and Vagabond for coffee during the day and Kansas craft beer at night. Or you can have a beer in the morning... we're not the boss of you.

Kentucky
NuLu (Louisville)
People in lesser 'hoods will spend a lazy Sunday buying cookies at an artisan bakery, drinking a latte in a coffee shop, and going record shopping. NuLu has all of that in one building, and it's called Please & Thank You. NuLu's delights don't stop there, as RYE on Market offers live music in the summer and bone-in ribeyes at night. A monthly flea market (The Flea Off Market) offers beer and cocktails to sip on while perusing antiques and vintage clothes. It's no coincidence that startups and the creative class are flocking to the 'hood, especially since there's ping-pong, craft cocktails, and tasty pizzas all in one place: Garage Bar. Louisville is clearly all about cramming good stuff in with other good stuff.

Louisiana
Bywater (New Orleans)
The Ninth Ward has national notoriety thanks to Hurricane Katrina, but this particular subset, the Upper Ninth, known as the Bywater, got an influx of artists and restaurants following the 'cane's destruction. Alongside rapidly rising rent prices and Airbnb battles due to the daily change-out of 20-somethings, there's the much-beloved Satsuma Cafe for your daily juice, marrow-topped burgers at Oxalis, secret pop-up-turned-brick-and-mortar pizza joint Pizza Delicious, and live music and wine bar Bacchanal, which has been a local favorite for years, but is facing its battles with noise complaints from newer residents, just like many Brooklyn musical standbys before it.

Maine
Munjoy Hill (Portland)
You'll see "Shop Local: Keep Portland Independent" stickers on many storefronts in Munjoy Hill, and they clearly take that responsibility seriously -- no Starbucks are allowed. (But several indie coffee shops are!) Moving along the sidewalks, you'll spy places with names like Pistol Pete's Upholstery Shop, Homegrown Herb & Tea, and Mama's Crowbar. There's also an arts center and the requisite rent spikes.

Maryland
Downtown (Frederick)
I grew up about 15 minutes outside downtown Frederick, and if you had told me that place was hip 10 years ago, I'd kindly point you to the local headlines about monkey rodeos. But when a friend of mine from the Eastern Shore suggested it might be the Brooklyn of the state, it made a shocking amount of sense. Local hero Bryan Voltaggio seriously upgraded the dining scene with Volt in 2008. Cafe Nola, an organic breakfast spot that also throws late-night dance parties, opened the year prior. Now, the 'hood has independent bookstores like Curious Iguana, a specialty tea shop with 300 varieties, and multiple yoga studios. Plus the not-at-all-cool Civil War Medicine Museum, for ironic afternoon pilgrimages.
Massachusetts
Somerville (Boston)
People used to call the place "Slummerville," but nowadays, the edgiest person you'll find in Somerville is the dude who tries to sneak his vintage leather flask into Bronwyn. (Or maybe the guy who got kicked out of the midnight Blue Velvet screening at Somerville Theatre after one too many Harpoon Munich Darks.) You can pop by Union Square Donuts for a vegan pink lemonade donut, score some sweet secondhand vinyl at Somerville Grooves, and enjoy a Tenacious Tea (rye, tea-infused dry vermouth, honey, orange bitters) on the patio at Brass Union all in one lazy afternoon. Just good luck finding an affordable apartment there.

Michigan
Midtown (Detroit)
Though Corktown also gets mentioned a ton, the gentrified star of Detroit is Midtown. For one thing, it has a Whole Foods -- as noted in a Vice article that also name-checked the area's "fixies and really small dogs." Fair Trade-certified Great Lakes Coffee Roasting Company is just a few minutes away, as is a killer tapas joint by the name of La Feria. Shops like City Bird would look right at home in Portlandia (put a bird on it!), while the concentration of theaters, concert venues, and museums should shake philistines to their very core.

Minnesota
Northeast (Minneapolis)
Every other neighborhood in the country, give up: there can be no more Brooklyn thing in the universe than a restaurant, bar, mini golf'd, and Ferris wheel'd entertainment complex made specifically for adults called Betty Danger's Country Club ("the country club for the 99%," as they call it). It's also worth noting that Northeast has better craft beer than 99% of the country, as evidenced by 612Brew and Dangerous Man Brewing. And after you've had a beer or two is the best time to analyze art, which isn't a problem when there are 400+ artists working in the 'hood, with plenty of gallery spaces around to showcase their goods.

Mississippi
Fondren (Jackson)
Cups has been in Fondren for 22 years, serving craft coffee they roast themselves a couple of miles away. But 22 years ago Fondren did not have a converted middle school with multiple local must-visit businesses (the restaurant Saltine, the concert venue Duling Hall where national headliners stop by, and the taco joint Babalu). Twenty-two years ago there was not a huge hotel and a massive apartment complex being built to support all the young professionals and medical students in the 'hood. There wasn't a sneaker shop called Swell-O-Phonic. And there definitely wasn't a speakeasy in a place that used to be a drug store (now called The Apothecary at Brent's Drugs). In fact, it was an actual working pharmacy until 2009. Now it's a "soda fountain" that serves breakfast all day called, not strangely, Brent's Drugs.

Missouri
Westport (Kansas City)
A big thumbs-up to Cherokee Street in St. Louis for its Brooklyn-esque qualities, but Westport on the other side of the state is the spot. Westport is, first and foremost, an entertainment district. It's where you party and eat like a king -- at Port Fonda for Mexican, at Dave's Stagecoach for the jukebox and a beer, at Kelly's for a Guinness in a pub that's been around forever but where the clientele has, well, shifted, and at Julep for a cocktail with an egg white in it. During the day there's plenty to do as well, whether you want to search for an album at Mills Record Company to throw on your portable record player, grab a coffee at the 20+ year and still going Broadway Roasting, or get secondhand threads at Arizona Trading Company.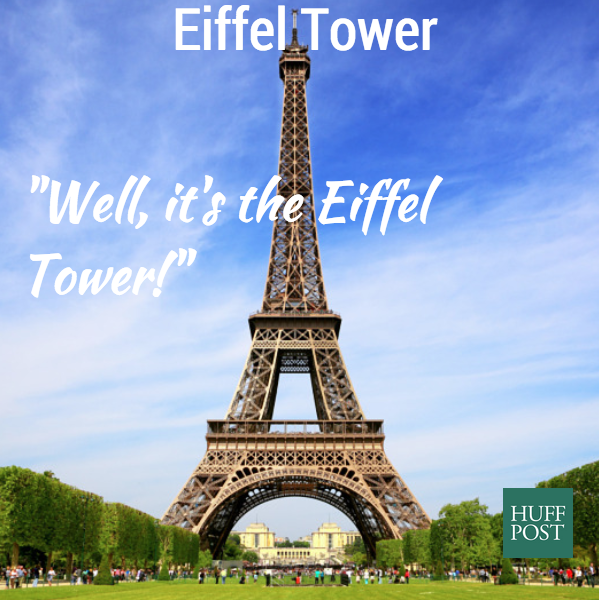 Hilariously Indifferent Travel Reviews