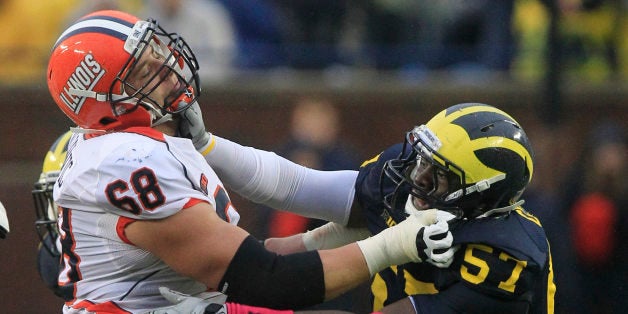 Is the college sport system set up to provide the kind of independent review necessary to protect the interests of big-time football and basketball players who perform in the multi-billion dollar college sport industry? Given what is happening at the University of Illinois following a former football player raising issues regarding player mistreatment, the answer to that question is no.
On Sunday, May 10, 2015, Simon Cvijanovic, a former offensive lineman for the University of Illinois football team, made one of his first forays onto Twitter, giving voice to his experience as a player there. About playing football at Illinois, Cvijanovic wrote:
I'm not gonna just keep quiet while players suffer. I didn't want this to get out because I love my school. But they seem not to care.
When interviewed by the Chicago Tribune, he went on to say about playing at a Big Ten institution:
It's a stressful environment. It's a dangerous culture. We don't talk about how we're mistreated because we're then 'not a team player' and 'soft'.

I stopped playing football because of my physical health. I was asked to push myself past pain until I didn't want to play anymore.
He further alleged that the coaching staff had mistreated players by threatening loss of scholarships if players didn't toe the line and in one instance, abusing a player physically at practice, while demanding that players compete when injured without licensed staff support.
The University's initial response to the allegations was a proposed investigation by athletic director, Mike Thomas. However, in a press conference held less than 24 hours after Cvijanovic's allegations became public, Thomas seemed to be actively working to discredit Cvijanovic while offering unqualified support for the coaching staff and program.
Following an inquiry by the National College Players Association challenging the degree to which an investigation undertaken by Thomas could be done without bias given his public statements in support of the program, the University announced that Chicago-based law firm, Franczek Radelet, had been retained to conduct an independent review of the situation.
Here too, however, the question of who is representing the interests of the players goes unanswered. The firm itself is hired to represent the interests of the University of Illinois and its employees, not the athletes.
The law firm selected by the University to conduct the independent investigation is Franczek Radelet, a firm known for its robust work in the higher education sector. Notably, however, according to a description on the Franczek Radelet website, the firm is also
... a powerful advocate for employers and a formidable adversary to unions. We provide creative and effective solutions to challenging labor relations problems. We aggressively pursue client goals at the bargaining table, in arbitration, and in the courtroom. We work with non-unionized employers to develop and implement effective strategies for preventing and defeating union organizing campaigns. We are a respected adversary -- unions know we'll anticipate both their negotiation tactics and campaign plans.
Was it mere coincidence that a firm with this kind of pedigree was chosen or was there a strategic reason stemming from the fact that Cvijanovic called for players at the University of Illinois to unionize? College sport officials still remain unsettled after football players at another Big Ten school, Northwestern, signed union cards in February of 2014 and were declared by the regional National Labor Relations Board (NLRB) to be employees with the right to collectively bargain (a decision currently under review).
In the press conference University of Illinois Athletic Director Thomas held last week, his stance on unionization surfaced. Mirroring the talking points issued to college sport administrators by the NCAA following the action of the Northwestern football players last spring, he said, "A lot of time and resources are invested in them. I don't see student-athletes as employees, and I certainly don't think unionizing is the right approach." So rankled by the prospect of college football players unionizing that legislatures in two Big Ten "states" -- Michigan and Ohio -- have sought to bar college athletes from being employees, doing so with little public dialogue and without players like Cvijanovic being informed that such legislation was being proposed. Could the University of Illinois through this investigation be engaging in a similar preemptive strike?
While the answer to that question will unfold in the days and weeks ahead, the actions taken by the University of Illinois validate in dramatic fashion what Cvijanovic observed to the Twitter-sphere, and what prompted Northwestern football players to sign union cards. As Cvijanovic pointed out, "There is no one to speak on behalf of the athlete."
Related
Popular in the Community