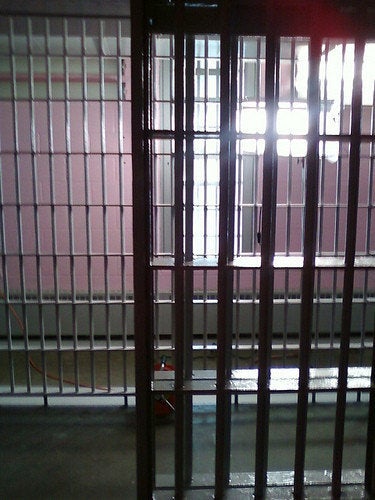 Along with the glamor and the gushing over auteurs that dominate the Cannes Film Festival, documentaries are among this year's strongest movies in the Official Selection. In addition to Trashed -- which chronicles actor Jeremy Irons' impassioned investigation of the challenges posed by waste accumulation around the world -- audiences have been galvanized by The Central Park Five. Its focus is a miscarriage of justice in the Big Apple.

While the name of Ken Burns is a revered one in the film world, this exploration of the 1989 criminal case and its aftermath is actually co-directed by him, Sarah Burns and David McMahon. It continues Burns' commitment to understanding racial tension in America through such epic documentaries as The Civil War, Jazz and Baseball.

After a white female jogger was found raped and almost dead in Central Park, five black and Latino teenagers from Harlem were arrested. All under 18, they were convicted on the basis of videotaped confessions, and became known as The Central Park Five. Donald Trump and others called for the death penalty -- despite the lack of DNA evidence, and the fact that the victim survived.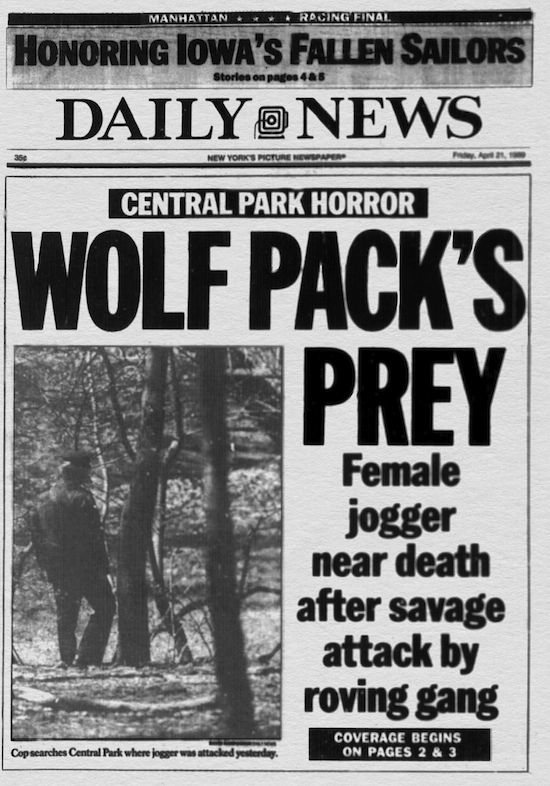 April 21, 1989 front page of the New York Daily News

When the truth was revealed 13 years later -- namely that the assailant was a serial rapist named Matias Reyes -- the five were freed after many years of prison. They filed civil lawsuits against the City of New York, the police officers and prosecutors who had worked toward their conviction. It is still unresolved after nine years.
The film originated with Burns' daughter: "I actually started this as my undergraduate senior essay ... about media representations of The Central Park Five for my American Studies degree at Yale University," Sarah Burns recalled during our interview at the American Pavilion in Cannes. "I was so taken by this case that I decided to write a book."
The result was The Central Park Five: A Chronicle of a City Wilding, published last year by Knopf. Ken Burns added, "All her work served as the basis for the film, and for getting the trust of the five. Taping interviews came later. Gaining their trust was critical, because they were railroaded by the media -- both in 1989 and 2002, when those who had convicted them refused to admit their mistake."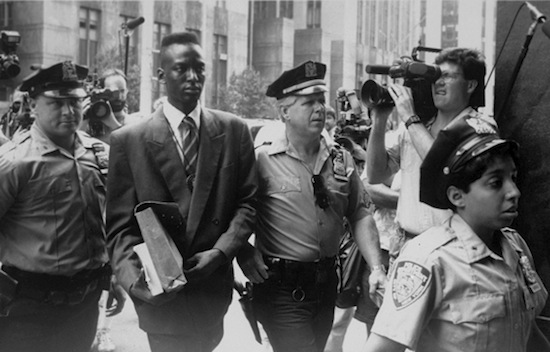 Yusef Salaam walks into court flanked by police and press
When asked how they "co-directed," Ken Burns began by admitting, "after the fact. It was going to be a film by Ken Burns and produced by the three of us. Then we realized it was an equal thing, and that David carried the lion's share of the production work. We're in the documentary business: we can't fictionalize the directorship. Like having nine Supreme Court members, it permitted a great adjudication of the millions of decisions that are made."

David MacMahon added, "75 percent of the time, the three of us agreed. And if only two out of three agreed, it permitted us to let go and move on." Sarah Burns added, "It balanced out nicely. It was never the same two people who agreed."

Why come to the Cannes Film Festival with a New York chronicle? "There's a serious American presence at the Festival," Ken Burns replied, "and serious documentaries. We're thrilled to be along for this ride. You might think of this us as PBS -- and this film will ultimately be on PBS -- but we believe in the theatrical possibilities for it too."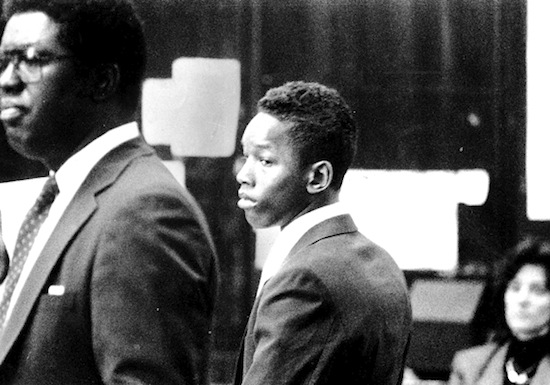 Korey Wise in court
The Central Park Five is not simply an investigation of how Antron McCray, Kevin Richardson, Raymond Santana, Korey Wise, and Yusef Salaam gave videotaped confessions after hours of aggressive interrogation (mainly because they thought they were behind held as witnesses). Interviews with experts like New York Times reporter Jim Dwyer provide a rich context. We see brief TV news clips of other crimes, reminding us that New York City was a fearful place in 1989; in fact, he evocatively calls it a "garden of terrors."

When asked if they have a political agenda, Ken Burns reflected for a moment before replying. "I don't want to see revenge exacted on cops or prosecutors. It's a little late for that. The statute of limitations -- spiritual as well as legal -- has lapsed. These young men had their lives blown apart, their childhoods arrested and disposed of. They are now in their late 30s, still not made whole."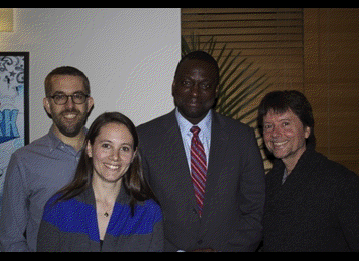 Yusef Salaam and the directors of The Central Park Five (L-R: David McMahon, Sarah Burns, Yusef Salaam and Ken Burns)
"Everyone has wishes for their film," he proposed. "You want to go to Cannes, to win an Oscar, to have good reviews, to have a lot of people like it ... Yes, but first and foremost, we want to see some sort of justice ... the settlement of the civil suit that is now nine years old. The boys could have a closure on the event itself. They'd have a chance -- with whatever modest settlement they would receive -- to start their life, to reset. New York can't do this soon enough."

The film raises larger questions about the justice system and media frenzy, which have continuing relevance. Especially in light of what Dwyer calls "institutional protectionism," Ken Burns concluded, "It would be foolish to say that the story is done, that we live in a post-racial society. That's what we struggle with ... to come to terms with America's original sin, which is race."
Annette Insdorf, Director of Undergraduate Film Studies at Columbia University, is the author of PHILIP KAUFMAN.
Popular in the Community