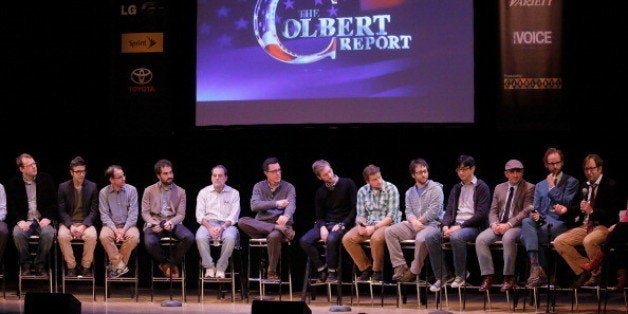 1. They've done over 1,200 episodes. And it's a grueling process.
"We're all going to die young," Colbert joked after hearing co-Executive Producer Rich Dahm say they've done 1,273 shows as of that night (1,267 according to Wikipedia). And, after hearing Colbert and his staff walk through a day in the life of a "Report" writer, one can imagine why. Each writer begins his or her day by "cramming" the news for topical content and, after a series of pitch meetings, teams up with another writer to write scripts for the day's selected ideas in just a couple of hours.
Colbert said he has to hear or say the writers' pitches out loud because, "What's funny on paper isn't always funny in your mouth" (and yeah, the audience chuckled at that one).
"It's like having to pee," and "Feels like writing a term paper," are a few of the ways the writers summed up the tight writing deadlines. After finishing scripts, the writers only have one hour to go over the entire half-hour episode in a "small, red, poorly ventilated room" with a ticking clock that "feels like a beating heart."
The writers reminisced about how they used to do "The Word" on every show, often times writing it in the rewrite meeting at 3:00, right before air. "It was no way to live," Colbert joked.
There was a consensus among the staff that despite the taxing schedule, having to "do it all again" the next day is more of a comfort than a curse. Even if they're not happy with how an episode turned out, "There's always another Kleenex in the box."
2. The writers are predominantly white men. And Colbert doesn't know why.
As each of Colbert's writers took their seat on stage, it was hard to ignore the, as one audience member put it, "common denominator" among them. Colbert joked, "What, that we're white? No, actually, some of us are Jewish." But with the exception of Sam Kim and Meredith Scardino (the latter of whom received as much applause as Colbert upon taking the stage) the panel was a sea of white, male faces.
"I don't know why that is. I don't say 'Bring me men,'" Colbert joked, adding that he doesn't look at the name on writing packets so he won't consider anything other than the writing when looking to hire someone.
3. Writing for Colbert (The Character) is "Like driving a truck backwards down the highway."
Head writer Opus Moreschi said his job is to "Sit in a room full of incredibly talented, funny people and make sure they don't have too much fun." That said, jokes that make the room laugh aren't used unless they fit Colbert The Character's point of view, which is usually the inverse of what Colbert (or any logical person) feels. The writers' main focus is the backwards emotional response Colbert The Character has to a news story. "Facts are not important," Colbert said. Media figures and politicians are seen as "Good guys" and "Bad Guys" to him ("Are you helping America or are you part of the problem?") and consistency of character is key. "You can't break your own rules," Colbert said.
Colbert The Character wants you to see the world in the ridiculous way that he does. It's like he's presenting a philosophical argument to the audience each and every night. So, how do they choose what does and doesn't belong on the show? Anything fits as long as it's important to Colbert The Character, which is why they've been able to do so many varied things like sponsor an Olympic speedskating team and run a political campaign. "Did I laugh? Then I don't really care if you laugh," Colbert said.
Although no topic is off limits, the writers have one rule: never punch down. Colbert "is really interested in high status people and low status people, and the dynamics between them," writer Rob Dubbin explained, so one thing that doesn't work is when the "victim" is the punchline.
4. He agrees with his character about 13.4 percent of the time.
One of the night's best questions came from a 13-year-old (he had his mom step up to ask it) and it was, "What percentage of your character is actually you?"
"I sometimes agree with my character, and it's really important that you don't know when that is," Colbert answered. "So I don't know… 13.4 percent?"
But the more interesting answer came from Colbert's reaction to a study done at The Ohio State University. that asked liberals and conservatives with which political party they think Colbert identifies. He was amused when the conservative fans suggested he is actually a, "Conservative playing a liberal playing a conservative."
"I'm happy with that answer," Colbert said.
5. Satirizing the news everyday is cathartic, but can also be super depressing.
While they do not have a political ax to grind, the writers' emotional reactions to politics does fuel a lot of the humor. On one hand they have the perfect outlet for their honest, visceral reactions toward politicians and media figures, but on the other, it's hard to be angry all the time. One writer even had to leave the show because mocking the news had become too depressing for him. For Colbert, however, it's actually very cathartic.
"It's a release for me to dance while the world burns," Colbert joked.
6. He's not here to change minds.
How much does Colbert think about how he influences the young people who get all their news from him and Jon Stewart? As he demonstrated physically on stage, a big, ol' donut. Zero. A.K.A., not at all.
"I'm not here to change minds. I'm here to confuse you in an amusing way," Colbert said, going on to mock the idea that they'd put influence over comedy: "Hey, you know what, this script wasn't funny, but I think it's going to influence some voters. Good job, guys. We do work for Influence Central."
7. They have to do about four 'Intrusive Sponsorships' per year, but they do it like no one else.
The way Colbert and his writers handle product placement on the show is all their own. "We want to hug the bear," Colbert joked, referring to the glorious Wheat Thins "Sponsortunity" segment that was so much more than a simple "Brought to you by" credit (which is all the network requests). His decision to read the company's ridiculous memo aloud on the air and blow the entire thing so hilariously out of proportion not only served the purpose of comedy, but even won the cracker brand a marketing award (yes, they loved it).
8. "Jimmy" is a real person.
When Colbert asks "Jimmy" to roll that clip, he's referring to his real-life director Jim Hoskinson.
9. The guests in Colbert's field segments "Have no idea what's going on."
Despite the fact that a staff member sends each guest featured in segments such as, "Better Know A District," all the information they need including videos of previous interviews, they tend to take themselves so seriously that they don't see the interview as comedy. Colbert admits, "I'm not Borat," in that the interviewees know (or should know) what they are getting into when they meet him, but they often forget because they simply aren't self-aware enough to see themselves as the subject of a joke. Not to mention, speaking with Colbert The Character is a bit of a whirlwind experience that often leaves the guest unaware of what just happened. Long story short, "The Colbert Report" has never had to rely on editing tricks to make people look stupid.
10. Colbert's favorite recurring segment is...
But, his favorite joke that didn't make it to air was inspired by the infamous Daft Punk mishap. Before they canceled their appearance, the group had said they would appear on the show but not perform or speak. Colbert wrote a bit for he and the group's manager to do where he'd ask how he knew it was really Daft Punk under the helmets if they wouldn't perform. The manager would have said, "If it wasn't Daft Punk, they'd be doing the show."
One more joke that never made it to air: Head writer Opus thought Paul Ryan looked a lot like "that guy from the game Guess Who?" I'm not sure if he meant George or Bernard, but it's a funny visual either way (R.I.P. 2012 election jokes).
11. Colbert has some very young fans (and does a great Henry Kissinger impression for them).
Another young fan, a 12-year-old, asked what has been the craziest segment they've ever done. Right away, Colbert cited the "Guitarmageddon" episode in which he faced off with The Decemberists' Chris Funk in a guitar solo competition judged by Henry Kissinger and Eliot Spitzer. We're not sure if the child asking the question even knows who Henry Kissinger is, but he seemed to enjoy Colbert's impression of the former Secretary Of State rehearsing a joke that he wouldn't say on air: "Where are my pancakes? I was promised pancakes."
12. The record number of people under Colbert's desk is...
About four. That doesn't count, however, writers who have had to sit under the desk with live animals or buckets of chicken. There are trap doors underneath the desk that allow for so much stowing away.
13. The best part of the Maurice Sendak interview was actually a phone call before it was shot.
Colbert and the staff agreed that their 2012 interview with Maurice Sendak was one of the most memorable, in part because he was the only person who could really get Colbert The Character's goat. But the highlight of their conversation might have occurred during a phone call before they shot the segment. At the beginning of the call, Sendak was fiddling with the phone, saying he couldn't figure out which button to press, as Colbert patiently waited on the line. When Colbert told him "No rush," Sendak simply replied: "I'm 83 years old. Death looms."
"I think that might be the greatest phone call I've ever had in my life," Colbert said. "I hope the interview that we did was as good as the 20 minutes I had with him over the phone, because I got off the phone and I said, I think that's what humans are like... He really just didn't care what people thought of him."
14. He still takes cues from his old pal Amy Sedaris.
Have you ever noticed how Colbert doesn't seem to know how to operate a calculator? That bit of physical humor stems all the way back from the pilot episode of "Strangers With Candy." It was Amy's idea to have Colbert smash the keys with his knuckles and he still does it to this day. He admitted that he likes to keep "Strangers" close to his heart, with his old co-star Paul Dinello currently serving on his writing staff.
15. The secret to getting a job as a writer on "The Colbert Report" is...
Write well. There is no other way.
UPDATE: Opus Moreschi has cleared up the "Which Guess Who? Character Does Paul Ryan Look Like?" question.
CORRECTION: An earlier version of this story incorrectly stated that a study about Stephen Colbert was done at the University of Ohio. The study came from The Ohio State University.

Support HuffPost
The Stakes Have Never Been Higher
Related
Before You Go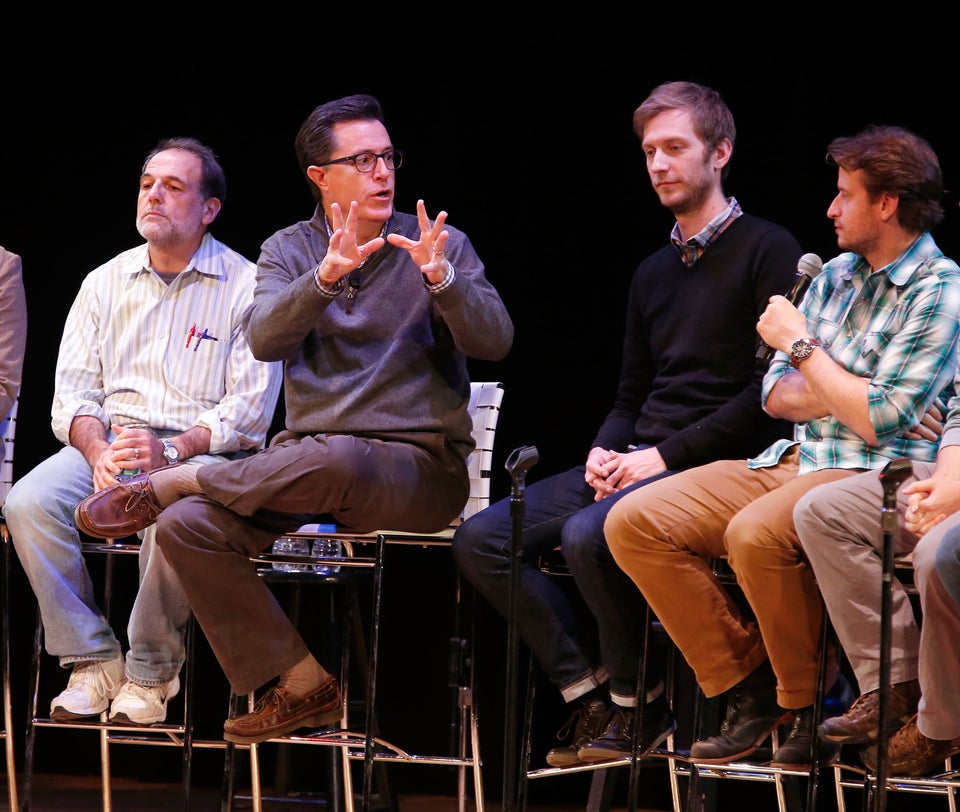 Behind 'The Colbert Report'
Popular in the Community