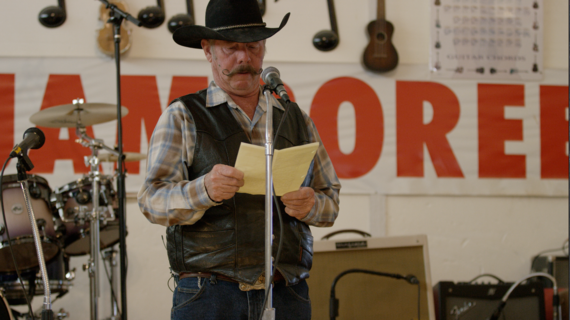 His name was Lon and his hands were trembling as he looked down at the words written on the crinkled piece of faded yellow college ruled notebook paper that he was tightly gripping.
"I've never read this poem in public," he quietly said, his voice shaking.
Lon Hall is a cowboy poet from Montana. He's a real cowboy, and a real poet. A few months ago we were standing in front of the main stage in a barn built in the middle of the Arizona desert at a very secluded RV park located on a tiny road named Music Road. It was a couple hours before show time at the 32nd annual Sideman Jamboree music festival.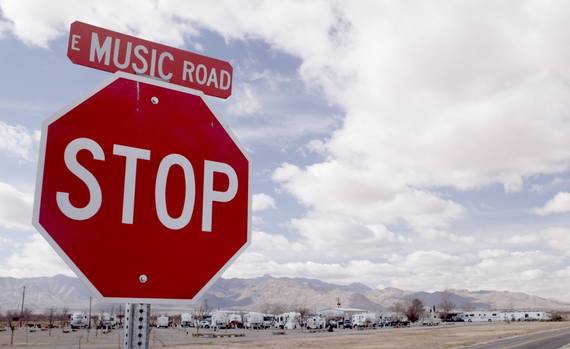 Our conversation was pretty surreal, given my dog Yoda and I first stumbled on this remote RV park five years ago, in February, 2011, during my five month road trip around the United States in search of shama, which is Sanskrit for inner-peace. I was a weary road-tripper back then, and was surprised to encounter a group of octogenarian musicians at this desert oasis who had gathered from all over the country, many of whom were former Western Swing Hall of Famers. At the time they were having their 27th annual secret month-long music festival here in the dusty desert in the unincorporated community of Bowie, Arizona, about 90 minutes east of Tucson. The festival is named Sideman Jamboree because many of the original musicians were sidemen and sidewomen to some of the old music greats, performing alongside artists such as Sara Vaughan, Ernest Tubb, Merle Haggard, Waylon Jennings, George Strait, Jimmy Buffet, Hank Thompson, Tennessee Ernie Ford and even the late great Bob Wills. This annual gathering gives them their turn at performing center stage. Each night for the entire month they all contribute dishes to a 5 p.m. potluck dinner, and then take turns performing on stage for hours. It is like Burning Man for senior citizens! Five years ago, they gave Yoda and me a camper to sleep in and they fed us and let us sit in on the evening's foot-stomping music performances.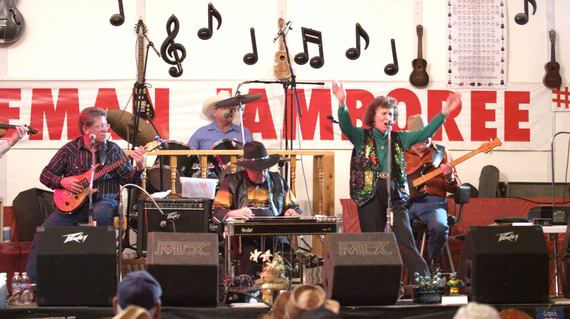 Now it was Sideman Jamboree #32, and I was back with a film crew making a documentary film about this very special gathering. I was standing here trying to persuade Lon to read his poem in front of a crowd and to let us film it.
Lon wrote his first poem in 1998. Poetry was a mostly secret passion of his. Secret, he told me, because his brother was equally passionate about writing poems. The problem is, Lon is the one with the natural talent, yet he never wanted to outshine his brother, so his poem-writing became a clandestine operation. He stopped writing altogether when their mother passed away in 2008 of a staph infection. Lon's eyes welled with tears when he told me this.
"Poetry is who I am," he said, with a stutter. "But I let that passion die along with my mother."
I looked at him and realized how much this man symbolized for me. One of my biggest takeaways during my time on the road was from a conversation I had with an Alabama cowboy who told me that the most important ingredient for a happy life is to be true to oneself. When I first arrived at Sideman Jamboree in 2011, I was just learning that the secret to finding shama is to live with the cowgirl spirit--to embrace life with a sense of adventure and always be authentically me. Five years later, I have practiced this cowgirl nugget of wisdom on a daily basis. It's not always easy, in fact at times it is downright challenging, but the incandescent joy that comes with each act of being true to myself has proven to me that the Alabama cowboy was right.
"Maybe it's time for you to kick up your spurs and start living again," I said to Lon. "Stop keeping your passion a secret."
He smiled, making his perfectly coiffed handlebar mustache curl slightly upwards. It was clear from the twinkle in his eyes that the cowboy spirit was beginning to spin its magic.
He took a deep breath, and then bravely declared, "I'll read two poems."
Sideman Jamboree takes place each February, and musicians and non-musicians alike are welcome. Getting There: From I-10, exit #366 (near Bowie, Arizona). The Alaskan RV Park is on the south side of interstate.