Darkness comes early as Solstice draws near. Lights are lit in windows, on trees, inside houses and along streets. We seek their comfort and warmth during these short days and long nights. The last month of the calendar is here and we eagerly anticipate the rebirth of a new annual cycle. We make merry during this time and yet, there is also an opportunity to acknowledge and honor the darkness: the darkness outside and the darkness within.
Love, bliss and joy. Fear, anger and rage. All of these are part of being human. Positive and negative make a whole. Without our darkness, we are incomplete.
"I must also have a dark side if I am to be whole," Carl Jung wrote.
Susun Weed, shamanic herbalist, author and teacher, doesn't run from her dark side -- she embraces it, using it to help others make changes in their lives, to become more authentic and more powerful as women. For 35 years, Susun has been a ferocious advocate for women's health. Her five books, the Wise Woman Herbal Series -- including titles on childbearing, menopause, breast health and sexual/reproductive health -- are treasured by millions of women worldwide. Susun shares her encyclopedic knowledge of herbs and health through her website and workshops at her Wise Woman Center in Woodstock, New York and throughout the world.
Little did I know that when I contacted Susun to participate in Goddess on Earth, I was to also learn a powerful lesson.
The Goddess does not only embody light, joy and nurturing love. In her other aspects -- as Durga, Ereshkigal and Guabancex to name just a few -- she is a Goddess of unbridled rage who follows no rules. She is a warrior who takes no prisoners and who demands that we confront the darkness within, the parts of ourselves that are not kind, pretty or nice.
For Goddess on Earth, Susun chose to portray Baba Yaga, a terrifying female shaman from Slavic mythology. Ancient, wise and fierce, Baba Yaga lives in a hut that stands on chicken legs and which twirls like an ecstatic dancer. Baba Yaga flies with the wind and frightens many, but she helps those who approach her with courage and truth. In the book Women Who Run With the Wolves, Clarissa Pinkola Estes writes, "Baba Yaga is fearsome, for she is the power of annihilation and the power of the life force at the same time."
Susun and I met in upstate New York on what turned out to be a bitterly cold, wintery day. During the photo session, her uncompromising stance and piercing gaze brought shivers down my spine. Like Baba Yaga, Susun is a formidable life force.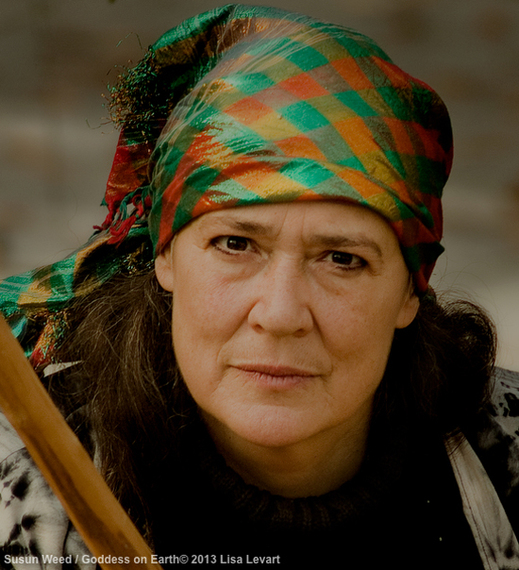 "I have nothing to lose: age has taken it all from me and revealed my true treasures... I am surely the most fearsome thing ever seen, ever imagined. A powerful old woman at home with herself,"
In this season of dwindling light, let us turn inwards and connect with the most enduring parts of ourselves: the parts with the courage and tenacity to weather cold winters and all of life's challenges. Age-old, unapologetic and fierce, Susun and Baba Yaga are inspiring figures who remind us that there is no time for petty distractions like Being Pretty or Being Good or Being Nice. It's time to get on with the real work of becoming real, becoming women of power, becoming complete. We are not just light but dark, not just pretty but awesome, not just smiling but weeping, shouting, raging, fearsome. Baba Yaga reminds us to reclaim those dark places where our real treasures lie. In this way, we become whole.
For more information on Goddess on Earth, visit the project's web site, Facebook or Twitter page. Buy the limited edition, artist made book here.
Calling all HuffPost superfans!
Sign up for membership to become a founding member and help shape HuffPost's next chapter