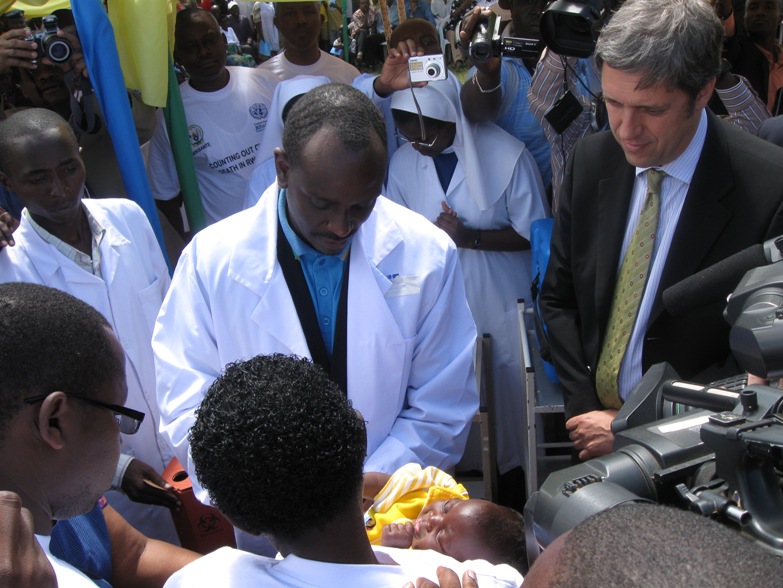 Minister of Health Richard Sezibera administers first dose of pneumococcal vaccine in the developing world in Rwanda, April 2009
Almost exactly one year ago today, Rwandan Minister of Health Richard Sezibera vaccinated the first child in Rwanda against pneumococcal disease. In so doing, he made Rwanda the first 'GAVI-eligible' (low-income) country to begin protecting its children against this devastating disease. I was honored to join GAVI Alliance CEO Julian Lob-Levyt, the World Health Organization's Dr. Thomas Cherian, and others at this event in rural Rwanda, and to then meet with Rwandan President Paul Kagame who reiterated his country's commitment to improving health for all its citizens. Since that time, The Gambia has also joined the ranks of GAVI countries using pneumococcal conjugate vaccines.
Last year's program launch was based on a donation of 7-valent vaccine from Wyeth (now Pfizer). The company agreed to provide enough vaccine for these countries to vaccinate all their children for at least two years. Although generous and life-saving for children in these two small countries, this was never a long-term solution for all the children who need the vaccine.
This year we're launching 10-valent and 13-valent vaccines through the Advance Market Commitment (AMC). This innovative approach to vaccine financing means that the world's poorest countries will have long-term access to these vaccines at affordable prices. Basically, each dose can be purchased for about the same price as a Starbucks latte! What makes this most remarkable is that the launch of these vaccines at these prices is occurring within the same year as the launch of these vaccines in rich countries at prices of close to $100 per dose.
The volume of doses available through the AMC will be limited through 2012 and it may not be possible to immediately supply every GAVI-eligible country that wants the vaccine, but between 2012 and 2013 we'll hit a running level of about 60 million doses a year available for GAVI countries. That's an impressive amount.
Consider that at 60 million doses a year, we can vaccinate nearly all the children of sub-Saharan Africa. Still, additional work will be needed to expand capacity further so that every child in every region of the world has access to these vaccines.
Kenya was among the first GAVI countries in Africa to be approved for pneumococcal conjugate vaccines. In fact, they've been anticipating the vaccine's arrival for nearly 2 years. In that time, the Kenyan Expanded Program on Immunization has built up their "cold chain" - the system of cold storage that they use to make sure that the vaccine is carefully maintained from its arrival at the airport all the way to its delivery into the thigh of a baby in a rural clinic - to handle the additional doses. Together with the Kenyan Medical Research Institute and the Wellcome Trust, and with support from GAVI Alliance, they have also set up world-class surveillance systems to monitor the vaccine's safety and health impacts in different parts of the country.
Pneumococcal conjugate vaccines are designed to prevent disease due to the most important strains (called serotypes) circulating in an area, but they don't prevent all of them. As such, serotype replacement - that is, the rise of non-vaccine strains following immunization - has always been a concern with pneumococcal conjugate vaccines. Over the past year, surveillance in richer countries like the USA and UK, who have been using the 7-valent vaccine for 5 to 10 years now, has begun to identify patterns of serotype changes that make the need for surveillance in Africa more important than ever. So, in many ways, the investments by the GAVI Alliance to build this capacity in early-adopting countries like Kenya (and The Gambia) are much needed.
As I board a plane today to return to Africa (this time to Kenya), I am impressed by the difference that a year makes. I am hopeful that this year Kenya will be added to the list of countries protecting its children against pneumococcal disease and that the added protection of the 10-valent and 13-valent vaccines helps to prevent even more illness and death than the previous vaccine.
Related
Popular in the Community