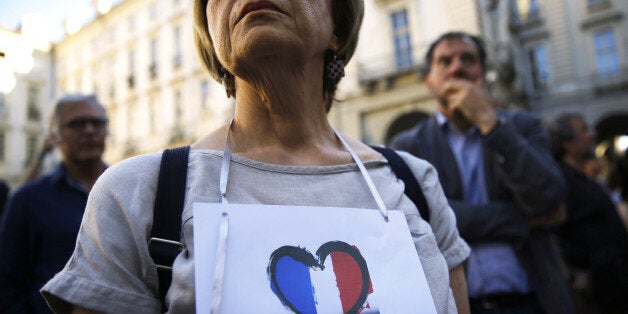 On July 14, 2016, having barely recovered from the Paris massacre in November, France suffered the second major terrorist attack on its territory in one year. In Nice, a truck plowed through a crowd of people celebrating Bastille Day, France's national holiday, leaving more than 80 dead and many others wounded. Many have made sure to follow the events minute by minute.
On the evening of the 14th, you receive a notification from Le Monde, you read an information banner on television, or you watch for news on social networks. It is time again to follow an evening attack, your new morbid routine.
On Facebook, or by telephone, you make sure that your loved ones are well. Nice, being home to a large Franco-Tunisian community, requires it.
The "Safety Check" only happens later in the evening. If you have a lot of Facebook friends in Nice, they'll do this for you. You'll hear from the ones you might not have thought to reach out to, but you are still very happy to hear that they are safe.
On Twitter, you see images and videos you wouldn't have otherwise sought out, and you see tweets of the recovery immediately after the events. Both of these make your stomach turn.
The news channels around the world are on alert, after Brussels, Orlando, Istanbul, and Baghdad (though actually, not really for Baghdad). Now it's Nice in the spotlight. You feel like you're reliving the Paris attacks from last November.
You monitor social networks while watching television, and you start to confuse confirmed information with rumors. Between the burning Eiffel Tower, the taking of hostages, and the gunman who fired on Nice.
You watch the death toll, knowing it will still rise before the night is done. APBs flood your newsfeed. The poor people who came to the waterfront to watch fireworks. Tonight, you don't want to get geopolitical, you don't want to think or step back. Time is emotion.
You take stock of the details of the attack: the truck zigzagging to hit more people, the parents who swung their kids out of the way to save them. Each detail plunges you into a higher degree of horror.
You acted like an expert the whole evening, predicting the #PorteOuverte hashtag and all the others, but you're still surprised by the generous impulses of others. They warm your heart, which is frozen by habit. For example, the taxi drivers in Nice who gave free rides to pedestrians and took care of victims.
You stay glued to your screens in your utter helplessness. But you tweet, you retweet, and you feel like you're doing something. If you are in Nice, you reassure yourself by saying tomorrow (which is actually today, since it's 3am by this point) you will go donate blood.
You wait for François Hollande's speech, for the state of emergency, the new security measures, the plans to address "terror" and "horror."
In the course of one evening, you've already experienced and condensed the four phases of terrorism described by Simon Jenkins: first horror (just the facts themselves), then advertising (which I am doing here), then political bombast (there are too many examples for me to name one) and finally the major policy change (starting with the three-month extension of the state of emergency, but there is still more to come).
You do not sleep. You should, because tomorrow you have work, school, something to do. This shouldn't keep you awake, it shouldn't affect you anymore.
But no, you're not accustomed to it. And it's probably better that way.
This post first appeared on HuffPost Maghreb. It's been translated into English and edited for clarity.
Calling all HuffPost superfans!
Sign up for membership to become a founding member and help shape HuffPost's next chapter