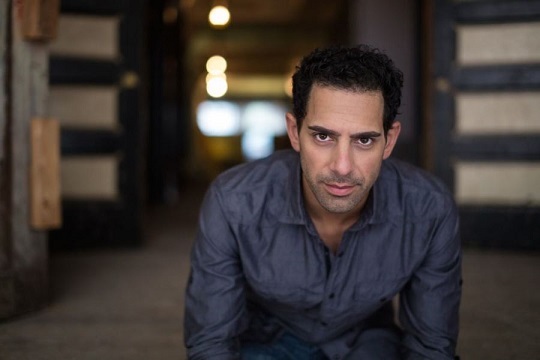 Aside from being on one of the most popular TV shows, The Flash, Patrick Sabongui runs the non-profit organization Fulfilling Young Artists.
Twitter: @PatrickSabongui , Photo credits: Kevin Clark and Alex Chiang
Playing a complex character, let alone a a character from a comic book, is not an easy task. The actor has to think about how to make the character his own while not misrepresenting how the fans view the character.
In steps Patrick Sabongui. Patrick plays openly gay Police Captain David Singh in The CW's The Flash.
How does working on a hit television series impact Patrick's life? Let's see how he handles it all!
Were you familiar with the character of Police Captain David Singh before your audition? Describe your audition.
I had a vague recollection of Director Singh from the comic books, but I had to do a little research to figure out exactly who he was. My 8yr old daughter was sitting next to me while I looked him up on-line and she noticed a picture of Singh from the comic book. She says to me, "Daddy, that's you! But your hair is too long." I think it was at that moment that I felt I had a real shot at this.
When I finally read for David Nutter (the pilot director) in person, he gave me this great piece of direction: I remember thinking how concise and playable the note was and it struck me, "This guy's gonna' make an awesome TV show." The whole experience has been positive; from the moment my daughter basically told me I was right for the role until I got the call... and it's been uphill from there, to be honest.
What was it like growing up with the last name Sabongui? What's your middle name?
I grew up in Montreal.It's a culturally diverse city and I grew up in a particularly diverse area. So, growing up with an unusual last name was well, normal.
In Arabic 'saboon' means soap and 'gui' is an ancient form of the word vendor. So, as the story goes, Sabongui means "soap-vendor" (but I've never fact-checked that, it may be household myth). No middle name. Yeah, I'm a little jealous about that. But that's why I made sure to give my kids cool middle names: Alexandria and Gabriel.
What's it like being a dad with a crazy schedule?
I have this great job-- a dream job, really -- and I have these great kids -- dream kids, really -- and I have to do right by them. My wife, Kyra and I decided a long time ago that we wanted our kids to see Mommy and Daddy happy because we're doing what we love. The trade-off is instability and unpredictability, but kids are resilient - they've taught me that much. We stick together as a family through all the changes; we're accustomed to it, we adapt. I love that my kids get to see me in a creative career; I see them embrace their own creativity.
I rarely take them to set with me; most of the stuff I work on isn't really age-appropriate. We do get them involved when we film or stage our own projects. Both our kids have appeared in our indie film projects and my son recently had his theatre debut in "Welcome Back to Harlem: A Hellfighter's Story", an original play I co-directed an acted in. We're not crazy about having them follow in our footsteps, but we love getting them involved in what we do when it's appropriate.
What's your exercise routine? How do you manage to get to the gym when you're on set filming?
I got bored with conventional work-outs a long time ago. I practice martial arts like capoeira, kali, jiu-jitsu... I try to get to class at least once a week, but I don't beat myself up anymore if I miss. I also love the outdoors: my kids are old enough that we can go hiking and climbing more often.
I must admit though, despite all the sports I've played and disciplines I've practiced, the most influential training I've gone through was working on the original 300 movie. You've probably already heard all the talk about the diet and training we did for it. I got to participate in that routine for three months, and I fell in love -- it suited me. My regimen has evolved since then, I take it easy when I can afford to, but the fundamental principles are still the same. I like to use exercises that move my body weight and that are both aerobic and anaerobic.
Have you ever been to Egypt?
Yes! I've been to Egypt and it was incredible. There's so much in Egypt that I want my kids to see. I'd love to introduce them to their cousins. Kyra and I went after we got married, it was a wedding gift of sorts from my dad. When we got to Egypt, we stayed with family in Cairo. So, aside from all the typical sites, museums and markets, we got to experience sub-urban life in Egypt for a few weeks. It was eye-opening and heart-warming. I had a feeling of being connected by history to this place and these people. In fact, I remember walking by a gate in my cousin's neighborhood and a stranger just kind of stopped and looked at me, and said, "Welcome back", even though I had never been there. I know what he meant.
I have so many great memories from that trip! I remember the cruise down the Nile and the funny little towel-men they made, I remember eating pigeon (which is a delicacy there), scuba diving in the Red Sea, all the ancient temples. My fondest memory, though, is from when we visited the Great Pyramid at Giza. We were there in summer, so tourism was really slow. Kyra and I went into the central tomb of the pyramid and we were left completely alone for a while. We just sat in this incredible ancient silence, insulated from the outside world.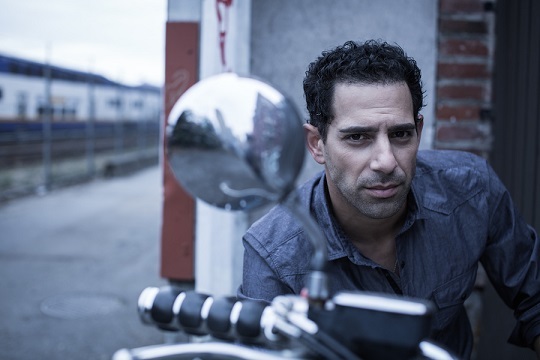 In playing a gay character in The Flash: Did someone from production have a talk with you about the character and things that may occur in the future?
The fact that David Singh is gay didn't really factor in to the audition process any more or less than other character traits. There wasn't a special conversation around that aspect of the character. The fact that the show is closely inspired by the comic books, I think the expectation was that actors would do their due diligence and find out was significant and relevant about their character from the source material. Some actors prefer to steer clear of the previous incarnations of their characters and want to create them from scratch through the show's scripts and the filming process. I, on the other hand, was a fan of the original Flash comic books, so I was happy to jump back in and learn everything I could about Singh and about Geoff Johns' 'Flash', the 'New 52' and all the new Flash stories. Going in, I was aware of both Singh's cultural heritage and his sexual orientation. I'm honored to play a character that represents so much diversity. DC Comics took the brave first step in originally creating this character and showcasing his relationships. I believe television in general can do a better job of reflecting the cultural and individual diversity that exists in the world. CW and the creators of The Flash TV series have taken several brave steps in terms of assembling a truly diverse cast of actors and characters. So, as the show progresses, I look forward to discovering and exploring Singh's personal life, his relationships and the politics that surround all that.
Thank you for asking about this! It means a lot to me.
I'm co-director of Fulfilling Young Artists (FYA). It's the brainchild of actor Sage Brocklebank (Psych). He created it out of a desire to give back to the community. He wanted to help young actors get oriented in this career and to help them find a sense of joy and fulfillment as professional actors. The focus really is on fulfillment and positivity, not necessarily booking jobs in the film & TV industry - and I think the program is unique in that way. We pair twenty young actors (ages 18-24) with experienced, working actors. They're then guided through a six-month mentorship program that includes one-on-one time with their mentors, monthly discussion forums about various aspects of the actor-life and a few mixers and social events whenever possible. It's about cultivating a sense of worth and achievement in your journey as an actor regardless of how much commercial success you're having. It encourages artistry rather than popularity.
The program is free to participants - we receive almost a hundred applications each year. We run on volunteer power, in-kind donations from local acting schools, venues and casting facilities and we got a few bucks from Actra Fraternal Benefits Society (AFBS). We run it from the seat of our pants right now, but we're hoping to find a benefactor that might help us find real funding to solidify FYA's existence in the future.
For The Flash, do you receive the FULL script or just your pages? What happens at the table reads?
I've been lucky enough to get the full scripts for each episode. In this age of ultra-secrecy, it's so refreshing to be able to read the whole script and get a perspective on how the story unfolds.
The table-reads are enlightening to say the least. You get a real sense of how the scenes should play out. The cast is so talented that even if they're reading the script out loud for the first time, they're already right into it. Watching actors like Grant Gustin and Jesse L. Martin - even a table-read- is like getting a front-row seat at the theatre. They're so expressive and connected that the whole emotional impact of the story hits you right there at the table. I've been moved to tears a couple of times at their heartfelt father/son scenes. Carlos Valdes always nails his punch-lines and one-liners - he gets a laugh every time. Everyone really has a handle on their characters by now, and the chemistry makes the table-reads almost as entertaining as the show itself (minus all the awesome action and effects, of course)!
We all get along really well as a cast. We often hang out together outside of work. The table-read is a great opportunity to connect, to get in to the story together and to check-in with everyone. It's often where we get to meet new directors for the first time.
What's it like doing fan conventions?
I haven't had the pleasure of doing conventions yet. I've kept myself quite busy with work, and parenting has tied up whatever free time I may have had. But, the kids are older now and I'm eager to connect with the CW, DC Comics and The Flash fans in the very near future. I'm planning to hit up as many conventions and meet as many fans as possible from here on out - I'm a fan, too, so this should be fun!
Anything else you'd like to say?
I'd like to add that as a theatre practitioner and filmmaker, I have a few really interesting indie projects of my own on the go. Independent projects are a way for storytellers like myself to create work that's meaningful to us and hopefully important to you. Stay tuned.
Calling all HuffPost superfans!
Sign up for membership to become a founding member and help shape HuffPost's next chapter