As Dec. 18 approaches, consumers are clamoring to get their hands on the hottest Star Wars toys surrounding Star Wars Episode 7: The Force Awakens, the biggest movie debut of the year, and quite possibly of all time. Anticipation for this film is at an all-time high, and as vehicles, action figures, play sets and role-play toys continue to fly off shelves, we scouted the aisles to find the best, hottest Star Wars toys available this holiday season.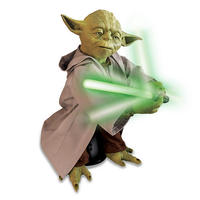 Star Wars Legendary Yoda
Have you ever dreamed about being a Jedi? Now anyone can train to become a Jedi with Legendary Yoda (pictured above), equipped with 115 phrases, 160-degree movement, and voice-recognition to guide you to Lightsaber mastery. Set Yoda to attack on Warrior mode, learn the ways of the force with iconic quotes from the Jedi Order with the Force mode, and test the conviction of your good or evil intentions using the Wisdom mode.
Micro Machines First Order Star Destroyer Playset
Two awesome 80's memories have come together in this one amazing set! Star Wars, meet Micro Machines. Discover new galactic maneuvers, transform your battleship into a miniature battlefield, and recreate the Imperial battleships of yesteryear with the Finalizer, a First Order Star Destroyer. And if that's not enough--relive the heroic battle with Kylo Ren and Finn (Jakku) microfigures.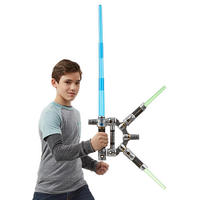 Star Wars BladeBuilders Jedi Master Lightsaber
Everyone needs a lightsaber. Kids--and adults, let's not kid ourselves--can create more than 100 combinations using the BladeBuilders system (pictured above) and their imagination. The Jedi Master Lightsaber features light and sound, has two independently lit lightdaggers, an expansion hit, two elbow connectors, one dual connector and a cross connector. Get ready to duel!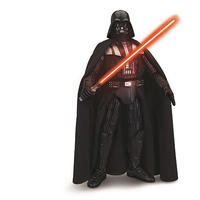 Darth Vader Animatronic Interactive Figure
New characters may be a hot topic for Episode 7, but Darth Vader will always be the Sith Lord. This animatronic figure (pictured above) features 31 points of articulation for amazing movements. Raise Darth Vader's left arm to hear his iconic voice and watch his animated actions. Press his chest button to activate battle mode. The lightsaber features real-time interaction with light, battle sound effects and helps the Darth Vader respond to you, based on how you move the lightsaber.
Air Hogs Star Wars Millennium Falcon Quad
Fly the most iconic ship in the Star Wars franchise with authentic lights and sounds. Activate the Hyperspace mode with a remote control, and control the Millennium Falcon (pictured below) from up to 200 feet away with a 2.4 GHz communication system. The ship is made of impact-resistant foam that makes it resilient to photon torpedo hits; so don't be scared to (accidentally) crash the ship.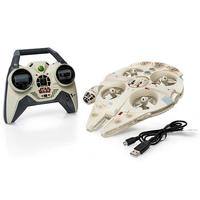 iHome Millennium Falcon Bluetooth Speaker
Perfect for adults and kids alike, this super cool gizmo wirelessly streams audio from up to 30 feet away. Of course it plays the Star Wars theme song and offers quality sound performance. Perfect for parties and awesome as everyday room décor for any Star Wars fan. The device works well with all Bluetooth-enabled smartphones and tablets.
Sphero BB-8
Explore the galaxy with your very own BB-8 droid, an adorable, spherical robot that you can control through your smartphone or tablet. The droid can listen and respond to your voice and has an adaptive personality that evolves as you interact with her. She also offers holographic communication, which you can view, record and share with your friends.
Laurie Schacht also known as The Toy Insider Mom, has been covering the toy industry for more than 20 years. The Toy Insider produces an annual holiday gift guide in Woman's Day magazine, and also serves as a trusted resource for parents all year round at TheToyInsider.com and through social media.