October 2 is Manufacturing Day, and the upcoming event is not merely some quaint memorable nod to the past.
Over the past three years, #MFGday has become so successful - more than 440,000 people have participated - that many will actually celebrate manufacturing throughout the month. Most of those who have participated in these events are truly surprised by what they see.
The truth is, manufacturing is undergoing a tremendous change that isn't widely understood.
During one of the recent GOP presidential debates, when a few candidates talked about bringing manufacturing back to the United States, they were met with a backlash of outdated reactions. Several people on Twitter teased: Why not bring back "hunting and gathering?" Another called talk of restoring manufacturing an "idiotic idea," while another said it was "a fantasy."
I understand why some people think this way, but this point of view is not only antiquated, it's potentially dangerous for our economy and defense.
As I write this, the global manufacturing sector is in the midst of what many manufacturing experts regard as the Fourth Industrial Revolution, known globally as Industry 4.0.
This new era of cyber-physical manufacturing is being driven by creative new manufacturing technologies used to make things.
When you hear talk about the "renaissance" in manufacturing today, it is really the renaissance in manufacturing technologies that folks are talking about.
Technologies such as those at Voxel8 in Boston. That company, a spinout from Harvard, has created the world's first multi-material 3D electronics printer. It prints conductive inks, along with other materials, and it could change the way circuits are created, leading to all-new electronics and products we haven't even thought of yet.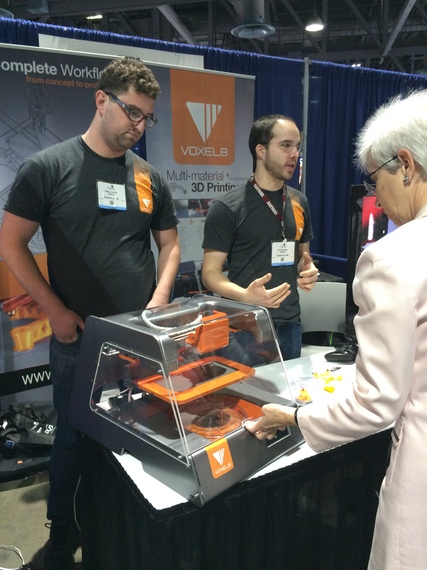 Or take OPS Solutions in Novi, Mich. That manufacturing technology company has figured out a way to make humans compete more directly with robots through augmented reality. OPS integrates lights, cameras, sensors and other technologies to guide humans, who will always be more flexble and tactile than robots, through a series of tasks, making sure they don't make mistakes and capturing data about how well the tasks are performed. Chrysler is just one company already using the technology.
A great deal of these new manufacturing technologies are also driven heavily by IT. An example in this area is ANSYS out of Pittsburgh. That company is a leader in multiphysics simulation technologies, which help engineers to test manufacturing techniques before they are deployed, even eliminating prototypes in some cases.
While these companies are doing important high-tech work that is changing the face of manufacturing, the United States is, unfortunately, not really a leader in manufacturing technologies. In actuality, we import most manufacturing technologies from Germany, Japan, Italy, Switzerland, China and other countries.
This is a big problem, and opportunity.
If the United States wants to be competitive in the next era of global manufacturing, we need to reclaim a leadership position in these manufacturing technologies, which are displacing low-skill labor and resulting in higher skilled, high-paying manufacturing jobs.
In late 2014, the US Congress took an important first step to make this happen. The Revitalize American Manufacturing and Innovation Act, which passed with complete bipartisan support, created the new National Network for Manufacturing Innovation (NNMI).
The primary goal of this network, which now has public-private manufacturing innovation hubs in seven states, is aimed at making the US a leader in the most important manufacturing technologies of the foreseeable future. The first of these hubs, America Makes in Youngstown, Ohio, is focused on 3D printing technologies. The most recently announced new hub, the FlexTech Alliance, will be based in Silicon Valley and work to develop the next generation of flexible electronic devices. Chicago, Detroit, Raleigh, NC, Knoxville, TN and Rochester, NY, also have hubs now, focused on specific technology areas.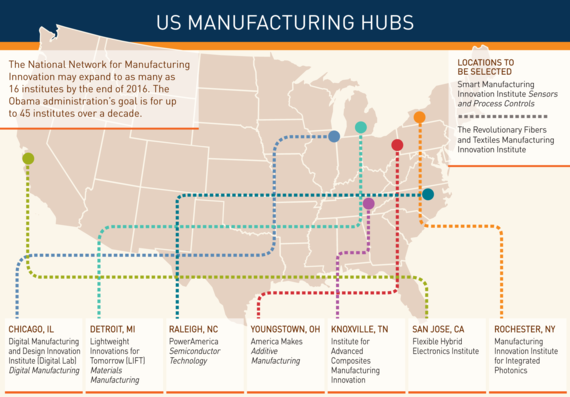 The importance of these efforts to our economy and defense cannot be overstated.
During the last global wave of manufacturing change, the US lost 6 million jobs. Today, about 12 million direct manufacturing jobs remain, and we've seen a healthy uptick of 876,000 manufacturing jobs since February 2010, thanks in large part to many creative new manufacturing technologies.
By taking a leadership role in the advanced manufacturing technologies of the future, we can secure an important part of our economy, grow high-paying jobs and invent the creative new products and defense systems of tomorrow.
Manufacturing is not some artifact industry for the history books. As long as our economy depends on consuming goods, making those goods will always matter. And the ways things are manufactured today is more high-tech and advanced than ever before. If you don't believe me, go to www.mfgday.com and sign up to visit a manufacturing facility next month.
Go see the Fourth Industrial Revolution for yourself.
Calling all HuffPost superfans!
Sign up for membership to become a founding member and help shape HuffPost's next chapter