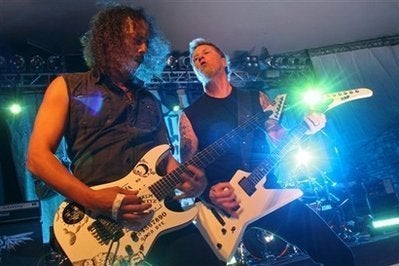 Click here to read Part I
"It's not show friends. It's show business. " - Bob Sugar (Jay Moore): Jerry McGuire (1996)
What will happen to the major labels?
The labels were only ever going to survive as long as they remained the powerful gatekeepers between the artists and a mass audience. To the artists, they are like bouncers at an exclusive nightclub on a January night in Manhattan; you suck up to them while you seethe at them for making you stand out in the cold. The longer you wait, the more resentful you get (yeah, been there).
As I discussed here before, technology is making it possible for an artist to post their song on the Web and immediately make it available to everyone. However, there are still no great solutions for making "everyone" aware of your song and motivating them to go get it -- even if you're giving it away. The labels are still much better than anyone else at mass marketing music because they still have the necessary money, relationships and other resources to do it. Music consumption is on the rise but music "sales" are faltering, so over time the labels are draining their coffers and soon won't be able to even mass market effectively. They will be relegated to making money on the value of their legacy catalog of music -- licensing The Rolling Stones and U2 to film and other similar opportunities.
The label groups aren't resting on their laurels however. They see the inevitable endgame approaching and they have decided to address the situation with a multi-pronged strategy in hopes of delaying the end of their traditional business model as long as possible.
1. They extract multi-million dollar fees from music start-up companies that want to license their catalog.
Over the past few years a lot of venture capital firms and angel investors have poured money into music start-up companies that either stream major label music over the Web or offer it for download. Just to get started, Warner Music Group, SonyBMG, EMI and Universal demand millions of dollars from these start-ups upfront. So, the money has been flowing from the venture capital firms to the start-ups right into the pockets of the major labels. In many cases, it then turns out that these start-up firms pay more money than their business models can support and they're going belly up long before ever turning a profit. A high profile start-up in this space called Spiral Frog was the most recent victim of this type of death. An interesting article about that can be read here.
2. They take an equity stake in new music companies.
Sometimes the labels will forgo a multi-million dollar advance and will even invest money in a new company if they believe enough in the new business. Warner, for example invested $20 million into a music start-up called Lala despite previously having sued the company for copyright infringement. All four major label groups have taken a stake in MySpace Music. However, even these companies' business models are considered to be flawed and headed for what the popular TechCrunch blog that covers this space calls the "dead pool". Although it's more than likely MySpace Music will figure something out before getting there due to being backed by NewsCorp.
3. They do 360 deals with artists
As discussed previously, this is where the labels take a much larger stake in the artists' revenue streams than they used to. Not only do they collect when the artist sells music. They also collect when the artist sells concert tickets, does product endorsements and sells T-shirts and other merchandise.
Between these strategies and the strength of their catalogs, these companies will survive. But in all likelihood they will promote fewer new acts with new music. The risk to return ratio just won't be as attractive as their catalog businesses.
EMI is a good example of how bad things have gotten for the majors. In 2007 it was purchased by a capital firm called Terra Firma, headed by Guy Hands. The company brought in former Google chief information officer Douglas Merrill to head up its digital strategy. This past month both Hands and Merrill exited after Terra Firma had to write down a $1.78 billion loss on their investment. Now, EMI is trying to right itself and figure out what to do going forward.
So this all boils down to the question; what do artists and songwriters have to do today to increase their prospects of making a living -- if not a killing?
The good news is there are a lot of things artists can do. The bad news is that the days of exploding stardom are going the way of the CD and the major labels. Sure, they can get their 15 megabytes of fame doing something that gets lots of attention on YouTube or by getting caught up in a prostitution scandal with a sitting governor like Ashley Alexandra Dupre did. Then, she sold a bunch of her music on a DIY music sales site called AmieStreet. But that didn't last. Her music wasn't appealing enough to enough people to sustain a career in music. Of course, that's not the path an artist will take if they're serious about building long term fans and having a real career.
Today, artists and their managers have to do it all. They have to be their own promotion and marketing team. They have to network, build relationships and nurture their fans.
Most of all, they must come to terms with the fact that no one is going to invest their time and money into the artists' music and careers unless they can see a path to getting a return on that investment. That path is still taking shape in the new music landscape; often referred to as Music 2.0. It's still called show business and not show friends so investors have to have a stomach for risk. Artists can't afford to be bitter about having to do it all themselves and I speak to many who unfortunately are. Artists and their managers have the most to gain in today's business models and they get to keep a lot more of their rights and income than ever before. So, if they are diligent and their music is good they can earn a very decent living.
Online tools that artists can use are changing the landscape very quickly. Radiohead left their label and released their album on their own and used many online tools to track their own progress. A few weeks ago Counting Crows announced they too are leaving their label to go it alone. Granted, these are established bands with brand names. Few artists get to start out on their own with the same advantages but soon we are going to start seeing bands "breaking" all over the Web and bands and their managers need to especially make friends with analytic tools that will help them find their market and then focus like lasers on it.
These analytic services are going to be absolutely key to their future. They can't get where they're going if they don't know where they're starting from and they can't correct their course if they aren't able to see how (or if) their promotion and marketing efforts are working.
Nothing can replace good music, charisma, playing lots of gigs, having a good street team of fans who help artists spread the word and nurturing a growing fan base. However, there are so many tools now directly available to artists to help them do even these things that didn't exist just a few years ago that leveraging them is a must if artists are going to succeed in the new landscape.
I'll leave it here for now, but for good measure I'm throwing in a list of things artists should be doing and if you know any you can pass this list along:
First, they must get attention. Money will follow.
1. Artists should sign up to as many online social networks as possible where they can post theirs or their band's profile and music. They need to network with fans and similar bands on those sites. They include but are not limited to:
a. MySpace
b. Facebook
c. iMeem
d. Broadjam
e. Mog
f. Reverb Nation
2. They need to get valuable feedback and analytic information on their music from focus groups and real industry professionals
a. SoundOut
b. Music Xray (my company)
c. They should use Google Analytics to measure activity on their website
5. They should consider "pre-clearing" their music for sync licensing (like Getty Images but for songs)
a. Pump Audio (actually owned by Getty Images)
b. AudioSocket
c. Sir Groovy
6. They should consider placing their songs on sites that enable their fans to "pitch in" to fund their recording and marketing.
a. Sellaband
b. SliceThePie
Calling all HuffPost superfans!
Sign up for membership to become a founding member and help shape HuffPost's next chapter