Belgian artist Ives Maes has recently brought a welcome spotlight to the ghosts of World's Fairs past in his newest exhibition at The Nelson Atkins Museum of Art in Kansas City, Missouri. Entitled "The Future of Yesterday," his series of 16 photographic sculptures capture the lasting remnants of World's Fairs across the world, once-magnificent sites that have been now been repurposed or abandoned. Scroll down for more images.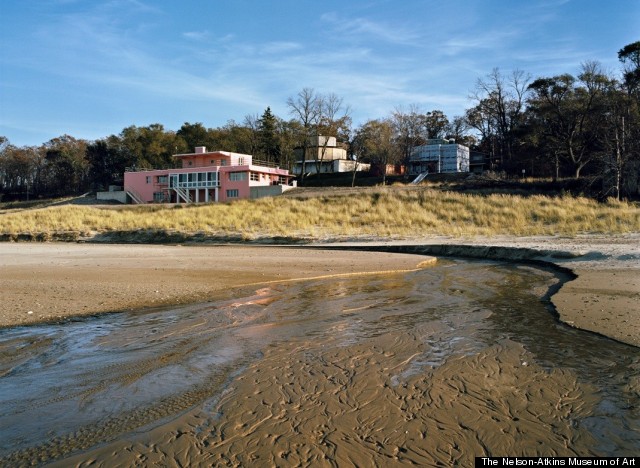 Ives Maes, Belgian, b. 1976. "Homes for Tomorrow (A Century of Progress, Chicago, 1933)", 2011. C-print on acrylic. Courtesy of the artist and Galerie Christian Nagel, Berlin.
In Maes' works, he uses intensely saturated colors and large-scale prints that draw out the still-present grandeur of the fields, shores and parks where the fairs took place. Yet the sparse arrangements and absence of people or functionality expose the reality of these sites once the festivities have left. Many of them have become skeletons of idyllic moments, empty colosseums and graffitied halls that possess little indication that a World's Fair ever graced the foundation. "Architecture for world's fairs was built to disappear," said Maes in a press release for the exhibit. "Everyone works in a frenzy to complete structures for a fair, and then they walk away when it's over. We need to remember these buildings and these moments in time."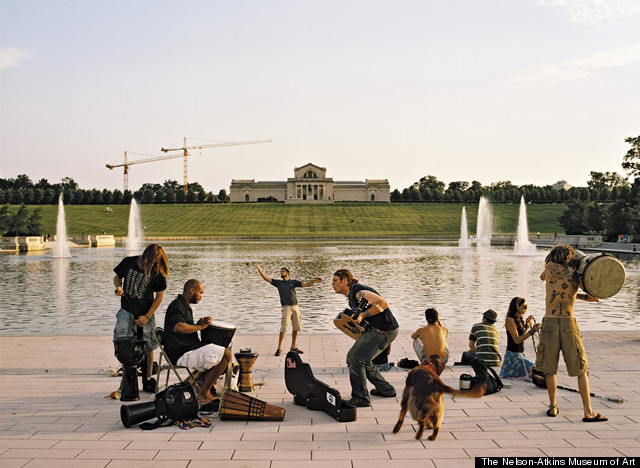 Ives Maes, Belgian, b. 1976. "St. Louis Museum of Art (Louisiana Purchase International Exposition, 1904)", 2011. C-print on acrylic. Courtesy of the artist and Galerie Christian Nagel, Berlin.
Other sites have been given new life though. The Palace of Fine Arts, also known as the Louisiana Purchase Exposition, was built in 1904 for the World's Fair held in St. Louis, Missouri. And after the fair ended, the massive neoclassical building became a home for the city's art collection, renamed the Saint Louis Museum of Art. Gazing at the well-kept columns and the lively musicians Maes has included in the foreground of his photograph, it's much easier to imagine a time of excitement and progress.
Yet all of the sites, even the image of the Palace of Fine Arts, are depicted in semi-obscured ways, either marred by fog or positioned in the back corners of Maes' frames. So even though the images may represent enduring functionality, the lonely spaces that take up most of the photographs draw the viewer to consider the deleted buildings and the effect that time has had on the entirety of the fairgrounds. Like other installations that Maes has created, the exhibit prompts viewers to develop new connections with these seemingly ordinary and familiar sights.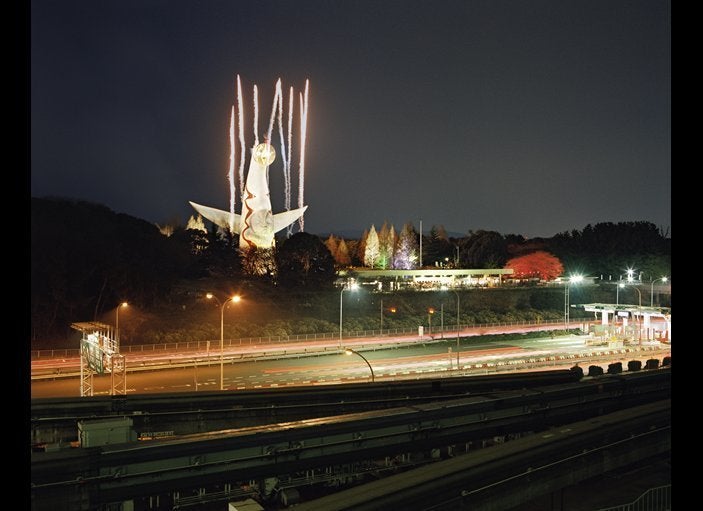 The Future of Yesterday: Photographs of Architectural Remains at World's Fairs
Popular in the Community