To many, Coca Cola's decision to invest $980 million in buying a stake in leading Saudi beverage manufacturer, Aujan Industries, may simply seem as an attempt to catch up with arch-rival, Pepsi, which for long has been the leader in the Middle East.
The agreement was announced earlier this week and the transaction is set to close in the first half of 2012; once it does, Coca-Cola will acquire a 50 per cent stake in the entity that holds the rights to Aujan's brands and a 49 per cent stake in Aujan's bottling and Distribution Company, according to Reuters.
The Middle East currently contributes a small fraction of Coke's overall sales; many observers relate this to an Arab League-imposed boycott which lasted from August 1968 to May 1991. It is believed that Coca Cola is still recovering from this ban which came as a result of the company's decision to open a bottling factory in Israel at the time; Pepsi wasn't subjected to a similar boycott, hence it naturally became the regional market-leader ever since.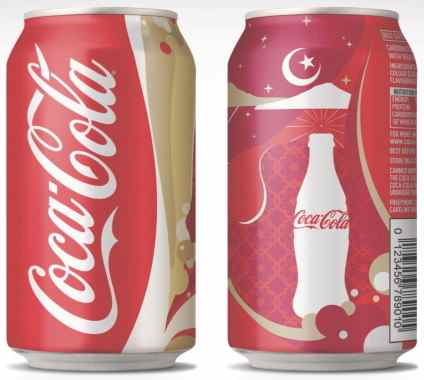 Coca Cola has tried to appeal to local taste by producing a special can for the month of Ramadan
As part of its continuing efforts to expand its business in the Middle East and North Africa, the company announced last October that it intends to invest $5 billion.
The deal with Al-Aujan Industries makes perfect sense; the Saudi family-owned business which knows very well how to cater to the region's values and traditions. It owns a portfolio of highly popular brands including the 'Rani' line of juices and 'Barbican' malt drink (a.k.a non-alcoholic beer).
More importantly, Al-Aujan owns the regional rights to Vimto, a 102-year-old British cordial drink which has taken on a life of its own in the Middle East.
Vimto was first imported by the Aujan family in 1928, and they began manufacturing it shortly afterward.
In its homeland of England, Vimto has had several revamps, brand-extensions and attempts to market it to different consumer segments. In Saudi Arabia, it enjoyed enormous success as a refreshing, sugar-rich choice to be consumed at the iftar (break of fasting) table of millions of Muslims in Saudi Arabia and across the region. Today, Aujan industries sell nearly 20 million bottles of Vimto every Ramadan.
(A Ramdan Jingle by Vimto in Saudi Arabia)
One has to remember that due to the hot climate, the beverage market has always been significantly large in this region. Also, at the time Vimto first arrived, very few people had refrigerators; hence, a sweet, cordial and hassle-free drink would have been a natural choice.
The other contributing factor to Vimto's success would have been the need for a 'grown-up' drink in a market where selling alcoholic drinks is either forbidden (such as in Saudi Arabia) or frowned upon.
In a previous interview with Jim McDonnall -- managing director of Vimto international (UK) -- I was told that the cornerstone of Vimto's success story in the region is the close relationship between the Aujans and the Nichols family of Britain who invented the secret recipe and still own the brand today.
Al-Aujan's tactical and highly promoted positioning of Vimto as a 'Ramadan Drink' meant that over a few decades, it amazingly over took traditional drinks and juices that have been associated with the Muslim Holy month of fasting, such as Jelleb and Qamareddine.
Saudis every year await the annual Vimto Ramadan advertising campaign, which for a long time has been about the joy of family gatherings.
With its newly purchased stake in Al-Aujan, Coca Cola has secured itself a place on the Iftar (breaking of fast) table of millions of Muslims every year as well as the opportunity to achieve economies of scale with the intermarriage of its and its new partner's bottling and distribution facilities.
Related
Popular in the Community