This piece first appeared in Quail Bell Magazine, a place for real and unreal stories from around the world.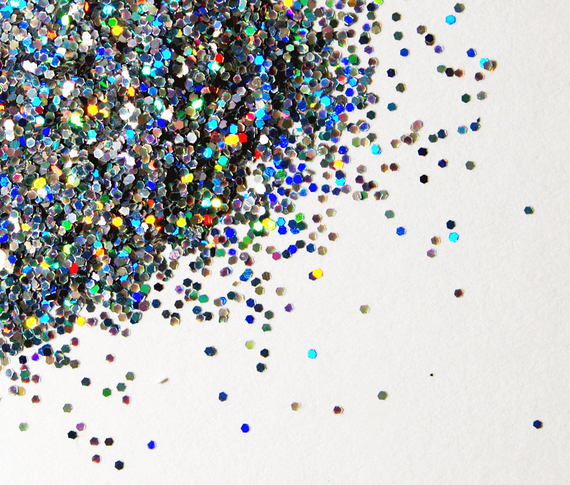 Drag queens flaunt it. Fairies sprinkle it. Little girls adore it. You couldn't have survived the '90s club scene without it. It's called glitter and it's got a history just like anything else. But unlike the length of its flash beneath the sun, glitter's history lasts longer than a nanosecond. So let's ruffle a few boa feathers, chip a stiletto, and explore something that most unglamorous folks don't consider a worthy essay topic.
If you think that glitter originated with Tinkerbell, you are mistaken. Glitter has helped humanity shimmer for centuries -- like, since The Flintstones. Fred and Wilma smeared mica flakes into their cave paintings for that extra special something. It wasn't just cavemen, either. Even the ancient Egyptians, Chinese, Greeks, and Romans admired the way glitter stole the show. It's likely that members of these civilizations not only used mica in their paintings but their makeup, too. If you're a child of the Spice Girls generation, you probably remember how "glitterific" Lip Smackers, Limited Too, and Claire's made their cosmetics right around the millennium. It looks like Cleopatra & Co. inspired the idea!
Fast-forward to a more modern era. In 1934, a machinist from New Jersey, named Henry Ruschmann, came up with a way of grinding up plastics that caught the light. His company, Meadowbrook Inventions, is still the world's leading glitter manufacturer and supplier.
Meadowbrook's website says the following of glitter:
"Glitter's applications are limitless....In plastics, glitter is molded into a myriad of products and displays. The cosmetic industry relies on glitter as a colorant for nail polish, gel based formulations, and powders. The toy industry uses glitter flocked into fabrics, molded into plastics and suspended in solutions. Glitter enhances the world's finest greeting cards, and is used by screen printers worldwide to add a touch of sparkle to fabrics and paper. [It] is also used by the world's leading bass boat manufacturers to create the unique finish demanded by boating enthusiasts. Let's not forget the millions of Christmas balls and holiday decorations that are adorned with...glitter. Parade float designers, theatrical set designers and Mardi Gras creators all use glitter to catch the eye. Loved by children and adults the world over, ...glitter is packaged for use by school supply distributors and craft companies across the globe."
Thus, thanks to Meadowbrook, glitter as we know it has been around since the Great Depression. Yet true glitter madness wouldn't spellbind humanity until decades later. Glitter ruled the '70s, '80s, early '90s, and the turn of the millennium, especially in the music, toy, and cosmetic industries.
Glam rock, also called Glitter rock, captivated British audiences starting in the early '70s. Artists decked themselves out in campy costumes that often flirted with androgyny, science fiction, Cabaret, mythology, and Victoriana. In 1972, for instance, David Bowie boogied his androgynous pants off as his alter ego Ziggy Stardust. Ziggy Stardust wore the fantastic creations of Japanese designer, Kansai Yamamoto, who embraced everything from sequins to highly reflective space fabrics.
Other artists famous for their glittery get-ups included T. Rex, Roxy Music, and, of course, Gary Glitter. Gary Glitter would strut on stage in something like a shiny silver jacket with shoulder pads -- and still be totally comfortable with his sexuality and public perception (until his 1999 child pornography conviction, that is). In the U.S., New York Dolls, Jobriath, and Lou Reed had fun with glitter, too. But it wasn't just the musicians getting in on the glitter craze. As part of their concert attire, fans of hair bands like Poison and Mötley Crüe would rub Vaseline on their faces to make glitter cling to their skin.
Plenty of girls' toys have made use of glitter over the years, too. Barbie is probably the most famous example. Everything from her clothes to her accessories to her own hair have featured sparkles. My Little Pony dolls, almost like the horse version of Barbie, have sported sparkles in their hair and little wardrobes, too. That's not to mention the well-known designs on their rumps. Each My Little Pony has a cutesy picture, like a heart or rainbow, tattooed on her hind quarters. More often than not, that design has a touch of glitter. Other "glittertastic" toys include Polly Pocket, Littlest Pet Shop, and almost anything by Lisa Frank. More recent incarnations of Betty Boop and Sanrio gifts, from dolls to keychains, have been loaded with glitter, as well.
On a similar note, stationery targeted toward tweens and teens in the '90s and early 2000s practically had to have glitter in order to be marketable. Girls clamored for glitter notebooks, folders, and, perhaps above all else, gel pens with glittery ink. While these things may not have technically been toys, they were certainly novelties and were often considered distracting by teachers and employers. It's true that "Oh, my pen's sparkly prettiness is blinding me!" is not exactly the best excuse for leaving a math test unfinished.
All glittered-out from the '90s and early 2000s, many makeup companies are only just now reintroducing the shimmery substance to their eyeshadows and lotions. You can probably thank Lady Gaga's stylists for that. Within Sephora's current collection alone, you'll find Urban Decay Heavy Metal Glitter Liner ($18), Too Faced Starry-Eyed Liquid Eyeliner ($17.50), Laura Mercier Metallic crème Eye Colour ($22), Sephora by Opi Nail Glitter ($5), Hello Kitty Glittercute Collection Made with Swarovski Elements, and more. Heck, you can even paint yourself in glitter from head to toe using Guerlain's L'Or. All products in the line contain flecks of pure gold.
So our lives are covered in glitter! It's in merchandise across the globe! It's also all over our houses! Glitter has wedged its way into our floorboards, our hair, and...our language. Not to get all academic on you, but Random House Dictionary defines glitter as:
Verb
1. to reflect light with a brilliant, sparkling luster; sparkle with reflected light.
2. to make a brilliant show.
Noun
3. a sparkling reflected light or luster.
4. showy splendor.
5. small glittering ornaments.
Dictionary.com lists "flash," "glisten," "glitz," "clinquant," "glare," "gleam, "glitter ice," "luster," "spangle," and "sparkle" amongst glitter's related words. Another related word that might catch your fancy is "glitterati." Wonder what that's all about? It's a blend of the words "glitter" and "literati." The word describes pop stars, socialites and other less substantial types.
Most native English speakers are probably familiar with the idiom, "All that glitters is not gold," which first appeared in Aesop's fables. It means that something that seems valuable on the surface might end up having no real value at all. In 1999, the rock band Smash Mouth transformed the expression in their song, "All Star," saying that, "All that glitters is gold." (Those of us who held onto our holographic Pogs! collection wish that were true...)
As suggested by the excerpt from Meadowbrook's website, there's far more to say about glitter--where it shows up and how it's used. But for glitter sight-seeing, all you have to do is walk through a shopping mall and make the observations yourself. You're probably still wondering what glitter is.
Today's glitter isn't made from mica. Generally, it's synthetic. Anything from copolymer plastics to aluminum foil to iron oxides might be used to make glitter glitter. You can even make glitter in your own home, relying entirely upon common ingredients and kitchenware. Simply stir food coloring into salt and put the mixture in the oven until the liquid disappears. Ten minutes later, you should have a whole baking pan of mini diamonds. Now the reason why loose glitter's often sold in saltshaker-like containers may be less of a mystery.
Alas, a glimpse at glitter. If you're like most quail bell(e)s, that's the cue to rush over to your vanity for a dab of stardust. You might even give yourself a whole glitter makeover. Just don't turn it into an evening affair by watching Mariah Carey's "Glitter." You'll regret that part.
Related
Popular in the Community