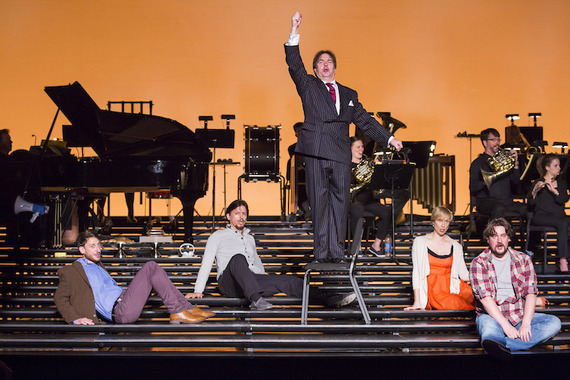 The cast of The Royal Opera production of The Importance of Being Earnest at Jazz at Lincoln Center Rose Hall. Photo: Chris Lee
By Mark McLaren, Editor in Chief, ZEALnyc, June 3, 2016
Death of Klinghoffer, Anna Nicole, Doctor Atomic, Jerry Springer: The Opera. Not a lot of laughs and if you're looking for a light night with a few guffaws, you're probably not running to contemporary opera.
Then comes Gerald Barry's ebullient The Importance of Being Earnest, which had its U.S. stage premier last night at Jazz at Lincoln Center's Rose Theater on the schedules of Lincoln Center's Great Performers series and the NY Phil Biennial; a delightful exception among weighty contemporaries.
This piece is funny - really funny, and this production is a thrill to the ear. A cast of superb young singers tackle a solid, idiosyncratic score. Tenor Paul Curievici (John Worthing) soars effortlessly. Stephanie Marshall (Gwendolen) brings a lovely mezzo while soprano Claudia Boyle (Cecily) sings in the stratosphere with ease. Alan Ewing (Lady Bracknell) is a vibrant bass and Benedict Nelson a fine baritone. Diction is impeccable throughout, in a piece where text is everything.
Barry provides a juicy piece of comic meat on which his cast chews. Oscar Wilde's successful farce is not intuitively adaptable to opera. The play is long and every word carefully chosen. The power of the original comes not from its trite plot or characters, but in its language - hilarious and beautiful language. Capturing its essence operatically is a task, a task that Barry discharges nicely in this rethinking.
Supported by Ramin Gray's succinct production, Barry adds successful comic layers to the original. The rhythm of his text setting is selectively at odds with its cadence, a conceit that keeps the listener hanging on every word and adding an absurdity to the already rich language. The comedy of Lady Bracknel lands as well in the opera is in the play - and that is no small feat. Ewing, wearing a pinstripe suit (Barry's Bracknel is a woman dressed and played as a man) brings sharp comic instincts.
Barry and Gray bring a number of 'more is more' operatic elements to the work. The score calls for a large rack of dinner plates which a percussionist smashes in counter-point to the dialogue of Gwendolen and Cecily's first meeting, a scene (also with megaphones and sunglasses) that owes as much to Monty Python as it does to Wilde. Complete settings of Freude, schöner Götterfunken appear as inexplicably as does a long jig danced by Bracknell as she grapples with Worthing's odd ancestry. Cecily's costuming (aided by the beautiful Boyle) is over the top.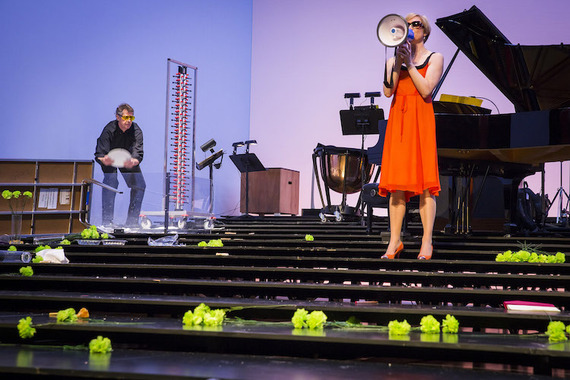 Soprano Stephanie Marshall in The Royal Opera production of The Importance of Being Earnest at Jazz at Lincoln Center Rose Hall. Photo: Chris Lee
Barry's score is bold, shifting musical styles (Schoenberg, Stravinsky, Poulenc) with an effective capriciousness. A horn trill motif becomes an irritating bug and irritation quickly becomes rapid repetitive scalar passages. No matter how stylistically shifty the score, the vocal setting is always sound - always right.
Opera is having a tough slog these days. The Met is aggressively combatting audience attrition with new productions - it drew a younger, urbane audience with William Kentridge's Lulu this season. But new productions exclusively won't solve the problem. New content is also necessary - rich, varied, interesting content. I love Nixon in China as well as the next opera guy, but I'm thrilled to see and hear Barry's new, economic, and very funny comedy added to the rep.
The Importance of Being Earnest, an opera by Gerald Barry, at Jazz at Lincoln Center's Frederick P. Rose Hall, in a production by The Royal Opera directed by Ramin Gray, set design by Ben Clark after an idea by Johannes Schütz, costume design by Christina Cunningham, lighting design by Franz Peter David, movement by Leon Baugh. With New York Philharmonic, Ilan Volkov conductor and Simon Wilding as Lane/Merriman, Benedict Nelson as Algernon Moncrieff, Paul Curievici as John Worthing, Stephanie Marshall as Gwendolen Fairfax, Alan Ewing as Lady Bracknell, Hilary Summers as Miss Prism, Claudia Boyle as Cecily Cardew and Kevin West as Rev. Canon Chasuble.
Read more about New York City arts and culture here.
Read more about recent New York City classical music here.
Calling all HuffPost superfans!
Sign up for membership to become a founding member and help shape HuffPost's next chapter