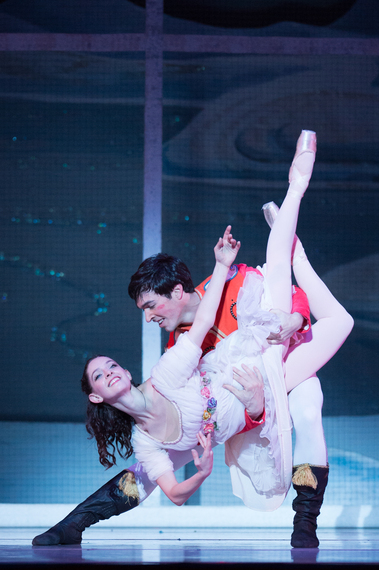 "I am experiencing a kind of crisis," Tchaikovsky wrote gloomily, after being ordered by the tzar's flunkeys to compose a ballet score for a flimsy tale centred around children, rats and a candy kingdom. After the glory of The Sleeping Beauty, the Nutcracker commission seemed like an insult.
But the death of his beloved sister Sasha fueled a burst of creativity: Sasha's spirit was to live on in the gutsy, charming character of Clara (a.k.a. Marie in this and other productions), and Tchaikovsky poured his grief, and his vivid childhood memories, into stirring musical themes whose richly evocative symphonic orchestrations ring out today not just in opera houses around the world but also in shopping malls, elevators and television commercials.
Though poorly received in St. Petersburg in 1892 (imported Italian ballerina too fat; story illogical; too many tots onstage), The Nutcracker has since become the annual meal ticket for most ballet companies. Most productions overdose on the saccharin in an attempt to appeal to a wider Disney demographic, yet retain some of the more disquieting elements of the original E.T.A. Hoffmann story (like the creepy magician uncle.)
So it was a relief to witness Graham Lustig's deft handling of the tale for Oakland Ballet, aided and abetted by Zack Brown's stylish sets and costumes. Lustig shifts the setting from Napoleonic Bavaria to Vienna on the eve of World War I -- hooray for slimmer silhouettes, swirling skirts with Empire waists and glamorous beading. He shines a more wholesome light on Uncle Drosselmeyer -- youthful, generous and courtly, as danced by the dapper Connolly Strombeck. The mice are cuddly, the soldiers more obviously toy-like than war-mongering, but any disappointment at the lack of blood and gore is more than made up for by the witty scenic design for the battleground: a larder furnished with a giant, cracked tea cup and a massive iced Bundt cake that has passed its sell-by date.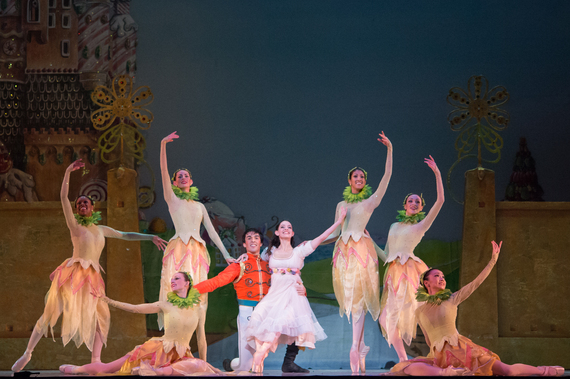 Lustig wisely situates young Marie and her Nutcracker Prince at the heart of the ballet -- not just youthful spectators with little actual dancing, as in many productions. The radiant Ramona Kelley and winsome Gregory DeSantis are utterly believable as teenagers on the cusp of adulthood. Their pas de deux in both Acts are fresh and exciting, a splendid match for Tchaikovsky at his most sublime. Under the inspired baton of Michael Morgan, the Oakland East Bay Symphony avoided the showy excesses that can easily tank this familiar score.
Marie is fascinated by a romance between her older cousin Vera and The Cadet. (The leading men in this ballet traditionally have no names; known only as The Cadet, The Cavalier, The Nutcracker Prince, they cede the limelight to their partners with grace and good humor.) In Act II, once Marie is transported to the dreamland known as Confiturembourg, Vera and The Cadet transform into the Sugar Plum Fairy and Her Cavalier. Megan Terry shows off her gracious lines and radiates confidence throughout many challenging twists and turns -- with superb assist from the dashing Justin Genna, who pushes her right to the edge of her balances with great daring. Ballet to the People was completely won over by her solo: witty and unprissy, unlike other versions. Instead of all that tiresome, dainty skittering around on pointe, Lustig gives her lush, bolder movement, still perfectly in keeping with the bell-like chiming of the celesta. (A lower-wattage smile might be called for, however. Ballet to the People thinks the Sugar Plum Fairy should be a little more aloof and serene, less Hollywood.)
E.M. Forster declared that "good writing is administering a series of tiny astonishments." The same can be said for story ballets. The Oakland Ballet Company does not have the manpower to field the usual armies of snowflakes and flowers, so, while we miss the intricate patterns of larger ensembles in these scenes, Lustig administers a series of tiny astonishments: comic touches, ironic twists to tradition, moments that reveal character or render the music in jewel-like images.
The Sugar Plum Fairy, for instance, repeatedly finishes certain sequences in her solo on pointe, with ankles crossed and both knees elegantly bent: a languorous nod to more traditional choreography that has the ballerina hop into a tight, crossed position on pointe.
Marie wins the respect and affection of the citizenry of Confiturembourg when she intervenes to save three delinquent mice who are about to have their tails whacked off.
The Waltz of the Flowers kicks off with only the dancers' arms visible, creeping up over the castle walls like vines.
A bevy of Snow Maidens, in stunning ice-blue gowns that drift and swirl like wisps of San Francisco fog, are accompanied by a flock of bouncy and utterly adorable Snowballs in powder-puff garb, sporting wool beanies with pom-poms.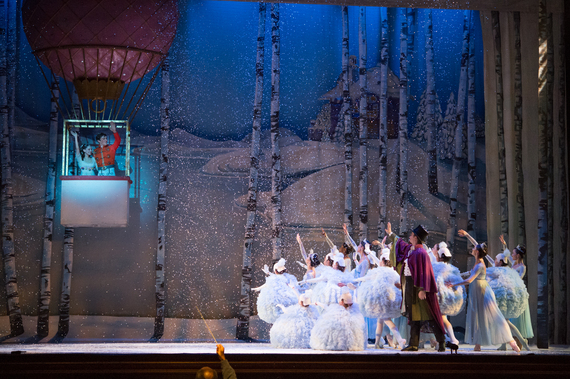 Weary Nutcracker veterans sing Hallelujah for the ethnic divertissements of Act II that spare us the tired clichés and occasionally poke fun at the notion of an Orientalist dreamland. The sinuous acrobatics of the Arabian pas de deux, powerfully interpreted at Saturday's opening performance by Jackie McConnell and Taurean Green, look entirely modern, and yet Green is, hilariously, costumed in a favored style of the hunks of Soviet dram-ballet: tight trunks with a strap across his bare chest, sparkly anklet and armband. In the Chinese dance, Alysia Chang soars in the role of a Chinese kite who breaks free from her "Little Emperors" -- a clever reference to the sociological nightmare unfolding in China, a consequence of the Communist government's longstanding one-child policy. Lustig may well be adding to the allegories that historians believe Tchaikovsky hid throughout the Nutcracker score, notably in this string of ersatz folk dances that slyly comment on Russian incursions into neighboring Asiatic lands from the time of Peter the Great.
While it roams exotic lands, Oakland Ballet's Nutcracker does not abandon the Bay Area entirely. Marie and the Nutcracker Prince are whisked off to Confiturembourg in a handsome hot-air balloon hired straight out of Napa Valley. And it is blessed to have the Mt. Eden High School Women's Ensemble give voice to the seraphic blizzard in the frozen forest.
With only three performances in two days, this Nutcracker barely had time to get over jet lag, but the crowds that jammed the Art Deco jewel box of the Paramount Theatre last weekend clearly hope it will hang out for longer next year.
1. Ramona Kelley as Marie and Gregory DeSantis as The Nutcracker.
2. Lydia McRae, Emily Kerr, Jennifer Staples, Greg DeSantis, Ramona Kelley, Nicole Jackman, Katherine Stewart and Sharon Kung in the Waltz of the Flowers.
3. Ramona Kelley as Marie and Gregory DeSantis as The Nutcracker, with artists and students of The Oakland Ballet Company.
REAL LIFE. REAL NEWS. REAL VOICES.
Help us tell more of the stories that matter from voices that too often remain unheard.