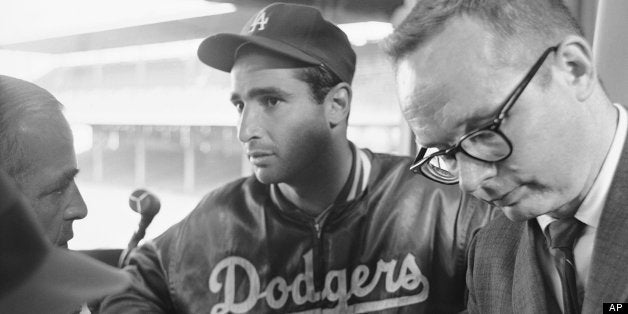 About a month ago, just before Opening Day of the 2013 Major League Baseball season, I received an email from a newspaper reporter who asked if I had time available to discuss Jewish baseball players. I had recently read a fascinating review of John Rosengren's new Hank Greenberg book in the Wall Street Journal and the relationship between baseball and Judaism was very much on my mind. So naturally I agreed to talk with the reporter.
In his email, Charley Honey (love that name!) of the Grand Rapids Press wrote:
I'm working on a column about Hank Greenberg, a boyhood hero of my late father, who grew up in Detroit. A new bio of Hank, by John Rosengren, deals a lot with the challenges he faced as the first Jewish baseball star in the Bigs. I would like to talk with you about your perspective on Greenberg's impact on sports and culture, and how baseball has served as an entree into American life for racial and religious minorities.

Always being on the lookout for tie-ins between the greatest game and the world of faith, I thought Opening Day and this new bio seemed like a good opportunity. I realize rabbis like you are very busy this Passover week, but if you could carve out half an hour or so to talk to me within the next few days I'd love the chance. My column is due Tuesday morning. Of course, I will not be available after 4 p.m. Monday. :)
Charley and I had a great conversation that lasted well over an hour. I explained that there is a certain fetish we Jews have with Jewish baseball players. As Joseph Epstein wrote in his WSJ review of Rosengren's book, it's difficult for most baseball fans to come up with a list of Methodist, Baptist or Catholic Major League ballplayers, but for some reason we can all create our lineup of the best Jewish ballplayers who ever played the game. There's a certain pride that we Jews feel for our heroes like Hank Greenberg and Sandy Koufax.
In his article, Charley covered the highlights of our discussion of Jewish baseball players including the attention paid each autumn to which Jewish players will choose to sit out of the games that conflict with Yom Kippur. We also discussed the anti-Semitic abuse that Hank Greenberg took, both from the fans as well as from opposing players during his playing years. Asked why we Jews care so much about these Jewish players, I explained that it's part of the larger story of our people's acceptance here in America. Baseball is the American pastime and when we see Jewish players on the field we take pride in that success story.
For some players their Jewish heritage might not be a focus for them, but the Jewish fans will emphasize it and make it become part of the player's personal narrative. An example of this phenomenon is Milwaukee Brewers star outfielder Ryan Braun. I happened to be staying at the same Phoenix hotel as the Brewers back in the summer of Braun's rookie season in 2007. I struck up a conversation with Braun and asked if his teammates call him "The Hebrew Hammer" (the nickname he shares with former Jewish player Al Rosen), to which he responded that most of his teammates don't even know he's Jewish. Six seasons later and Braun is always mentioned as one of the top 10 Jewish players of all time. Even though the son of a Catholic mother and an Israeli-born father never had a bar mitzvah or observed the Jewish faith as a child, he now embraces his Jewish heritage because it's become a major part of his narrative as a professional baseball player.
The infatuation that Jews have with Jewish baseball players has led to books dedicated to the topic as well as entire sets of baseball trading cards like the "Jewish Major Leaguers" collection (distributed by the American Jewish Historical Society). At my local Jewish Community Center, an entire section of the building has been turned into a small museum of Jewish-themed baseball memorabilia including signed bats, jerseys and baseballs. Now, a framed and autographed lithograph of an artist's rendering of famous Jewish players is selling online for between $6,000-$10,000. The project by Greg Harris came about after he saw a Ron Lewis print of Negro League stars on the wall at the Hall of Fame Museum in Cooperstown. The project is explained in a four-minute video:
Back to the WSJ review of Rosengren's book on Hank Greenberg (which was less than praiseworthy) and the unusual fetish Jews have with our Jewish baseball players. Epstein writes, "Is there something a bit parochial and chauvinistic but also unconsciously condescending in this interest on the part of Jews in Jewish ballplayers?" Surely part of the infatuation stems from the fact that there haven't been a lot of Jews in the Majors. That should make sense on some level since Jews constitute something like two percent of the U.S. population. Epstein posits, "This exaggerated interest is partly owing to the relative paucity of Jewish ballplayers who made it to the majors. Between 1871 and 2003, there were only 142 of them, which averages out to roughly one a year. Perhaps a dozen Jews are playing major-league baseball at present."
Despite all the attention that Hank Greenberg receives as the greatest Jewish baseball player of all time, Epstein explains that by the numbers Greenberg wasn't as good as history remembers him. He writes that Greenberg wouldn't be as well-known today if he weren't Jewish because
although he was inducted into the Baseball Hall of Fame in 1956, his statistics, owing to his war-shortened career, are not as impressive as they might otherwise be. He hit 331 career home runs and had a lifetime batting average of .313, numbers that are respectable but less than dazzling. Statistically he resembles Johnny Mize and Chuck Klein, both deserving hall-of-famers but not the sort of ballplayers who get their biographies written.
Epstein concludes that Hank Greenberg's place on a team of the all-time greats would be that of "designated mensch." Regardless of just how good Hank Greenberg really was, it's clear that his story will live on for many more generations thanks to his religion. Due to the Jewish people's fetish for Jewish baseball players, the player's actual statistics and commitment to a Jewish faith matter little to the fans. So long as they acknowledge they're Jewish, they will go down in history on the distinguished list of Jewish Major Leaguers.
Support HuffPost
The Stakes Have Never Been Higher
Related
Popular in the Community