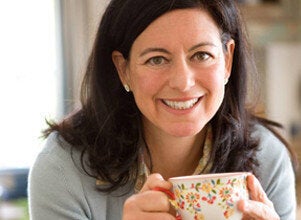 This is the second part of the Laurie David Interview, continued from Part I: Dinner Is Love. At the bottom of Part II, you'll find a brand-new recipe created exclusively for this interview by Kirstin Uhrenholdt, co-creator of The Family Dinner.
Her new book The Family Dinner is chock full of great ways to connect with your kids, one meal at a time. It uses recipes, fun table games, the advice of renowned experts, Laurie's own lessons learned with former husband Larry David and their two daughters, and a whole lot of love, to make the case that you should stay at the dinner table sharing with your kids, not just run off to see another rerun of, well, Seinfeld...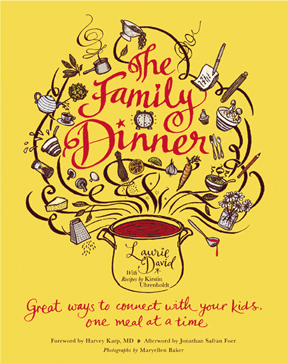 Chris Elam: Meryl Streep in your book says producer managers are more important to her kids' health than pediatricians. Do you agree?
Laurie David: Nutrition is vital! One of my favorite quotes comes from Dr. Preston Maring. He says the salad spinner and the chopping knife are the most important public health tools out there. It's very upsetting what our food production system has become. That something as simple as the food we eat has become so processed, so contaminated. I don't think many moms and dads are even aware of what's in the food they're feeding their kids.
For instance, I had no idea about chicken nuggets. None! Like everyone else, when Jamie Oliver on his Food Revolution demonstrated exactly what was in those things, I was shocked. It made me furious! All those chicken nuggets my kids ate over all those years -- I want my money back!
That's why in my book we have a great recipe for a homemade nugget. We call it a chicken schnitzel. It's a thousand times better than any nugget you'll find in any fast food restaurant.
CE: Do you have an overall parenting philosophy?
LD: It takes a village -- and then it takes another village. Over the years, I've turned to friends, parenting experts, specialists, heads of schools -- anywhere to get sage advice. These people have helped me, and inspired me to write this book. The idea is you can just dip into The Family Dinner, read a little sidebar, and get inspired to try something new at home.
CE: I imagine there was a whole lot of mirth in the Laurie / Larry David household. What role does laughter play in family rituals?
LD: I think it's so important! When you do something out of the ordinary, like some of the conversation games in the book, you're rewarded with answers you didn't expect. Laughter leads to love. It's what we all want. A time to slow down, to enjoy each other.
But we all need help getting to that moment. It's hard to slow down, to get people to stop what they're doing and come together. As I say, purposefully be a family. But it's one of the great joys each day gives us. And laughter is a big part of that.
CE: Speaking of challenges, your divorce with Larry was one such challenge. What role did food play in the recovery?
LD: Food was a huge part of us getting through the divorce -- and then getting everyone back together after the divorce. I have the ritual of family dinner to thank. I wrote a whole chapter with tips on how to get through this difficult period.
If you think about the fact that half the marriages in America end in divorce, this is a big challenge. The first thing to go when there's a marriage split is the rituals. But that's exactly when kids need them the most. They need the route, the safe haven of them. The best piece of advice I can give: keep doing your family rituals!
CE: Will your Huffington Post Family Dinner Downloads encourage these ritual?
LD: In the old days we used to have current events, and fireside chats. Now the Family Dinner Downloads will take a news story of the week, an appropriate story, and the editors of the Huffington Post will condense it into a 1-minute synopsis with a question for the table.
Sitting down for dinner is always an opportunity to do a little teaching. My hope is that families and teachers will use this feature. Once a week, get the topic online, read it at the table -- it's a great way to discuss what's going on in the country and around the world. These downloads will encourage kids to air their opinions, and listen to new perspectives. To understand that important issues have many sides. I'm so excited about this tool -- I know I'm going to be using it.
CE: So what was the single most important thing you learned in doing this book?
LD: I would say that every issue I care about crosses the dinner plate. This was a big surprise for me. At a certain point I wondered: should I really be focusing so much energy on this project...it's not really about the environment? Then half way through, I realized it's completely about the environment! That was a wonderful epiphany.
That kitchen is the greenest room in your entire house. Dinner time is perfect to practice and talk about green, sustainable issues with your kids. You know what, I'm going to stop using so much plastic wrap. Or, I'm going to try this composting thing. Cause you know why, it's so much fun and so rewarding to not throw stuff in the garbage. Or stop with the plastic bottles at dinner!
CE: Josh Viertel, president of Slow Food USA, has a wonderful quote in your book: "When you eat home-cooked food, from a local farm and in season, you choose to support a story that makes you proud." Your book is full of stories -- the story of your family, telling stories at the dinner table, the narrative lines that connect us all. What's the next chapter in this story?
LD: I can't wait to write another book. I can't wait! There are so many stories out there, so much inspiration. Everyone has a "food love memory," as Alice Waters puts it. There are many great people doing amazing things with food, growing food, and inspiring others. This is just the tip of the iceberg.
CE: Any final thoughts, Laurie?
LD: I'd say dinner is love. Everything about it points to love. The sharing, the sacredness. Dinner is love.
An exclusive recipe -- Fall Salad -- from co-creator, Kirstin Uhrenholdt.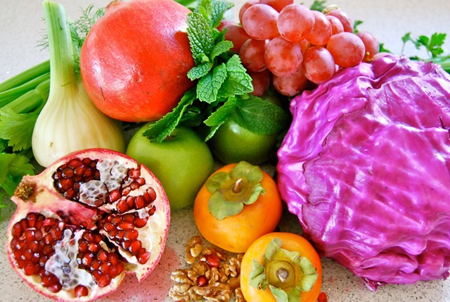 Fall is here and it's time to say goodbye to all the tender summer greens and welcome back the crunchy robust fall salads. Feel free to improvise and add or subtract anything until it's the perfect salad for you! Can't find a pomegranate...add more grapes or some dried cranberries. Don't like fennel (yes I heard your mumbling), double up on other ingredients. And why not make this into a whole meatless Monday meal, just cook up some grains like wheat berries or quinoa and toss them in...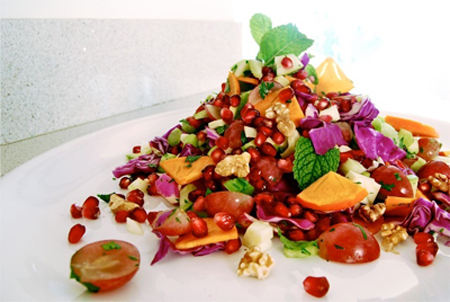 1 large tart apple diced
1 fennel bulb diced
3 long stalks of celery diced
2 cups red cabbage diced.
1 cup walnuts toasted (keep a watchful eye on nuts when you toast them, they are so eager to burn).
1 cup sliced grapes (your favorite color)
1 cup pomegranate seeds
Fresh mint and Italian parsley chopped
For the curried yoghurt dressing:
1 Teaspoon indian curry (mild or spicy, your choice)
1/2 cup plain 2% greek yoghurt (if you are avoiding dairy, you can use tofu instead, just add a bit more lemon juice)
4 Tablespoons lemon juice
4 tablespoons Olive oil
1 peeled garlic clove
1 Teaspoon honey
A few leaves of mint
1/2 Teaspoon salt
Cook's tip: The easiest and least messy way to shell a pomegranate is to cut an X into the top, then hold the fruit under water in a bowl while you pry it apart, the seeds will fall to the bottom, and the peel and white pith will float to the top.
Toss all the salad ingredients together. Put the ingredients for the dressing into a blender and blend until smooth. Taste the dressing. Does it have enough salt? Need a little more lemon juice? Toss the salad with as much dressing as you like.