One of my favorite things to do whenever I visit my father's home is to pore over old family albums. I love looking at all the old pictures. There are multiple albums dedicated to the arrival of my oldest sister. Endless black and white shot after shot of a very new set of parents looking adoringly at their baby. There are many more of my next oldest sister, this time in color, of a set of slightly worn but still very excited and sort of new parents greeting their second child, their first baby toddling off in the distance.
And then there is me. There are only a few pictures of me as a baby. Mostly, these are group shots with my sisters and me plugged in right before someone snapped the photo. There are almost no shots with that adoring, fresh-faced couple grinning at their new baby. I presume they were either too busy or too tired to pose. More than ever, this makes sense to me. When most of the photos of me do begin, it is around the time that my sisters became teenagers and I was approximately 7 or 8 years old. I'm assuming it is because my sisters boycotted all photography around this point, which would explain the boon in solo Jennifer shots circa 1984.
Such is the life of the third.
I have always relished my position in the family. You are born into a well-oiled machine, born to share. No one caters to what you need. You figure out somewhat independently how it works and then join in. There was no filming of my first steps, no big, momentous trip to the store to buy me my first bike. My first bike was my sister's old bike. The trip to the store was a walk outside to the garage. And by the way, I loved it. The third doesn't expect anything else. In fact it is an honor to inherit the older kids' stuff (most of the time). The third is proud to just fit in where she can.
The third is middle seats and cots in the hotel room that sleeps only four. The third gets away with stuff that the first never could because rules become much more pliable and less important over time. The third goes to sleep later and watches R-rated movies that the first never would have seen at her age. It's OK -- she's the third. She can take it.
The third is bootstraps and independence. The third teaches herself how to drive when no one else is free to do it. The third doesn't even mind. It is all part of a crash course in grit and determination that will help shape her outlook on life. She seeks out what she needs, helps herself and learns to love for its own sake, not because she needs something. To be the third is to be tough, but also sentimental, because she knows that she alone is the last chapter of the little kid part of her family's story.
The third is about pure love. My parents were not nervous, first-time newbies or harried second-time parents; they saw their role as somewhat uniquely defined by the care piece. There was a trust built into our relationship right from the very beginning. I would have to do a bit more on my own, but would find in them a well-worn spot in their hearts for their last surprise child.
And so it is with this new little one. You will be the third. It will be busy and far more loud and chaotic than anything your brother or sister was born into. You will be expected more than they ever were to do more, learn more on your own. You will never have less of me, but will have a different me than the one they first met. I will be lumpier and a bit wrinklier and certainly more tired, but I will have a peace and perspective with you that I could never share with them. I will have the wisdom to know how fleeting those first few months and years with you are. I will have the presence of mind to exert any energy I have left (which might not be that much) loving you just as you are, and not obsessing about milestones and matching baby bumpers and stuff that does not matter. You will be strong and you will be loved. You are the third.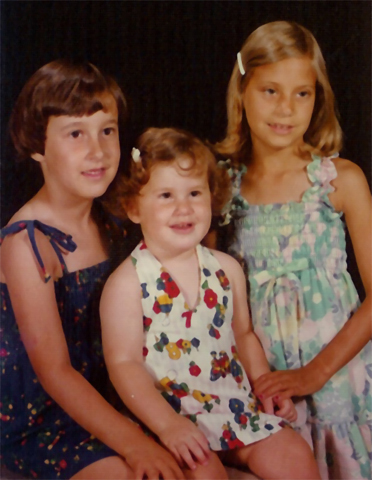 Popular in the Community