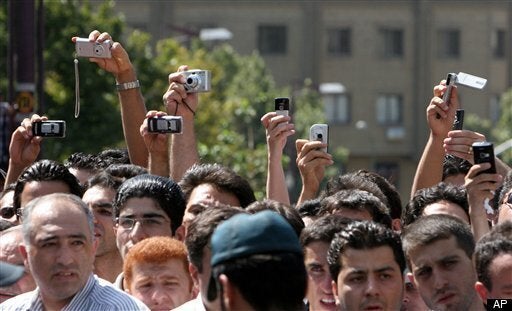 In Tahrir Square, among the hundreds of thousands of Egyptians anticipating President Hosni Mubarak's resignation, the feeling came over me: Egypt is another Iran.
I don't mean in the sense that Egypt's revolution will bring a radical, Islamist regime into power. That will not happen, despite the fears of diehard Mubarak loyalists, some Western commentators who know little about Egypt and Egyptians, and Islamophobes everywhere. The resounding message of this revolution, which nobody can hijack now, is clear: Freedom for Egyptians.
The Iran parallel that came to mind relates to the former ruler, not to the former ruled. The person of Mubarak, as with the deposed Shah of Iran, has been the focal point of frustration and anger. As with the Shah, the mass protests forced Mubarak to make hasty concessions in the desperate hope of clinging to power. And, in an echo of the Shah's last departure for a supposed holiday in Egypt, Mubarak's reported exit to the Egyptian resort of Sharm el-Sheikh Friday will come to be seen as the final crumbling of an autocrat's reign.
It's hard to exaggerate the excitement on the streets of Cairo after news organizations first reported the likelihood that Mubarak was leaving office. The target of the protesters is the whole regime, but Mubarak's ouster was the key, symbolic demand. Many arriving after twilight Thursday, people streamed into Tahrir Square anticipating a joyous celebration of Mubarak's downfall. As if Egypt had won the soccer World Cup, carloads of Cairenes tooted horns and waved flags as they raced to the center of the city. In Tahrir, people handed out sweets in a traditional celebratory gesture. At first there was stunned disbelief when Mubarak came on the air and announced that he in fact intended to complete his term of office. Then there was anger, with the crowds chanting, "Leave! Leave! Leave!"
Finally, Friday afternoon, he did leave. No sooner was Mubarak reported to have arrived in Sharm el-Sheikh, a resort on the Red Sea, a statement was read on Egyptian state television: Mubarak has resigned the presidency and handed over power to the Egyptian military command. Finally, the explosion of joy occurred. The throngs chanted: "Egypt! Freedom!"
As with the Shah, Mubarak's long goodbye will haunt him and his family for the rest of his days. His stubborn refusal to quickly grasp the clear and profound meaning of the revolt against his suffocating 30-year rule led to 18 long days of unrest, untold economic destruction and -- worst of all -- an estimated 300 innocent deaths. Many of the posters in Tahrir proclaimed a desire for freedom. Some that demanded Mubarak's ouster did so with typical Egyptian humor, calling him by his comical nickname, La Vache Qui Rit, or "the smiling cow." Yet others, more ominously for Mubarak, called for accountability. Scores of posters contained portraits of young Egyptians slaughtered during the uprising. One showed Mubarak with bloody fangs. Others demanded investigations into funds that protesters believe Mubarak siphoned from the state's coffers. "How did you get $70 billion?" asked one typical sign. "Leave the poorest people on earth, you richest man on earth!"
Maybe nothing could have saved Mubarak, although there seemed a possibility at the start that more sincere and tangible concessions could have enabled him to negotiate with the opposition in the formation of a new political order. But as a cautious military man who became too comfortable with the trappings of power, he refused to share Egypt with other Egyptians, right to the end. For a few years, it seemed that he might bend somewhat to the winds of political reform that blew through the Middle East. But as he approached his re-election to a sixth term as president in 2011, he reasserted absolute control. Rigged parliamentary elections in November and December brooked no dissent, allowing his ruling party to capture more than 90 percent of the seats. Mubarak's explanation: no one else was fit to rule Egypt, and he would remain leader until his last breath.
Nothing illustrated Mubarak's folly as the efforts to groom his son, Gamal, as his eventual successor. Egyptians had become accustomed to Mubarak's photo appearing daily on the front page of state-owned newspapers, and that of his wife Suzanne, somewhere too. But the gradual ascension of Gamal, an arrogant and aloof figure with no discernible expertise or political touch, left Egyptians seething. "Decades of Mubarak, and now we're going to have 20 or 30 more years of Gamal?" Salah, an Egyptian friend, constantly griped to me. "Mafeesh fayda," he would add in dejection -- "Nothing good will come." So few were surprised when a mob torched the building housing the ruling party, where Gamal held a senior position, or when the regime made him an early sacrifice by having him publicly resign his leadership role. But Mubarak himself insisted on staying in power. Without him, he told Egyptians, there would be "chaos."
With a new democratic government obliged to call the former regime to account, it's unlikely that Mubarak and his family will enjoy a pleasant sojourn in Sharm el-Sheikh, any more than the Shah had a respite when he left Iran. If Mubarak sails across the Red Sea to a refuge in Saudi Arabia, he may be able to join deposed Tunisian President Zine El-Abdine Ben Ali there. Together, they could form an ex-dictator's club, whose membership may grow larger still.
Scott MacLeod, Time's Middle East correspondent from 1995 to 2010, is managing editor of the Cairo Review of Global Affairs and a professor at the American University in Cairo.
Calling all HuffPost superfans!
Sign up for membership to become a founding member and help shape HuffPost's next chapter