The Measure of a Man, the story of a middle-aged man, laid off from work, determinedly seeking new employment to save his homestead, is one of the most surprising films at the Cannes festival this year. One of the opening scenes is a Skype conversation between the anxious man "Thierry", played by renowned French actor Vincent Lindon, and a potential employer. What surprises us is that the conversation seems "real": not fake real, but that of a documentary. The pauses between the sentences, the gestures, the eye-glances have the immediacy of an actual encounter. The conversation ends with the nearly humorous lines: "There is a very small chance you'll be hired. A good day to you."
Each scene that follows has the same raw gritty feel: a conversation with a banker behind a desk who, checking out the unemployed man's finances on a computer screen, advises Thierry to sell his house. A dinner in a somber kitchen with Thierry's close-knit family, with chicken, green beans and a cheap carton of wine. A session with an employment agency where fellow job-seekers give constructive feedback to Thierry about his interview faults: "Your voice is monotone," one says. "Your posture is not good," says another. "Your shirt is too open." Thierry nods stoically.
There are also humorous scenes, again with great realism, such as a ballroom dance class that Thierry and his wife attend in which the teacher interrupts Thierry and takes him as his "female partner", to teach him 1,2,3,4, over and over again. We squirm with the "effeminized" Thierry as he blushes.
It is in the second half of the film--where Thierry finally gets a job, as a security guard in a supermarket--that the realism becomes uncanny. Thierry's new job is to surveil customers on video monitors, with the aim to catch shoplifters. The camera tracks down the aisles, following a woman checking out stockings, an old man kneeling before a box of spaghetti. We experience the invasion of privacy of these surveilled customers, their vulnerability, their status as cogs in the machinery of capitalism. We feel badly for the shoplifters Thierry interviews in his office: the cashier who stole a coupon; the old man who could not afford a piece of meat. We feel just as badly for Thierry, who is clearly uncomfortable with his policing role.
We are transfixed by the drama, and yet this is just a story of modest people in a supermarket, where nothing much is happening.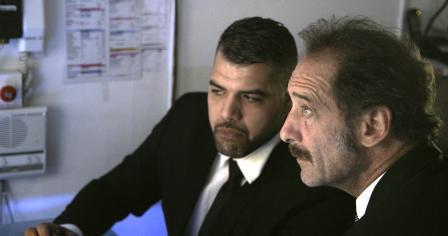 What excellent acting in this film, I thought---only later to find out that none of the actors in Brizé's film are professional actors, except for Vincent Lindon. In fact, this film, set in a suburb of Paris, featuring clerks, real estate agents and cashiers, uses real clerks, real estate agents and cashiers as its actors. The dance teacher is an actual dance teacher. The banker is the casting agent's banker. The humble customers in the supermarket are people who work in that supermarket.
It is due to this superb directorial choice that the film is so powerful: La loi du marche (the title in French) opens our eyes and hearts to the real milieu of workers with "small jobs" trying to get by, some of whom need money so dearly that they will shoplift, while others, desperate for any job (like Thierry), will accept jobs as security guards and arrest them.

"I spent a long time in that supermarket, with the surveillance team, to prepare," said director Stéphane Brizé, explaining the genesis of the film, as we sat together in a popular cafe in Paris, where he waved a friendly hello to all the staff (who apparently knew him well). "The manager of this supermarket was very open to my project and interested in its political critique, even though paradoxically, he is a manager. He let me shoot in his supermarket, and asked in exchange that I give visibility to his staff: hire them as actors. I cast them all. For example, one of the shoplifters is really a surveillance officer at that supermarket."
"I learned a lot about shoplifting from this experience," the director continued earnestly. "On Fridays, people steal more. After the twentieth of the month, they steal more, as their pay is running out. I learned that the cameras monitor even the cashiers, not only the customers, to see if the objects bought are the same as those registered. And just like in my film: when the camera spots a person who has taken an item, it continues to follow them down the aisles, to prove their guilt."
Brize's film is timely, given the economic crisis in Europe, and the fact that more and more people are being squeezed into positions like Thierry's, losing their jobs after 25 years, and their homes.
"I feel the unrest in my country strongly," said Brizé, speaking about his native France. "The fear of tomorrow, the growing unemployment. The right is growing to a frightening degree. The more we have nothing, the more we blame the other indecently. We blame others."
The security guard surveilling the shoplifter is a political metaphor.
"I am concerned with what one is capable of doing in order to eat," Brizé set down his glass of water, his eyes sparkling. "How the social environment can change the inner person. Thierry is a strong man; he has a good family. He speaks kindly with his son. It is the system that changes him, that makes people change."
Brizé, a passionate sincere man in his late thirties, with twenty years of experience in the film business, knows the milieu which he portrays intimately. He is the son of a postman, and grew up in an area like the one he portrays. His critique of the economic system, where the proletariat is a pawn, surveilled and surveilling, comes from the heart.
Still, a commendable political message does not a great film make. The story is too simple, the narrative arc that Brizé chose for his film--to put a man in a situation where he must make a moral choice--much too familiar to contemporary spectators: it is a surprise, in fact, that this film actually works so well.
So why does this film work?
One: the surveillance camera.
"Once you have a camera," Stephane quipped. "Everything becomes dramatic."
We are in suspense as we watch the woman check stockings, touching each sample with her hands, putting the box back, picking up another. Even though, most of the time, no theft ensues.
The second reason: Vincent Lindon.
Lindon's presence is at the center of every scene. His brooding eyes capture us. His nervous energy captivates. We worry for him, with him. We are absorbed as he crosses a parking lot, gives his son a bath, stares pensively into the video monitor.
I asked Vincent, over a cup of tea, his method of acting in this film.
"Spontaneity," he leaned forward with intense energy. "For each scene, Brize gives us a few lines to memorize. But we don't know in what order! It could be that I will say line one first, or line two. The other person does not know which line I will say. It might be line one, or it might be line two!" the actor pointed to two glasses on our table, swung one glass across the table, and the other glass the other way, then switched them,, to demonstrate. "So the other person is surprised. Reacts directly. Then I react to them. And so there is real energy in the scenes, a real relationship!"
What was it like for veteran actor Vincent Lindon to work with unprofessional actors?
"What is this word 'unprofessional'? There is no such thing as a 'professional'. Was Obama a professional president before he became a president? Some people are born actors, some people are not. Each of these actors is a professional, even if they had not acted before."
Vincent went on with great enthusiasm about how much he personally enjoyed playing Thierry.
"Thierry is a masculine ideal. He does a lot. He nourishes his family. He worked enormously in his life before he lost his job. He is respectable, dignified. He suffers in silence. He is not like the men of today who check their hair in the mirror! He is a man in the old style, a brute. He has sangfroid. I am proud of being him! He reassures me."
And why did the story touch him?
"In France, there are two million Thierries," Vincent said simply.
Popular in the Community