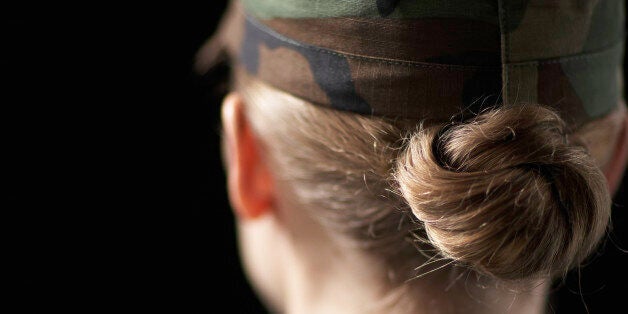 This week, one year after historic reforms were signed into law, we find out if more survivors of sexual assault are coming forward and if the number of assaults is going down.
One year ago, a sexual assault survivor in the U.S. military faced a daunting landscape.
Resources for survivors were limited. There was nobody whose job it was to fight for victims' interests. If a survivor had the courage to come forward, they were subjected to an often-invasive pre-trial process in which every aspect of their personal lives could be aired. Their attacker might be convicted, only to receive a slap on the wrist -- or even have his conviction thrown out entirely by a military commander.
Things are different now.
Historic reforms in last year's defense bill mean commanders have been stripped of the ability to overturn convictions, and are being held accountable under rigorous new standards. Every victim who reports an assault now gets their own  independent lawyer to protect their rights and fight for their interests -- a reform with no parallel in the civilian justice system. Civilian review is now required if a commander decides against a prosecution when a prosecutor wants to go to trial. Dishonorable discharge is now a required minimum sentence for those convicted. It is now a crime for any servicemember to retaliate against a victim who reports a sexual assault. And the pre-trial Article 32 process has been reformed to better protect survivors.
When President Obama signed our reforms into law one year ago, a healthy policy debate was still ongoing in the Senate over whether some additional reforms -- or even an alternate system entirely -- were needed. While that debate played out, the president gave military leaders one year to implement the defense bill and show significant progress. And so this week, those military leaders will give their report to the president.
Here are three things to watch for, that would mean our reforms are working:
Reporting going up.

Virtually everyone who debated how to curb sexual assaults in the military agreed on one thing -- progress would mean an increase in the number of reports of such crimes. Because that would mean more victims having the confidence to come forward and trust the system. As Senator Kirsten Gillibrand, my friend and colleague with whom I debated these policies, said: "And today's [prosecution] record is not horrible. One in 10 go to trial, and then once they go to trial, the conviction rate is extremely high. That's not the problem in the system. The problem in the system is no one trusts the system, so they don't enter the system. They don't trust they can possibly have justice..." In recent months, we've seen an initial spike in reporting -- and now we'll be looking to whether that trend continues. If reporting goes up, that's a major signal that our reforms are working.

Incidents of assault going down.

This one is easy to understand -- and it's our ultimate goal -- fewer incidents of sexual violence against our troops.

What our troops have to say.

This week's report should also include direct feedback from our troops on their experiences with the military justice system. If we see majorities of our servicemembers rating those experiences highly -- if they are feeling protected and empowered as it relates to preventing and punishing sexual violence -- then we know our reforms are working.
But even if this week's report shows the progress we're hoping for, it's sure to also demonstrate areas where we need to continue working -- and as we look at those areas, we must ensure the remedies we propose address the problems that exist.
A few months ago, a package of additional reforms by Senators Kelly Ayotte and Deb Fischer, and I, was approved unanimously in the Senate. Our bipartisan Victims Protection Act would generally eliminate the "good soldier" defense for servicemembers accused of sexual assault, and allow victims formal input on whether their case is tried in military or civilian court. It would allow survivors to challenge their discharge or separation from service, strengthen the role of the prosecutor in advising commanders on going to court-martial, boost accountability of commanders for setting appropriate command climate, and extend protections to the Military Service Academies. These additional reforms are needed, and I'm working as hard as I know how to ensure they're included in this year's annual defense bill.
Ultimately, I think that all stakeholders in this debate can find common ground and agreement in our hope that this week's report on sexual violence in the military will demonstrate real, and lasting progress -- and show that a system that includes a role for commanders, and holds them accountable with historic reforms, will work for survivors.
U.S. Senator Claire McCaskill is a former courtroom prosecutor of sex crimes and a senior member of the Armed Services Committee.
Calling all HuffPost superfans!
Sign up for membership to become a founding member and help shape HuffPost's next chapter