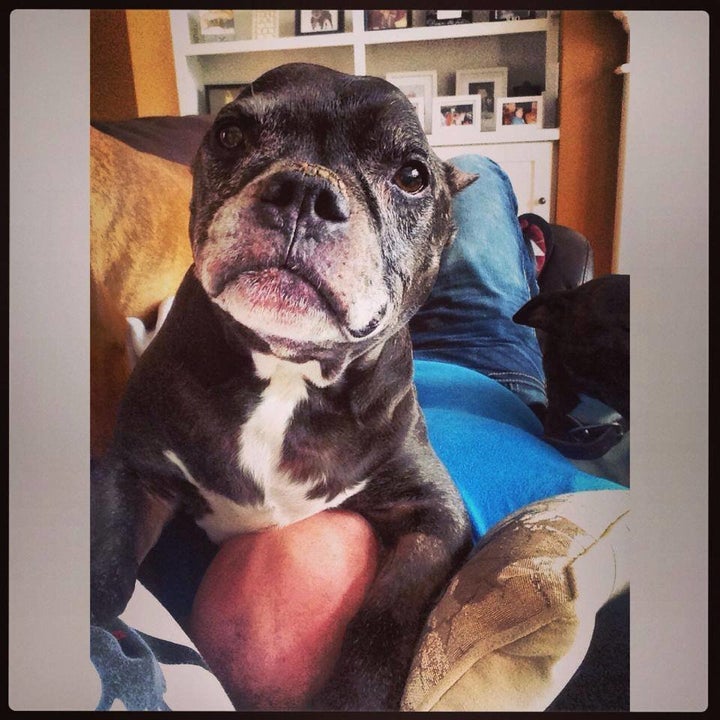 Mariesa Hughes recently drove from her home in upstate New York to Virginia to collect seven elderly, mostly quite ill shelter dogs who had been at risk of euthanasia -- and who are now, instead, headed to foster families, where these old pups will be cared for for the rest of their lives.
"I couldn't get there fast enough," Hughes said.
Hughes and her husband, Chris, are cofounders of a nonprofit called the Mr. Mo Project, which places senior, often-sick shelter dogs -- those who face very tough odds of being adopted -- into permanent foster homes. Since the group got started about a year ago, more than 70 dogs have been saved.
The Mr. Mo Project covers these dogs' medical bills and food (about $50,000 so far, paid for with donations). The families provide the love.
"All our fosters are exceptionally strong people. They know they will fall in love with their forever foster, care for them, nurse them back to health, earn their trust, all to lose them before they are ready," says Chris Hughes. "These are special people and that is why they find special dogs."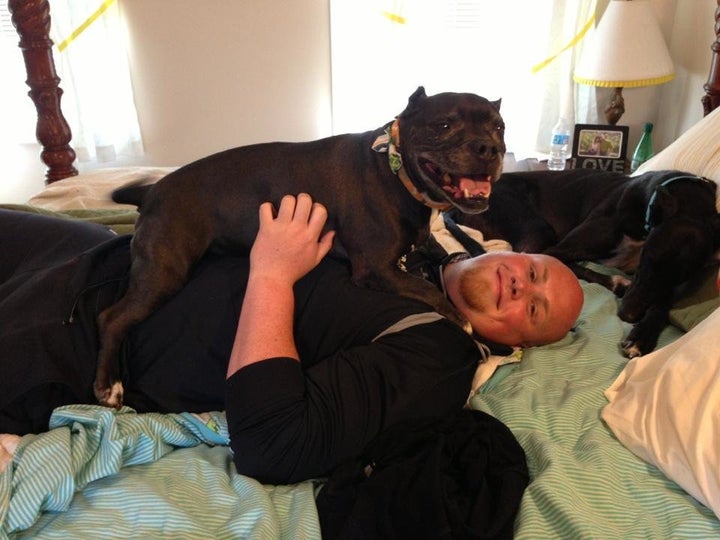 The group is named for another special dog: the Hughes' pit bull Moses, who was long in the tooth himself when he joined their very full household in 2012 -- bringing the family up to two humans and eight rescue dogs. (You can follow their adventures on a wildly entertaining Facebook page and YouTube channel.)
Moses was a charming, chatty dog with a grey muzzle and a host of medical problems. The vet bills added up. Chris and Mariesa sold their hot tub to pay for a $3,000 MRI, when Moses started losing his balance -- and realized that a lot of other people who'd want to care for old dogs might be deterred by the bills.
When Moses died in 2014, after being diagnosed with an inoperable spinal cord tumor, the couple -- who'd long been involved with animal rescue and pit bull advocacy -- decided to honor his life by helping other elderly dogs get their own happy last years.
"Moses was stoic, we didn't know something was wrong with him until it was too late. He was a brave, strong soul who taught us about forgiveness, joy and unconditional love. He covered us with kisses every night and every day he showed us love and peace," says Chris. "We have found that there are so many wonderful families that have the home, the love and the time to give to these dogs, but they do not have the additional income. With the way our program is set up they are able to forever foster these dogs without having to worry about the cost."
The dogs come from shelters and rescue groups across the country, whose volunteers call, email or tag the Hughes on Facebook, hoping that a homeless doggie they know and care about will be among the lucky ones.
Like the one now living in Richmond, Virginia, with Catherine Filipowski.
Filipowski recently lost Loki, her first Mr. Mo foster dog, who'd come to live with her in the spring.
Loki was 13 and blind. He'd spent most of his years outside on a chain -- and adapted marvelously well to the good life with Filipowski and her three other dogs.
They didn't get nearly long enough together. Loki was diagnosed with cancer in June. He died three weeks later.
"I cried bitter tears," says Filipowski. "He'd finally found someplace he wanted to be and didn't want to let that go. The only solace is knowing that he got a chance to know love, comfort, security and happiness before he died."
Chris and Mariesa put a call out for foster homes, when they knew this latest batch was coming. Filipowski wanted to help. At first, though, she didn't think she was ready.
"But Chris Hughes said wisely that you never really feel ready after losing your heart like that, but that there is a dog ready to be loved. He was right," she says.
A few days ago, Filipowski's new old dog arrived, to stay.
Her name is Maya and she'd been given up by her owners.
"She is a healthy -- if slightly arthritic -- 10-year-old with seal colorings and beautiful clear blue eyes," says Filipowski. "I'm looking forward to spoiling her."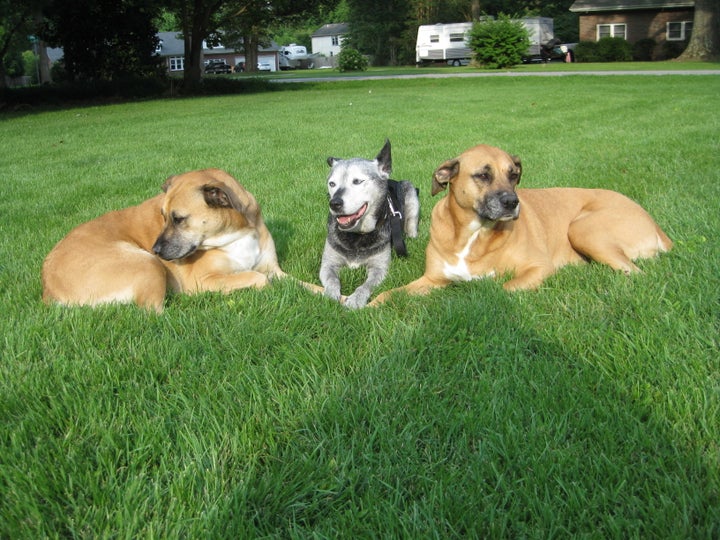 Get in touch at arin.greenwood@huffingtonpost.com if you have an animal story to share!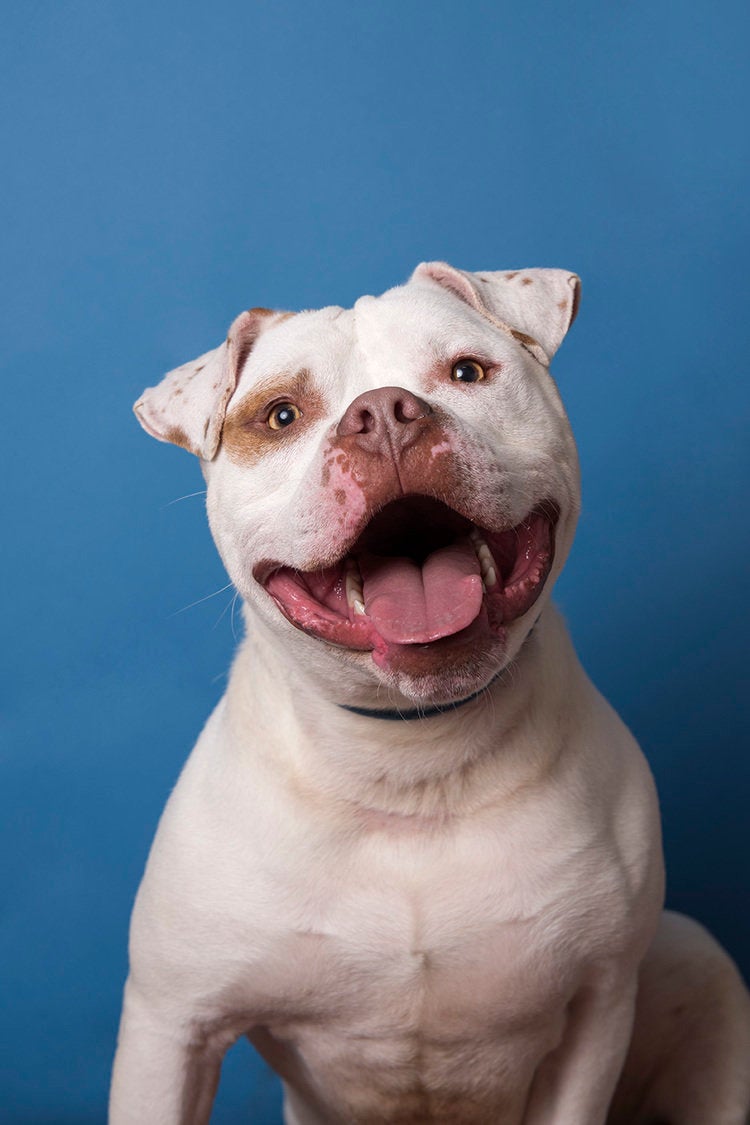 These Amazing Animals Need Homes
Related