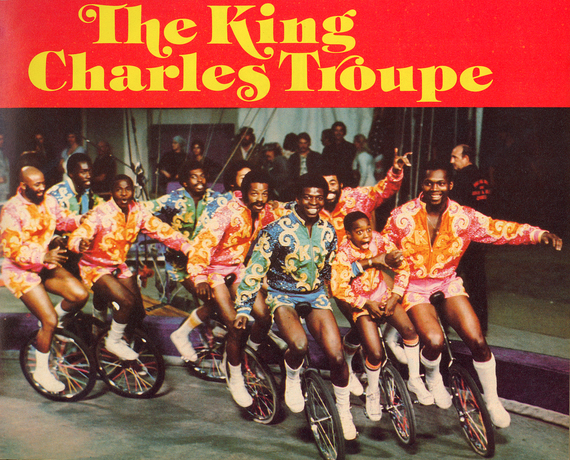 Moments before it happened, they the original members of the original King Charles Troupe were doing as they'd always done, riding their unicycles around Crotona Park as part of a local businessman's vision of steering children from the seedier elements of their neighborhood, the South Bronx. Long before Jerry King would venture out into his community to teach the local kids how to ride unicycles and relay the ideals of "discipline, direction, and Christian principles," he began by sharing his passion for the unicycle with his son, Charles, whom he instructed in the hallways of their apartment building. Legend has it, many years before that father would even have a son to instruct, he was a little boy who stood spellbound as he watched a unicyclist performing atop a high wire under the big top tent at The Greatest Show On Earth®.
For that little boy, named Jerry King, the impression that unknown unicyclist made on his life on that day under the big top was greater than he first thought. As the boy grew into a young man, one whose unwise decisions would lead to a prison stint, the significance of that moment would never leave him. As a soldier on the battlefields of World War II, the innocence of that day at the circus would sustain him. And as he matured into a man worthy of a wife and family, the local business man who'd found redemption and purpose through his faith would recall the impact of that moment so many years ago at The Greatest Show On Earth and use it to better the lives of the children in his corner of the world, beginning with his son Charles.
"Life is balance," said Donald "Key-Wash" Stewart, a first-generation member of the King Charles Troupe. "That's what the unicycle is all about. You have to stay centered. If you lean too far to the left - you fall. If you lean too far to the right - you fall. But, when you keep yourself centered and your eyes straight ahead, you miss all that other stuff." For "Mr. Jerry," or the "Old Man" as his charges affectionately referred to him, the unicycle was a tool.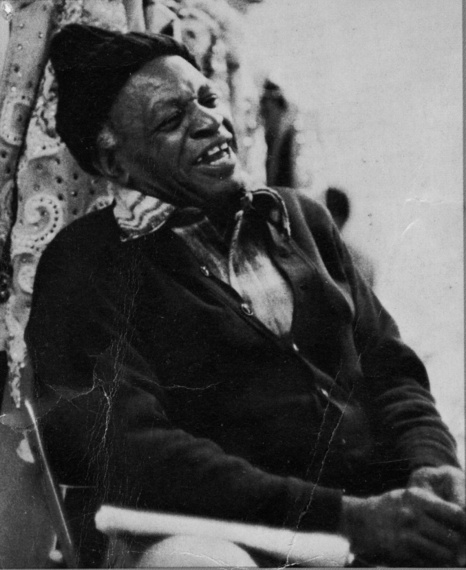 "We were always practicing, because Mr. Jerry knew one of the best ways to keep us out of trouble was to keep us busy," said Stewart. Indeed, in the South Bronx there was much trouble to be had. However, just like any part of the world, if given a chance a rose can sprout, even in a place like the South Bronx, the birthplace of hip hop.
"The Old Man used to say, 'there's brains in the Bronx, you just have to train 'em,'" recalled second-generation troupe member Kim "Kip" Anthony Jones. "Once you find an avenue to engage a kid, they blossom."
Through Jerry King's vision, the kids who entered his program not only blossomed, but in Mr. Jerry they found a kindred spirit and mentor. He lived through the trials, tribulations, and pitfalls many young people in their situations, particularly black youth, are faced with. He was relatable, as he knew firsthand their challenges and the source of their youthful angst, and his very presence was a glimmer of hope. If he could go through it and make something of himself, so could they. Moreover, he believed in them. This was evident in the expectations he had of them. Though his love for the unicycle was vividly clear, it was essentially bait for the kids in his program.
"It was about being a good citizen," said Jones. "Honor your parents and clean up your neighborhood."
"We'd sweep up our sidewalks. If we saw a lady struggling with bags, we'd help," said Stewart. "'Do what's right. Not what you think is right' was Mr. Jerry's motto."
Jerry commanded the respect, not only of those in his program, but the neighborhood at large. "If you were playing dice, hustling, or any other activity -- no matter who you were, when you saw Mr. Jerry on the block, you just stopped what you were doing," chuckled Donald Stewart.
For the kids in the troupe, seeing Jerry was an opportunity to impress him with the new tricks they'd learned on their unicycles. One such kid was none other than Albert "Cuts" Owens. Known for his athletic prowess and humor, Albert seemed to excel at every sport he engaged in. Legend has it that Albert, while still a teenager, devised a way to ascend the "giraffe" without a ladder. The "giraffe" is the elongated version of the unicycle that sits about six feet high or more. Apparently, the young talent impressed Mr. King so, that he was immediately awarded with a crisp $100 dollar bill.
Yet, Albert's most important contribution to the program would become its most significant. Moments before it happened they were doing as they always had. While they were dazzling onlookers with their already remarkable skill, a basketball rolled over from the adjacent basketball court to where the riders were practicing. Albert casually rode over to retrieve the ball and took a shot. The ball went in. Albert, along with his fellow riders, realized instantly that they were on to something, and like a sudden leap in the evolution of unicycle riding, that's how the one and only King Charles Troupe came into existence.
"It was about 1964 or '65 when I saw these guys playing basketball on unicycles in the park," recalls Reverend Bill Minson. "I'd been in the studio audience of a number of television shows and thought, 'these guys would be great for television.' So I got them booked on I've Got A Secret." Minson was only 15 years old then. "I was a kid who was too stupid to know I wasn't supposed to do that," he joked.
Minson soon became the group's de facto manager. Booking them at local shows, sending their profiles out to everyone he could think of, even changing the name of the group. "Originally they were called the Charles Unicycle Riders, as the act was initially built around Charles King, Jerry's son. But we settled on the King Charles Troupe because it had a showbiz flare to it," recalled Minson.
It was a chance meeting with then Ringling Bros. and Barnum & Bailey® talent scout, Trolle Rhodin, following one of the troupe's television appearances that made possible the idea of booking them for the circus. "Trolle loved them and thought they would be great for the show," said Minson. But alas, Ringling Bros. and Barnum & Bailey, at the time, would hear nothing of it. "I pitched the troupe to Ringling Bros.® a number of times. They just wouldn't budge."
That was until an appearance on The Tonight Show with Johnny Carson. "Dad saw the King Charles Troupe on Carson and was very impressed. Not only with their act, but their story," said Kenneth Feld, Chairman of Feld Entertainment®. "Dad" was none other than Irvin Feld, the iconic rock and roll promoter known for his mega extravaganzas, such as The Biggest Show of Stars.
"Dad was a pioneer. He was the first to integrate his shows and present them to a largely white audience," said Kenneth Feld. Depending on who you ask the legendary Irvin Feld's influence on rock and roll, particularly when it came to presenting black acts, may very well have been more impactful than that of the much revered Alan Freed, and as of 1967, the dynamic impresario was the new owner of The Greatest Show On Earth. Change was in the air.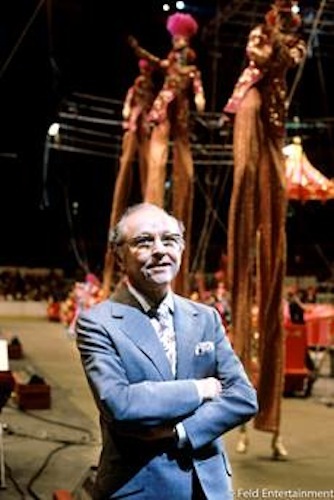 The King Charles Troupe was invited by Irvin Feld to audition for Ringling Bros. and Barnum & Bailey. He hired the troupe for his 1969 production. The talented unicyclists from the South Bronx would be the first African-American act ever cast in The Greatest Show On Earth.
"I'm from South Carolina, so I knew what to expect when we got down to Florida to prepare for the season," said Donald Stewart. To say the troupe's reception was cold would be an understatement. "We weren't the only ones. That year the show hired their very first black clown -- Reggie Montgomery. He had a very hard time," said Stewart. Though a huge hit with audiences around the country, the troupe was still subjected to the misdeeds of their surroundings.
Added Kenneth Feld, "We fired several managers who were simply intolerable toward the troupe."
However, if anyone in the circus or anywhere thought their antics would break the sturdy set from the South Bronx, they had another thing coming. Their work ethic was second to none. "Mr. Jerry used to tell us, 'they might be better, but they won't outwork you," said Stewart. The troupe's legendary work ethic hardly began at The Greatest Show On Earth. "I suspect our act has yet to be duplicated because no one wants to work that hard," Stewart laughed.
"We conditioned ourselves by riding up hills, on cobblestone sidewalks, 5 to 15 minutes of figure eight routines, 3 to 4 hours a day," said Jones. The routine itself runs much like a be-bop band. "50% of the act is choreographed. The rest depends on how the ball bounces." In short, the act is a mesmerizing synergy of athleticism, humor and a little South Bronx genius.
"People who can't embrace change have a difficult time succeeding at anything. Life is about change," says Kenneth Feld. The great impresario, Irvin Feld had an uncanny knack for sensing the necessity of change. From his days as a rock and roll promoter and producer who bucked the color line to bringing The Greatest Show On Earth out from under the tent to indoor arenas to spawning a franchise of Ringling Bros. shows by creating multiple units (today there are 3 touring units) to presenting for the first time in the history of America's most storied show, the innovative talents of an African-American troupe. "The way my dad saw it, you were as good as your talent," says Kenneth Feld.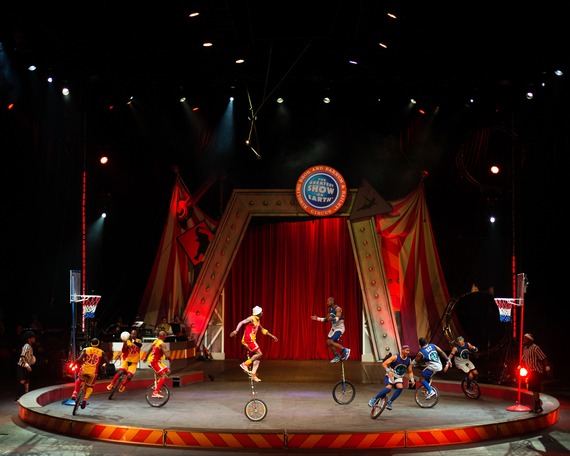 To date, the King Charles Troupe has enjoyed the longest run of any act or personality associated with Ringling Bros. and Barnum & Bailey since Irvin Feld purchased the brand in 1967. Today, the King Charles Troupe can be seen in Ringling Bros. and Barnum & Bailey Presents Built to Amaze!®.
"The Felds have never lost when it came to the King Charles Troupe," boasts Stewart.
Much like the great Sammy Davis, Jr., the unicycle ensemble from the South Bronx beat the naysayers and racists, as well as the pitfalls of their neighborhood with their talent. They achieved this while breaking down barriers and leaving a smooth trail of unicycle tracks for others, like myself, to follow.
"The more [people] saw us and how we worked -- the more their kids begged to meet us; they had no choice but to respect us," says Stewart.
Calling all HuffPost superfans!
Sign up for membership to become a founding member and help shape HuffPost's next chapter