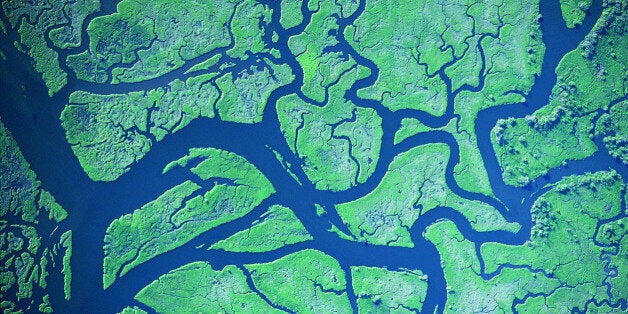 Until a year ago, serious tensions were mounting in northeastern Africa. Egypt, Sudan and Ethiopia were confronted over the Grand Ethiopian Renaissance Dam on the border of Ethiopia and Sudan. Ethiopia had started building the dam, claiming its rights to use waters of the Nile River within its territory. Egypt, "the gift of the Nile" objected, fearing that the dam would obstruct the flow of the river to its fields.
Suddenly, a miracle happened. Seizing the occasion of the World Water Day on 22 March 2015, the presidents of the three countries met in Khartoum and decided to coordinate the construction of the dam in a way that would cause no harm and would allow an equitable outcome. Implementing their agreement is not easy. But the hostile rhetoric has toned down and a spirit of cooperation is gradually surfacing in the region.
There is no alternative to trans-boundary water cooperation anywhere in the world. There are 263 shared river basins flowing through 148 countries. Unless the countries through which the rivers run collaborate for the sustainable management of water courses, wars and environmental disasters can occur. On the other hand, cooperation in water can lead to comprehensive peace.
The Water Cooperation Quotient constructed on the basis of the analysis of 219 shared river basins in 148 countries by Strategic Foresight Group, an international think tank, reaches a dramatic conclusion. Any two countries engaged in active water cooperation are not likely to go to war over water or any other reason.
It is often asked whether water would be the oil of the 21st century. It certainly is not. Oil has alternatives such as natural gas and renewable energy. The only alternative to water is water. Therefore, last September the United Nations General Assembly adopted the Water Goal as one of the Sustainable Development Goals. It has an ambitious objective of ensuring water security of the world's population by 2030. Cooperation among countries is an important component of the UN Water Goal.
The Water Cooperation Quotient provides a scientific formula to measure trans-boundary cooperation using indicators of joint investments, collaborative management of environment, cooperative management of floods and drought, integration of water in regional economic programmes, and interaction between the heads of states to enable large exchanges.
When countries reach the optimum level of water cooperation, they are in the state of Blue Peace. At this stage, water transforms from a source of potential crisis into an instrument of peace. The Senegal River Basin Organisation established by Guinea, Mali, Mauritania and Senegal in West Africa is an example of Blue Peace. The four countries jointly own all water related infrastructure including dams and hydro-electric stations. The organisation also facilitates political dialogue to end ethnic or border conflicts.
The Middle East is conspicuous for its absence of joint river management bodies. This is one of the reasons why ISIS, the violent extremist group, has been able to spread so quickly. They take over vital dams and use them to incarcerate high value prisoners knowing well that such dams cannot be bombed for the fear of flooding the entire region. They also use their control over dams and pipelines to force people to obey their order. For years, Iraq, Syria and Turkey refused to heed calls for cooperation over the Euphrates and Tigris Rivers. The result is that all the three states have lost and a non-state organisation has as a space to create a base for its violent designs against the civilized world.
In order to usher in an era of Blue Peace in this century, it is necessary for the international community to join hands to achieve concrete results. First, it is essential to encourage all 263 shared river basins to establish collaborative institutions and joint investment plans, slowly climbing up on the Water Cooperation Quotient.
Second, it is necessary to introduce concessional and preferential financial possibilities for the neighbouring countries that wish to cooperate in the management of water basins.
Third, water infrastructure must be protected from terrorist actions and violent conflicts.
Finally, the members of the UN Security Council need to come together for the future of the world's water. It is in their interest to prevent ISIS from controlling dams and reservoirs. It is in their interest to boost economic growth in all shared river basins of the developing world. It is indeed essential to establish Blue Peace in every region and the World Water Day of 2016 is a good occasion to strengthen every effort in this direction.
Danilo Turk is former President of Slovenia and Chairman of the Global High Level Panel on Water and Peace convened by 15 countries from all parts of the world.
This post is part of a series produced by The Huffington Post in conjunction with World Water Day (WWD), which has taken place annually on March 22 since 1993. The awareness day is an opportunity to learn more about and take action on water-related issues. It has a different theme selected by U.N. Water each year; in 2016, WWD focuses on water in relation to jobs. To see all posts that are a part of the series, click here.
Related
Popular in the Community