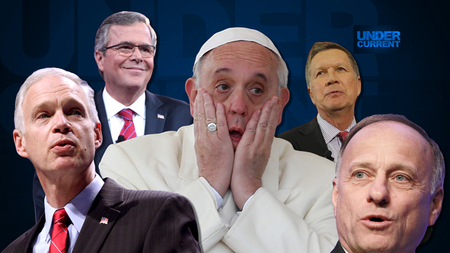 On June 15, environmental activists gathered at the Smithsonian Castle for the institution's Board of Regents meeting, and marched to the National Museum of Natural History to protest climate-denier-oil-baron David Koch being on the museum's advisory board. The campaign to oust Koch from the board is being led by The Natural History Museum, a mobile museum bus that seeks "to include and highlight the socio-political influences that shape nature."
The campaign is part of a larger effort aimed at natural history museums by scientists and climate activists, to demand that scientific institutions cut ties with climate-science denying fossil fuel funders.
On June 18, Pope Francis released his climate change encyclical, Laudato Si, putting the heat on religious conservative politicians here in the U.S. At the Road to Majority conference hosted by the Faith and Freedom Coalition in DC, this reporter asked Sen. Ron Johnson and Governor John Kasich whether they agreed with the Pope that climate change is a moral imperative requiring action. Their answers were surprising.
Watch them in the video segment below. Featuring interviews with Sen. Ron Johnson, Rep. Steve King, Gov. Jeb Bush, Gov. John Kasich, Director of The Natural History Museum Beka Economopoulos, and climate expert Joe Romm. Subscribe to The Undercurrent on YouTube for more independent, on-the-ground political reporting from Lauren Windsor.
Calling all HuffPost superfans!
Sign up for membership to become a founding member and help shape HuffPost's next chapter