Co-authored by John Gomperts and Daniel Erickson
Youth voice has always been vital to social and political change in America. From the civil rights marches in Selma that we remember this month to recent presidential elections, youth voice has the power to change the course of the nation.
However, as we debate the best ways to create the conditions under which all young people have a full chance to succeed and thrive, too often we fail to listen to the very people we seek to support and educate -- young people. We forget that youth voice remains an instrumental tool for better understanding young people and recognizing that they matter and have valuable opinions and ideas.
Last spring America's Promise Alliance released "Don't Call Them Dropouts," a large-scale study in which we interviewed young people who had not graduated from high school to better understand what had happened, why they made the choice to leave school. The report clearly shows that for many young people, the decision to leave school reflected less on the situation in school and more on the need to respond to compelling life circumstances. Young people reported the need to work, to care for a family member, or just surmount an unexpected life challenge.
One of the key recommendations stemming from this report is to be much more serious and purposeful about listening to young people, and to place young people in central roles for designing and implementing solutions that will work for them and their peers.
So what type of supports do young people need to succeed in school?
This is just what over 100 students, in four high schools in Hillsborough County, Florida -- Armwood, Blake, Durant and Jefferson -- have asked and are trying to answer. Last fall close to 2,000 students in the county were surveyed with questions about academic challenges, school environment and what they needed to support their success.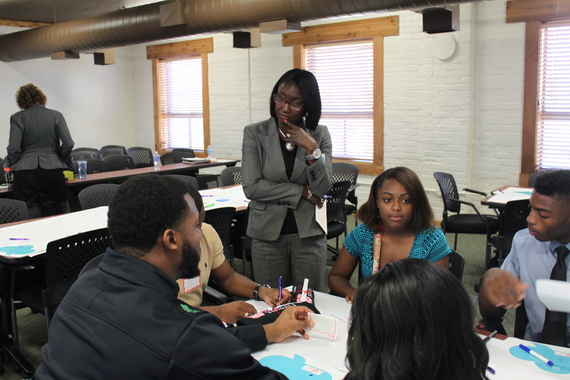 The results of these surveys were presented this week in Tampa at the first student organized and youth-led GradNation Community Summit. In partnership with the United Way Suncoast and the Alliance for Public Schools, "Grad Day 4 Tampa Bay" is one of 100 summits that America's Promise Alliance will support in communities across the country through 2016 as part of its GradNation campaign to raise high school graduation rates nationwide to 90 percent by 2020 and increase postsecondary enrollment and completion.
The research underscores several key findings. Students want positive relationships in their lives. They highlighted that these relationships do not have to be from what one might term a "traditional mentor," someone assigned specifically to them for the purpose of support. Students also expressed wanting time at school to develop deeper relationships with their teachers and supportive relationships with their peers.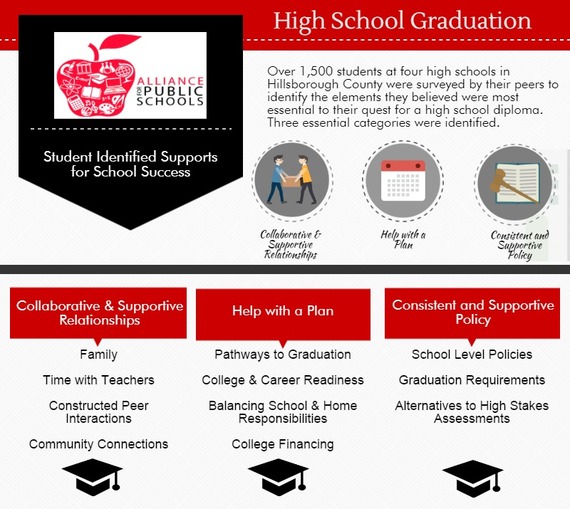 In addition, as more high schools focus on college readiness, students are asking for more help planning for life beyond high school graduation. A need for developing plans to get them to and through college was clear in their response to the survey questions. Respondents also wanted assistance in considering other options after earning their high school diploma, if continuing their education was not an immediate choice. Finally, students wanted education policy that gives them multiple pathways to success. They were weary of class promotion, course credit and graduation all being dependent on a single test and wanted alternative measures, if necessary, to show what they had learned.
Stemming from the survey results, each group of students plans to design and implement new programs at their schools to tackle at least one of the key challenges preventing students from obtaining a diploma. Armwood is putting into place a peer to peer support initiative. Durant is working with school personnel to close the achievement gap by creating an early warning system. Jefferson is looking to capitalize on its school pride to encourage more students to stay on track. Blake is focusing on achievements over deficits to shift the student conversation in order to have a more positive impact on school climate.
While challenges on the path to graduation might differ from school to school, what's clear -- directly from the voices of youth -- is that the solutions are usually the same -- greater need for genuine and consistent caring relationships and access to comprehensive life supports. By listening and working with young people, we can get closer to creating the conditions that all young people need to have a real chance to succeed in school and life.
John Gomperts is the president and CEO of America's Promise Alliance. Daniel Erickson, a high school senior, is a youth board member at America's Promise and one of the youth leaders for the Tampa GradNation Community Summit.
Calling all HuffPost superfans!
Sign up for membership to become a founding member and help shape HuffPost's next chapter