When the French stormed the Bastille (view image), there was an overwhelming sense of freedom which enveloped the citizens; a feeling that a horribly restrictive, complex and expensive environment had been eliminated. A blow had been struck by the individuals to their greedy captors.
A similar thing is going on right now in the music industry and the technology they use to compose and perform their product: Music.
For far too long now, musicians have been forced -- somewhat akin to being thrown in the Bastille -- to use exorbitantly priced Apple hardware: desktops, laptops: do-it-yourself software like GarageBand, Logic Pro and a clunky, complex and over-priced software called Pro Tools made by Avid (NASDAQ: Avid). Musicians have been waiting decades for an alternative which would allow musicians, pro and amateur to make their product -- think Henry Ford's mass manufacturing of his cars and how that pushed the planet into the "Industrial Revolution" -- and make it with more ease and less hassle, headache and most importantly, less expenditure.
When you can buy five H-P Pavilion G7 laptops for the price of one Apple Macbook Pro and still have money left over, well, you can clearly see the economic problem for a struggling or budding musician.
No less than Jack White of The White Stripes isn't using Pro Tools anymore and this could be a trend. White said that "I think Pro Tools is highly inappropriate to record music ... it's too easy to correct mistakes, it's too easy to fix things. We hear this sort of clean, plastic perfection that's been applied to all the tracks. That is not the kind of music we grew up loving and listening to and wanting to be a part of."
What was taking so long to develop an alternative, one might ask?
Now, there is finally an alternative for musicians and for $9.99 it's particularly appealing for those on a budget (that's probably most of them).
Welcome StageLight to the musicians' quiver. (And it's a quiver that will have significantly more money in it now.) Made by Open Labs, StageLight is an impressive, new development toy for a purely amateur, dreaming songwriter like myself. Their built-in SongBuilder feature is brilliantly simple to use. "We are going after a huge global marketplace which is growing every day: people who want to create music on their Windows PC," Jeff McMahon said strongly. McMahon is Open Labs' VP of Product and has been shepherding this product.
Though StageLight and Pro Tools serve fundamentally different markets and users, I want to compare them anyway because I think it's likely that StageLight -- as it grows up -- could be a significant competitor to both its peer product GarageBand and eventually, Pro Tools.
For the purposes of my little analogy, if Avid is Windows then Open Labs is Linux. Yes, I'm happy with that. Windows was the gargantuan, well-entrenched, market-dominant computer operating system -- think 'nerve center' of 96 percent of the world's computers. For musicians, Avid's Pro Tools was the one and only nerve center. Then along came Finn Linus Torvalds and his hybrid Unix kernel which was grassroots. Linux was much less expensive -- it was free then -- and was shiny, new and interesting. That's my point about Open Labs' StageLight versus Avid's Pro Tools.
One key point about StageLight versus GarageBand: though these two are most closely related in capabilities, users and markets served, StageLight is the one that can be used on Windows while GarageBand only works on Apple OS X and iOS. With the "Usage Share of Operating Systems" clearly showing OS X at a paltry 6.99 percent of the world's desktops, one can imagine the massive potential revenue of the under-served market StageLight courts.
Open Labs is based in Austin, Texas, "The Live Music Capital of the World" and has a significant competitive advantage over Avid and even the Apple juggernaut: their people and developers are invariably life-long musicians. This musical culture, this pathos, means that Open Labs' products are all made by musicians for musicians -- they know what their brethren need. McMahon told me, "A key thing to understand is that almost all of our employees have been involved with music most of their lives as artists and producers across a wide variety of genres. They've been using computers to create music with all of the leading tools for 15 years. They've seen incredible amounts of interest from people who don't want to use complex, professional-level software to create music ... they just want it to be simple, fun and social. So we took a 'clean sheet of paper' approach and created a product for them. Not only do we get our new StageLight users to start creating music but over time we're helping them develop as artists and explore what they're passionate about."
Founded in 2004, Open Labs has stealthily built an impressive product line for pro and newbie musicians and recently made strong headway in converting well-known, professional musicians to their Dell hardware/Open Labs software platform. Keyboard players such as Keith Emerson of Emerson, Lake & Palmer know Open Labs well; many musicians who have sold millions of albums have used these products for years.
Mike Shinoda is a founder of Linkin Park. This high-tech rap/metal band is perhaps the perfect launch partner for the Dell (hardware), Open Labs (software) and Linkin Park (distribution and ultimate product) strategic partnership.
Shinoda, a self-confessed former Apple/Pro Tools user, jumped ship to a Dell/Open Labs' technology base for onstage and offstage production about five years ago and has been using Stagelight since last year. Linkin Park, for those unfamiliar, has sold more than 50 million units worldwide and won two Grammys. Shinoda writes many of the songs, plays keyboards and guitar an is an indispensable personality in Linkin Park.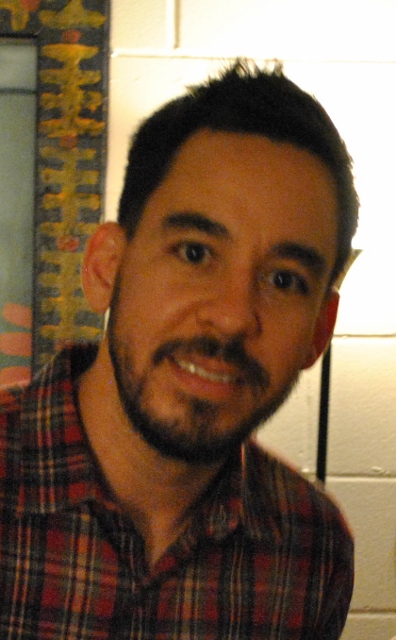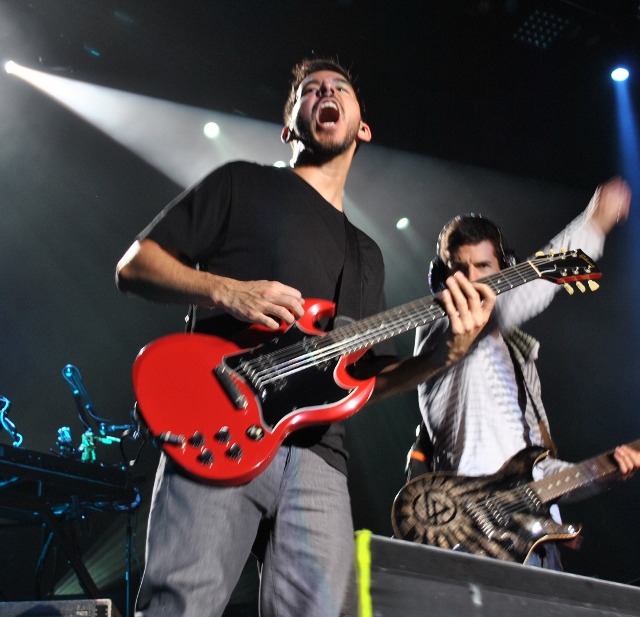 Mike Shinoda is a blur of energy onstage switching between his central keyboard duties; guitar shredding; and his signature rapping style lead vocals which are a Linkin Park standard.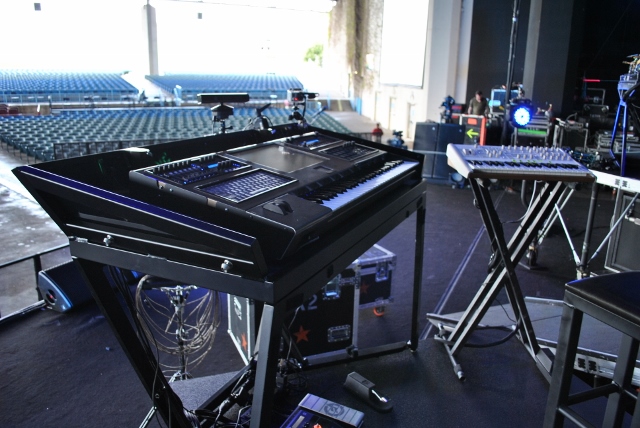 From his high-tech, software-dripping perch above, Shinoda provides the electronic backdrop for Linkin Park's million-selling hits. Shinoda who started Linkin Park from a bedroom recording studio, told me backstage, "Before we became Linkin Park, we were called 'Hybrid Theory' and when we changed the name, we chose the different spelling because we wanted the dot-com and Lincoln wasn't available, so we went for Linkin and it was Brad I think who really insisted that we get a dot-com."
"We started building our fan base in the early days with a mailing list that was mainly 'snail mail,'" Shinoda said, "but slowly it started converting to e-mail around 1999, I think. So fast-forwarding through all the technological evolution to now, our connection with our fans and the community of Linkin Park, really lives online. We've got this incredible connection with people all over the world to the tune of 45 million on Facebook and we're able to talk to them at any given moment. We try to keep our eyes out for cutting-edge ways to interact with them and we were early adopters on video and Instagram and using a program called Cinemagram where you have an extra level of creativity and can animate a particular section of a photo."
"I was telling somebody the other day that my Dad worked in aerospace and used computers all the time and I grew up hearing about rocket launchers and the Space Shuttle and when the Apple '1984' ad came out, he got Apple in the house and ever since then I've always had a computer in the house. That kind of set us on a course that led to where we're at now as far as the way we write music now. We've never been a band that jammed together, never one that sits around in a room figuring out parts of a song. We layer things into the computer almost like you would do in Photoshop. We don't all sit around and all make music and record it at once. When an idea pops up, it immediately goes into the computer and gets adjusted and moved around, you can change the sound of it or move it to a different part of the song entirely and that goes on from the moment the song begins to much later than most artists will usually do it; like we'll be doing stuff like that in mixing and sometimes even in mastering."
"When somebody picks up the Linkin Park edition Dell laptop," Shinoda continued, "you get all the functionality with a library of Linkin Park sounds and you can play them all and make your own music with them." When asked about sharing the proprietary Linkin Park sounds with everyone else without restriction, Shinoda said, "We're not really going to use that sound again, so we're happy to let people use them. They are very signature sounds and we want to share them with our fans and other musicians." (Shinoda can be seen talking more about Open Labs and StageLight at Dell World 2012 here.)
Brad Delson, LP's lead guitarist and founder with Shinoda and drummer Rob Bourdon, is also heavily tech-involved and savvy.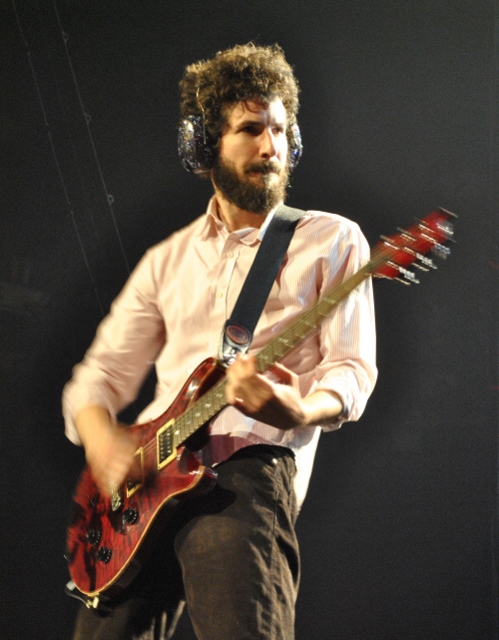 Delson ripping some leads wearing his trademark sparkly headphones
(Photo Credit for Mike Shinoda/Brad Delson/Linkin Park photos: Bill Robinson)
"Well, I still prefer cassettes," Delson dead-panned. Stunned, I said, "Really?" "No!" he quickly snapped, sending the room into guffaws, "I probably have a box of cassettes somewhere. Certainly technology has changed significantly."
Reader: I hope you're getting the idea that Shinoda and Delson are tech-oriented musicians and computer fanatics because they are.
"Mike Shinoda has been using our products for years," Jeff McMahon observed, "before it was all packaged up as StageLight." Open Labs' Product Manager Matthew Presley said, "StageLight came from our high-end, professional computer products and Mike was in a few weeks back to discuss his use of StageLight; talking about improvements."
Shinoda has been deeply involved in the design and UI of StageLight. On his webpage, Shinoda kicked off the new StageLight with a complimentary new song he made especially for StageLight users.
My experience using StageLight on a Dell XPS 12 Ultrabook was surreal in its excellence. Of all the consumer options for touchscreen Windows 8 operations and productivity, I think this 'Gorilla Glass,' machined aluminum and carbon fiber beauty is the bomb. Its 'flip and fold' screen allowing laptop-to-tablet conversion in about two seconds is smooth and has been tested to 20,000 flips (which works out to 10 flips per day for seven days a week over 5.5 years). And of course, the touchscreen allows for maximized ease-of-use and productivity of the StageLight software.
Let's take a closer look at StageLight.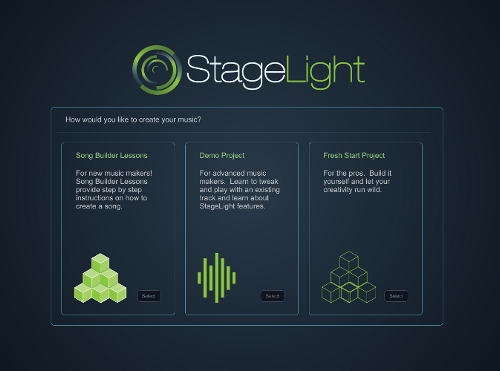 The start page is very clean, just like the rest of the smooth User Interface. The "Song Builder Lessons" area off the home page is a place where even a village idiot like me can make my own songs and have fun too, I tried it -- hesitatingly at first -- but started experimenting with it and found that the more I tried (and sometimes failed), the more I learned and was able to create for me, what were fairly impressive tunes.
The "Demo Project" and "Fresh Start Project" areas are for increasingly advanced musicians and songwriters.
As Open Labs' McMahon pointed out the focus of the product, "StageLight is not targeting the much smaller market of 'prosumer' musicians and audio engineers, although they can also get value from our product. Our dream and objective with StageLight is to stop requiring people to create music from the perspective of an audio engineer and have to spend hundreds of dollars just to get started. Our team is full of people who have already gone through that pain!" So dear reader, that gives you the clear strategic focus of StageLight.
But could StageLight be more? Could it be the new industry standard songwriting and musical development software? Yes, I think it can.
When a novice like me is creating a new song, it's easiest to dive right in and start playing around with the different tracks and see what emerges. It may be garbage but it my be a work in progress too, in which case it should be saved. The unique ingredient is this: StageLight makes it easy to experiment and has lots of 'prefab' (my word, not theirs) sounds, rhythms and lines which can be dropped in or taken out easily. The 'fiddling' capability of this neat program is the 'secret sauce.'
The first place a novice songwriter should go to compose a song is the drums. Being a one-time drummer when I was 10, gave me no upper-hand whatsoever, nor did I need one, as StageLight makes it as easy checking one of the green boxes where you want the snare, hi-hat or cymbal to go or dropping in a pre-fab drum line and it's off to the races.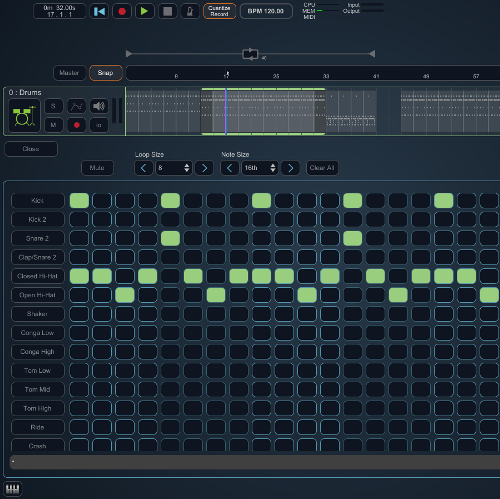 Bass guitar would be the next logical instrument to incorporate and finally, guitar, piano, organ, etc. Downloading actual Linkin Park sounds and loops is easy and can make your rudimentary new song sound great.
StageLight integrates with SoundCloud easily giving that social media option to songwriter users. Though I had a lot of fun making my music -- if you can call it that -- on StageLight, I don't think I'll be uploading my songs anytime soon. You other budding Mike Shinodas may well want to do so.
When I told Shinoda that I thought it was great that musicians would now have a more affordable option for creating their music, he countered, "It's great that it's only nine dollars and ninety nine cents but it's not the price that's most important to me, it's that it be a really great software product that is high-quality and easy to use. I picked the brains of tons of Logic users to find out what works in their mind about Logic, so I could help incorporate that ease-of-use into StageLight."
All in all, the emergence of StageLight as an alternative to a market-dominant software/hardware platform is a very good thing indeed. We all know what happens when there's no choice and only one consumer option: expensive, substandard products at an unrealistic profit margin and no competition to keep the product honest. And that can never be a good thing.
REAL LIFE. REAL NEWS. REAL VOICES.
Help us tell more of the stories that matter from voices that too often remain unheard.