The 2020 Intuit report starts with: "imagine a world where companies motivate and manage employees who never set foot in their corporate office." This is a distinct possibility in coming years. Technology is empowering an increasingly mobile workforce. It's not just employees who are mobile -- the makeup of workers in the U.S. (and beyond) is changing. Statistics today suggest that 33% of the workforce is currently independent or freelance, and as the infographic below suggests, this number is projected to be 40% by 2020.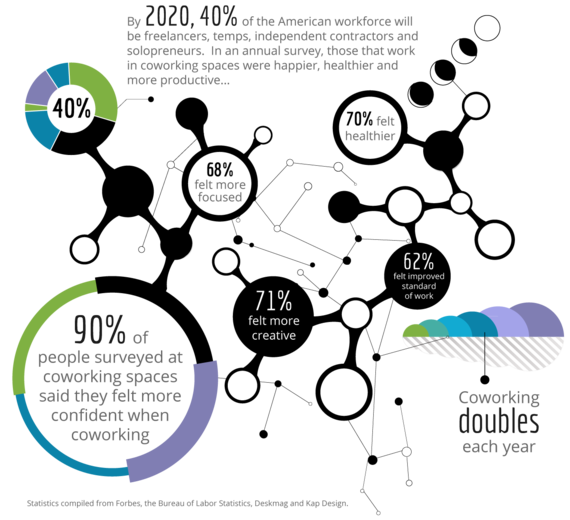 Although many in the U.S. still have not heard of coworking, it will be a critical part of the evolving workforce. Starbucks coined the term "third space," which became an alternative to a home office, or a place to escape the office when you wanted to get work done. So if home is the "first space," work is the "second space," and coffee shops are the "third space," then perhaps coworking is the "fourth space" for the evolving workforce.
Although there is some argument about when coworking officially started, this timeline will give you details you didn't know you'd need. This map of Chicago provided by Jamie Russo of Enerspace Coworking shows that in the Chicago metro area alone over 40 spaces have opened in just the past three to four years. WeWork, the largest shared space provider in the US, states as their mission: "To create a world where people make a life, not just a living." This simple statement rings true, and many coworking spaces likely long to steal this mission statement as their own, as creating a place people love to work seems to be a common thread among these types of spaces. Clearly, WeWork is on to something: it was just valued at 10 billion dollars after less than five years in business, and valuations like this are bringing more visibility to this emerging category.
Who is using these coworking facilities?
1. The Freelancer- One of the main target audiences are the freelancers, again, projected to be 40% of the workforce by 2020. There are many unexpected challenges to going out on your own. Nicole Greene with NextSpace in Chicago explains, "Going freelance, workers lose their infrastructure, including social infrastructure, physical infrastructure, and health insurance. That [infrastructure] needs to be replaced. As society shifts and loses that infrastructure, we provide a net." Many of these spaces provide more than just social outlets; they offer other benefits such as group healthcare plans, payroll, benefits, legal, healthcare, web services, and even yoga. Benjamin Dyett with Grind in New York/Chicago describes it as, "Our job is to make their lives easier; to take away distractions so that they can focus on work. We are just the stage."
2. The Startup- Many startups or small businesses are beyond the point where they can work in their home, but are not ready to sign that lease yet. Coworking spaces offer them a professional office where they can work, meet with clients, and make connections to grow and run their business. Rahul Prakash, a partner of Hatch Today in San Francisco shares this example: "People from different backgrounds, who have different ideas, can cross-pollinate. A couple of years ago two people were sitting next to one another at our space. 18 months later they merged companies and raised 18M in financing. They wouldn't have known each other if they hadn't come to Hatch Today."
3. The Corporation- Although most would estimate corporate users to be less than 10% of users of Coworking spaces today, use by this group does seem to be growing. Liz Elam of Link Coworking in Austin says, "Corporate America has a problem. They have lots of corporate real estate and uninspired people. So, what do you do? Send them home. Now they are even less inspired." According to the above mentioned Intuit Report, more than 80% of corporations are planning to increase their use of the flexible workforce in coming years. Russo says, "Corporations are exploring coworking spaces to cut down commute times and explore innovations. Coke now has a coworking space. One of their objectives is to bring outside people in, so it is open to the public. Right now there are more tactical reasons for them to look at coworking spaces. Everyone is trying to figure out this serendipitous interaction piece. How does that work and how do you make sure that's actually happening?" Similarly, Verizon just announced a new development in partnership with Grind which they cite as a "center for new innovation and collaboration. "
4. Niche audiences- As the Coworking movement evolves, more niche explorations are popping up. Many of these facilities are solely focused on tech startups or some could be referred to as "entrepreneurial incubators" for a specific sector, but other niches are being explored as well. Prakash shared this example: Bespoke, a coworking facility inside the Westfield Mall in San Francisco, recently opened as a coworking and event space catering to retail. This allows brands to work, learn, and grow with exposure to 20 million annual shoppers.
But as anyone who has worked in a coworking space can tell you, it's so much more than a place. As Rebecca Brian Pan of Covo Coworking in San Francisco says, "You come for the space, but you stay for the community." Many of the founders of various coworking spaces around the country came from wildly different fields. There are many variations on stories like Pan's, "I got into coworking because I am the ideal user. I am not completely useless when I am by myself, but if I work at home for more than one day a week I lose all productivity. I realized that there are so many people just like me that think working from home and coffee shops will be awesome. They are leaving a traditional work environment, but upon actually trying it, after a few months, it's hard to be your most productive, happiest and most fulfilled self in that environment. Coworking solves all of that, it's almost magical."
Community was perhaps the most important -- and recurrent -- word in the interviews for this article. Dyett says, "In the future, coworking will become mainstream. New workers don't want to work for a company, they want to be a part of a community. I never got good business advice from my dog... that's why people pay the money to be part of a coworking community."
Popular in the Community