Israel expressed "deep disappointment" Thursday over a meeting the Russian President Dmitry Medvedev held this week in Syria with Hamas leader Khaled Meshaal, saying the organization must play a role in peace efforts.
Calling Hamas "a terror organization in every way," Israel's Foreign Ministry said in a statement that it expected Russia to stand by Israel in its struggle against Hamas.
"Hamas is a terror organization whose declared goal is the destruction of the state of Israel...Hamas is responsible for the murder of hundreds of innocent civilians, among them immigrants from the Soviet Union and also Russian citizens."
Russia, the United States, the European Union and the United Nations, make up a quartet of Middle East mediators. The U.S., EU and Israel consider Hamas a terrorist group. Russia insists that Hamas should not be isolated.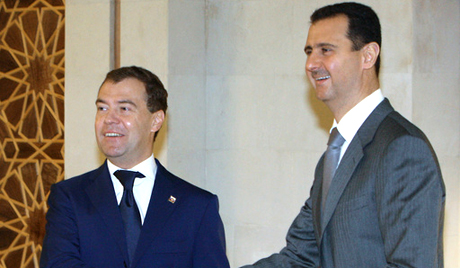 But Israel is not the only country that has expressed disappointment over the Russian president's trip to Syria. On Wednesday U.S. State Department spokesman Philip J. Crowley told reporters that Washington was cautious over any nuclear deal that included Syria. His comments came after reports surfaced that Russian President Dmitry Medvedev and his Syrian counterpart Bashar al-Assad had discussed the possibility of nuclear collaboration in Damascus earlier this week.
Russian news agencies quoted Assad as saying that he and Medvedev had discussed the possibility of building power plants, including nuclear ones, in Syria.
In September 2007, Israeli warplanes bombed a site in eastern Syria, which the U.S. later claimed was a nuclear installation aimed at building an atomic bomb with aid from North Korea.
Also this week, Turkey and Russia agreed on a $20 billion project in which Moscow will build and own a controlling stake in Turkey's first nuclear power plant, as the two Cold War-era rivals try to build a strategic partnership.
The Middle East was a staging area for Cold War conflicts between the United States and the Soviet Union for many years until the USSR collapsed in 1991. Are the Russians making a comeback into the region?
Recently there have been debates and articles published warning about the revival of Cold War-style regional confrontation due to Russia's recent activities in the Middle East; I disagree. Russia has no interest in repositioning itself as a regional superpower, nor does it have the desire to maintain a military strategic foothold in the region. Unlike the United States and China, Russia is not dependent on the Middle East for its energy supplies. The Russians are interested in economic opportunities, and for the past several years Russia has been re-establishing economic links and developing new interests in the region, including cooperation with Israel.
Although Russia differs with the US and Israel over its policy towards Syria, Iran, Hezbollah, and Hamas, its objective is to establish regional stability. For instance, Russia and the United States share the objective of the two-state solution for Israel and Palestine and agree on many issues about Iran's nuclear file. Russia's engagement in the region should be viewed positively. The advantage Russia has over the United States is its ability to talk to all parties. The Russians are back, but this time in a positive way.
REAL LIFE. REAL NEWS. REAL VOICES.
Help us tell more of the stories that matter from voices that too often remain unheard.