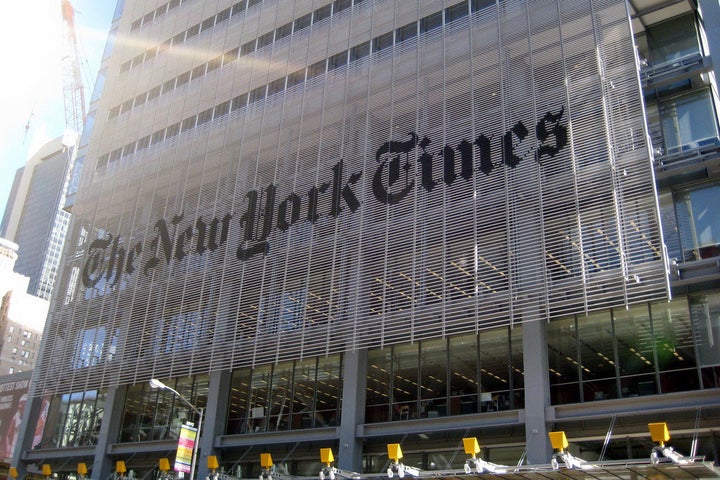 "It's not print paper that I value for itself of all things; it's the ability to keep in place this fantastic news gathering machine. If economics change enough, if people don't want print paper, then why should we put out a print paper?" (Former Deputy Managing Editor and now Culture Editor, Jonathan Landman; June 9, 2010; interview with me)
Once again, the New York Times Company quarterly report is disappointing to Times Company employees and investors. A July 26 New York Times article by Amy Chozick was headlined "New York Times Co. Posts $88 Million Loss, Citing About.com Write-Down." What does it mean in terms of the future of the New York Times as a newsgatherer and to the New York Times Company as a solvent corporation?
The bad news is that print advertising is down for the News Media group -- which includes the New York Times, the International Herald Tribune and the Boston Globe as well as 15 small newspapers -- 8 percent (following a 7.2 percent decline in print advertising in the first quarter). In the bad news category, we must also place results for online advertising, which the Times Company had once projected to grow exponentially and which is down by 1.6 percent. More bad news is that print advertising is by far the largest component of the $220 million total in advertising revenue with less than a fourth, $52.6 million, from Internet advertising.
Until very recently the Times Company expected enormous and continuing gains in online advertising, but, among other things, the Times Company probably charges purveyors less than it once projected and sells some ads to consolidators at bargain prices. Furthermore, Internet advertising within newspapers competes with the company's own site, and that puts a lower value on it for readers and thus purveyors. Why would you read a detailed ad for a restaurant or hotel when you can find much more information at the purveyor's own site? Nor is it possible to charge enough to make print advertising revenue increase dramatically at a time when purveyors continue to flee print advertising. For example, major NYC department stores once took full page and even double page ads every day in the Times. Now there are fewer stores, and they are spending dramatically less on advertising.
The good news is that circulation revenue at the News Media Group rose 8.3 percent, to $233 million, and thus exceeded advertising revenue. This increase derived from a price increase in home-delivery subscriptions and single-copy sales of the Times put in place last January and the continued growth of online subscription plans. The Times Company reported, "Paid digital subscribers to the Web site, e-reader and other digital editions of the Times and the International Herald Tribune were up 12 percent, to 509,000, at the end of the second quarter from 454,000 in March."
One problem with Internet circulation figures in terms of attracting advertising is that, whereas a print newspaper is often passed around among a family and thus reaches a number of people, the person reading on a computer or a smartphone rarely calls over someone to share the article. Another is that online readers often pay less attention to ads than print readers, in part because they spend far less time reading online than those reading print.
How much leverage does the Times have to increase its circulation? It cannot increase subscription prices too much, The current 26 week price for "all digital access" is $150 (advertised as a discount from $227.50) and for nytimes.co and smartphone apps $65 (advertised as a discount from $97.50) and, having cut articles from 20 a month to 10, the Times Company can only cut ten more. As for print circulation, how much more than $2.50 for the daily newspaper and $5 for Sunday within the metropolitan area and $6 elsewhere will subscribers pay? Home delivery prices continue to rise, too.
There was a time when About.com -- an online reference resource with many ads and content that now can be mostly found elsewhere -- generated significant revenue to balance the decline in print advertising as well as the disappointing results in Internet revenue that never has met expectations. But as with many Internet products, the importance of About.com diminished and thus the value of the asset decreased to the point where the Times Company took a $194 million "write down" on this Internet business that it bought in 2005.
Newsprint and salaries continue to rise, but the news and editorial staffs in recent years have been cut by 25 percent to about 1100, although these staffs are still much larger than those of other newsgathering companies. In the second quarter, the Times Company cut operating costs by 0.3 percent but expects them to rise in single digits in the third quarter.
While the New York Times has a long history of insulating its business side from its editorial side -- and by that I mean the entire process of producing the newspaper each day -- increasingly over the past decade more of the newspaper's policies have been disguised versions of economic decisions. Or as former managing editor Arthur Gelb told me, echoing the words of Deep Throat to Bob Woodward in the film version of All the President's Men, to understand the plight, policies and decisions of the New York Times Company and how they affect the products we read, I should "follow the money" (Arthur Gelb, June 11, 2005 Interview with Schwarz).
But following the money has not been so easy. As I discussed in detail in my recent Endtimes? Crises and Turmoil at the New York Times, 1999-2009 (Excelsior Editions: SUNY Press, 2012) overly optimistic articles about the Times Company's financial reports and maneuvers -- articles written by the Times' staff reporters -- have often been as much advertising as facts. All too often the articles on the Times Company in the past eight years have been an optimistic spin based on its corporate interpretation of events. For example, the Times articles about its finances have never given a full explanation of why Janet Robinson was let go as CEO last year and why she was paid the enormous severance settlement of $4.5 million for a maximum of 15 hours consulting a month.
I have urged that financial articles about the Times Company be placed under the auspices of the Public Editor who would outsource the piece to a financial expert insulated from editorial supervision and the hierarchy of the Times. Such a person could provide trenchant analyses of the Times's financial reporting of the Times Company and would also try to discover the business reasons behind changes in strategy and personnel.
Let us consider future scenarios that address the Times Company's financial problems. The Times, with its twenty-six foreign news bureaus, is the only US paper or media outlet that still provides substantive foreign coverage. The major networks and cable stations as well as other newspapers and Internet appropriate this news from the Times site without paying the Times anything. (Some small media outlets pay the New York Times News Service a pittance for using its material.) Sharing the enormous costs for foreign news -- including the elaborate newsgathering operations that address Pakistan, Afghanistan, Iraq, Iran, and now Syria -- would help make the Times more economically viable.
Will the Sulzberger family, lead by the current publisher Arthur Sulzberger, Jr. be able to hold onto their controlling ownership of the Times Company or will the members of the family trust which controls the B shares capitulate to economic exigencies because their dividends have been cut to zero and their stock once in the low fifties is now selling at less than $8 a share?
To be sure the second quarterly earnings of 14 cents per share -- before extraordinary charges took it down to a 60-cent loss per share -- beat some estimates and the capitalization (share price times number of A shares, the ones that are publicly traded) crept back over a billion. But, while the Sulzberger family would never sell to a Murdoch -- who is much despised within the Times Building -- were the family unity to dissolve, a multi-billionaire like Bloomberg or a Buffet or a Carlos Slim could buy these shares at a premium without blinking.
Will there come a day when the print newspaper is obsolete? Quite a few newspapers are now published only online and more will follow. In my book Endtimes? Crises and Turmoil at the New York Times, 1999-2009, I have argued that the Times will publish a print newspaper for the foreseeable future, but it eventually might take a different form from the huge daily newspaper we now have. We know many readers complain that the print Times requires too much time, and we know that people spend much less time reading newspapers than they once did. For the print paper to survive in the long term, one model might be a much shorter newspaper on the model of the New York Times Company-owned International Herald Tribune plus an optional separately marketed weekly magazine or perhaps even a daily magazine for those willing to pay for such an option.
Author of the recently published Endtimes? Crises and Turmoil at the New York Times, 1999-2009 (Excelsior Editions: SUNY Press) Daniel R. Schwarz is Frederic J. Whiton Professor of English and Stephen H. Weiss Presidential Fellow at Cornell University. He can be reached at drs6@cornell.edu
Popular in the Community