Every day, social entrepreneurs from around the world are seizing opportunities others miss to improve broken systems, innovate and develop solutions to change society for the better. Over the past few months, I've traveled to India, Brazil, Southeast Asia, East Africa, Western Europe and the U.S. to visit 50 NGOs and social enterprises with my team at Epic Foundation.
These organizations were selected from more than 1400 applications we received across 85 countries. They are working hard to enhance education, economic empowerment, health, rights and protection for children and youth around the world.
During my journey, I've had the fortune of meeting a number of ambitious and persistent social entrepreneurs along the way. In this story series, you will hear from some of these indomitable leaders.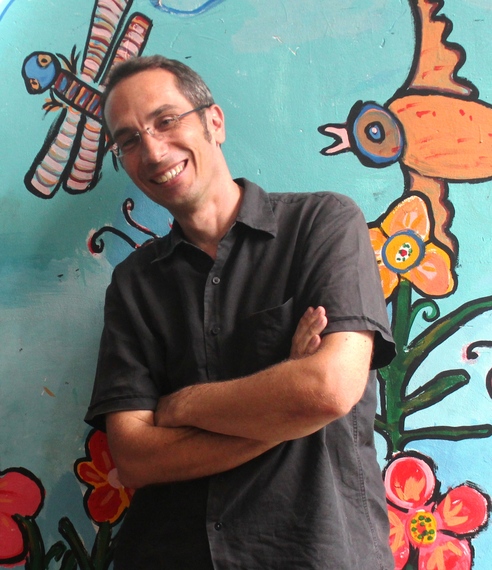 (Sebastien Marot, Executive Director, Friends-International)
Alexandre: What is a great story you can share about one of your beneficiaries?
In their own words, here are just two of the many great stories of young people we work with to help build their futures. (*names changed to protect their identity)
Rasmei*: "I'm 19 and I'm from Battambang province. My parents divorced and I lived with my mother but she couldn't support me and my siblings so I dropped out of school. My older brother used to beat me up so I asked my mother if I could go and live with my uncle in Poipet. There I met some guys who persuaded me to use drugs. The first time, I only smoked cigarettes and then I started to use yama (Amphetamines) and sniff glue. I was working as a construction worker and earned a little money. However, I spent all the money on drugs with my friends for three years. The situation was not good, and one day my uncle saw me using drugs so he sent me back to Battambang to my family. After that, I ran away to Phnom Penh and stayed at a Pagoda. There I met with the Mith Samlanh (Friends program) staff who work on the streets. They told me about the dangers of using drugs and the risks and problems on the streets and about their other services. I decided to stop using drugs and leave street life behind. I was supported and referred to access drug detoxification and treatment and then I had the opportunity to study motor mechanics in the training class of Mith Samlanh. I finished my studies and decided to be self-employed. Mith Samlanh supported me to start my own business at my family's house in Battambang. At first the business faced some problems such as lack of customers, as not many people knew the place and my abilities. However, after 3 months, I've had more and more customers and can earn enough income to support all of my family. I am so happy because Mith Samlanh staff continue to visit and help me with any problems I have. Now I am proud I can support my family, and our living conditions are so much better than before."
Sovann*: "I'm 8 years old. I've got four brothers and we live with my mum and dad. In 2014, while I was playing outside, two people from Friends came over to me and started speaking with me and asking questions about my family, my parents, our living situation and if I go to school. They came to see my mum and talked to her about our family condition, my education and future plans. They also explained the stuff they could help us with and what we could do to improve our life. My mum decided to allow me to study in remedial class at the Educational Center. I'd never been to school before, my mum and dad were too poor to send me, so this made me very happy. When I got there, I made new friends and was happy to have classes with my teacher, who always pays a lot of attention to me. I really enjoy the classes, the activities we do are fun and everybody likes to learn. While I was at school, the social worker helped my mum start a business. Today she sells porridge on her motorbike around the city. After I finished the remedial class, I got school materials and went to study at grade one in primary school. On my first day of school I was very afraid because I didn't know anybody. But gradually I got more comfortable and confident. I've made lots of new friends and I like being at school, especially when the school follow up officer comes to see me. At the moment, the social worker is also trying to help my oldest brother to come and study vocational training at the center." 
Alexandre: What was a life changing moment for you? 
In 1994, I came out of a restaurant after dark and saw about 15-20 children and youth sleeping on cardboard on the sidewalk, and at the same time a black luxury car was driving by. I got so upset (social justice anger + anger at money directed to develop a country while leaving children behind) that I decided to do something about this. Along with two other people (Mark and Barbara) we decided to put our strengths together and do something about this; but rapidly, as they were both working, they asked me to be in charge. I did not sleep all night weighing the consequences on my life (I was planning on continuing my travels to live and work in Japan) and then decided to "go for it" -- I must say that at the time I thought it would be for a few months only...
Alexandre: When you were 15, what did you want to do? 
Alexandre: How do you want people to remember you? 
The only ones I want to remember me are my family and friends. I want people to see 'Friends', not Sebastien, as this would not only be wrong (it is a team effort and we are all responsible and share the success) but also harmful (the organization needs to live beyond me).
Alexandre: The three most important things for you to run successfully your organization ?
A strong vision/mission: keeping the best interest of the child at the center of our work, high demands on quality, promoting a developmental approach (not charity), with creativity (knowing new development models are needed and the needs for system change) and pure stubbornness...
Building a strong and well organized organization: building teams, with strong delegation and trust, leading to keeping our work local, yet within a global view.
Together: together with the children/youth, parents, teams, partner NGOs, donors, and Government.
Stay connected
I will be posting stories of incredible social entrepreneurs we are working with all summer. For more photos and stories, follow me on Facebook, Instagram and via Twitter @alexandremars.
REAL LIFE. REAL NEWS. REAL VOICES.
Help us tell more of the stories that matter from voices that too often remain unheard.