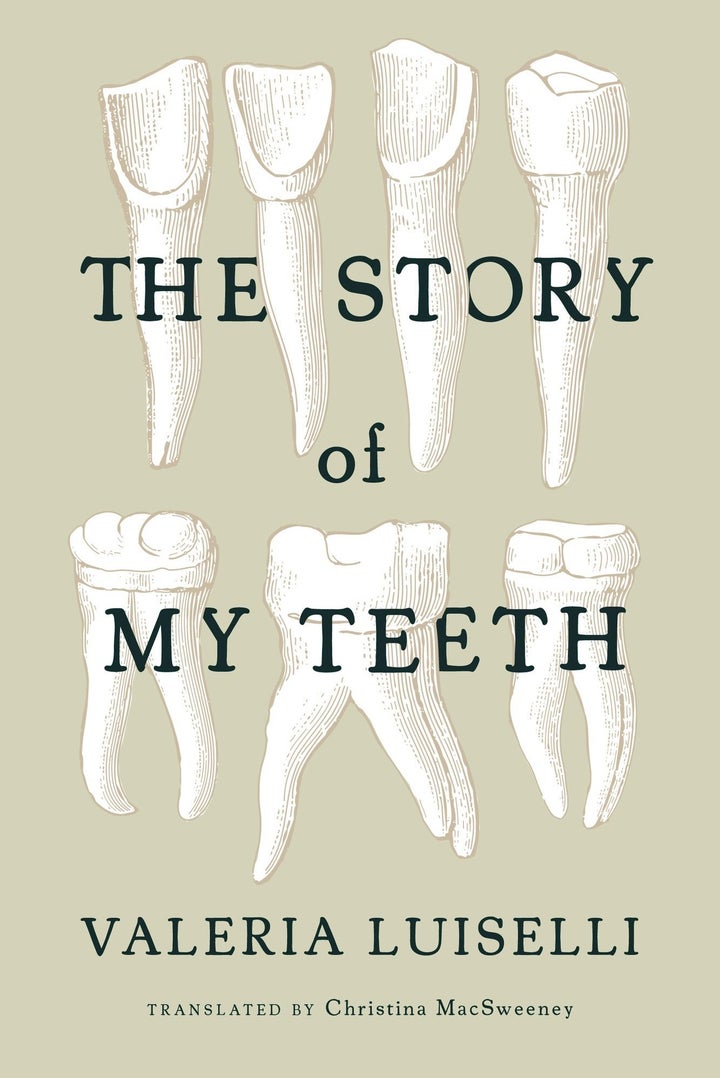 The original draft of Valeria Luiselli's sophomore novel was first read aloud to factory workers at the Grupo Jumex factory near Ecatepec, Mexico. The workers, she explains in her afterword, knew her only as the character Gustavo Sánchez Sánchez, even as she was receiving notes with their feedback and writing new chapters for them to hear. When she recorded an audio message to her original audience at the end of the project, it was the first hint they'd received of her real identity.
The Story of My Teeth, on every level, is obsessed with artifice and the slipperiness of identity. Now translated by Christina MacSweeney, in collaboration with Luiselli, the book mimics her own play with authorial identity. In the book, Gustavo Sánchez Sánchez, also known as Highway, claims to be writing a "dental autobiography," though the question of whose words we're actually reading later becomes complicated.
"I'm the best auctioneer in the world," he begins. He narrates his youth quickly, dwelling on his interest in collecting, poor teeth, ill-chosen marriage, and his brief career as a clumsy interpretive dancer. When middle-aged, he hears of two life-changing success stories: a wealthy author who replaced all of his teeth with implants, and a man who took up auctioneering and raked in cash. Soon, he tells us, he's abandoned his wife and son to study auctioneering in Oklahoma, where he not only masters the existing arts but invents a new technique: the allegoric method, which seems to consist of telling fabulist tales about each item on the auction block.
Though he quickly achieves massive success as an auctioneer, he says, he chooses to remain in his hometown of Ecapetec, where he builds a turreted palace of a mansion and fills it with collected items purchased at auction. Also purchased at "an auction of contraband memorabilia in a karaoke bar in Little Havana": his new teeth. "[T]he sacred teeth of none other than Marilyn Monroe," claims Highway, who wins the set and has them implanted into his own mouth.
Highway and his teeth, new and old, endure more twists and turns than he could expect at this moment of triumph, but always he's unbowed and in ultimate control, like a battered but sinewy action movie hero. His auctioneering genius -- which he establishes by including full transcriptions of particularly impressive auctions -- is his superpower.
""I wasn't just a lowly seller of objects but, first and foremost, a lover and collector of good stories."
But just as we've acclimated to his self-aggrandizing tale, Sánchez gives way to another narrator. Voragine, a wannabe writer, meets our hero at a point in life even Highway would have to describe as rock bottom. He befriends the auctioneer, agreeing to write a dental history in exchange for hearing all the tales of seemingly barren Ecapetec. Yet his reflection on the life of Sánchez bears little resemblance to the man's own account, save for the barest facts.
The Story of My Teeth originally came to readers as the work of Gustavo Sánchez Sánchez, and it comes to a wider audience as an autobiography by a character called Gustavo Sánchez Sánchez, but repeatedly, this persona is picked apart, revealed to be nothing more than a vaporous disguise or a cloud of hot air.
Unless that, itself, is more real than we tend to think. His auctioneering strategy rests on outrageous exaggerations and even extravagant lies, but he sees them not as lies, but tangible improvements in value. "I wasn't just a lowly seller of objects but, first and foremost, a lover and collector of good stories, which is the only honest way of modifying the value of an object," he claims. Most would say this is the least honest way, but his logic also resonates with the mission of a fiction writer.
In a delicately layered, wryly funny fashion, Luiselli is exploring the actual value of telling made-up stories -- what it can do, what it can't, what can't be quantified. She even includes a chronology constructed by the translator and a fact-checking report from the publisher, which knot Highway's story still more closely to the warp and weft of his historical and cultural milieu. Luiselli prompts us to consider the uneasy relationship between fact and fiction, and whether the two can ever truly meet, or even become one and the same.
Luiselli's witty, wise metafictional novel unravels the boundary between truth and fiction.
What other reviewers think:
LA Times: "At every turn, the book has this careful architecture, even if it feels like a strange, blind alley. Luiselli writes with a confidence that demonstrates she's going somewhere."
The Millions: "You probably think that this sounds like performance art, which it might be, or like an MFA candidate's anxiety-induced nightmare. But the thing is, Luiselli pulls it off."
Flavorwire: "At most every turn, in fact, The Story of My Teeth breaks faith with the prevailing notion of a collaborative work as a sideline and asserts itself as a fleet, allusive, often humorous novel-essay."
Valeria Luiselli has previously published a novel, Faces in the Crowd, which won her a National Book Foundation "5 Under 35" Award, and an essay collection, Sidewalks. Born in Mexico City and raised in South Africa and South Korea, she currently lives in New York. The Story of My Teeth was translated by Christina MacSweeney in close collaboration with Luiselli.
Readers who love stories within stories, fantastical realism, and sly absurdist humor. Fans of Gabriel Garcia Marquez, Italo Calvino and Virginia Woolf.
"I'm the best auctioneer in the world, but no one knows it because I'm a discreet sort of man. My name is Gustavo Sánchez Sánchez, though people call me Highway, I believe with affection. I can imitate Janis Joplin after two rums. I can interpret Chinese fortune cookies. I can stand an egg upright on a table, the way Christopher Columbus did in a famous anecdote. I know how to count to eight in Japanese: ichi, ni, san, shi, go, roku, shichi, hachi. I can float on my back."
"For months after the operation, I couldn't keep the grin off of my face. I showed everyone the infinite line of my new smile, and whenever I passed a mirror or a shop window that reflected my image, I would raise my hat in a gentlemanly fashion and smile at myself. My thin, ungainly body and my rather ungrounded life had acquired serious aplomb with the appearance of my new teeth. My luck was without equal, my life was a poem, and I was certain that one day, someone was going to write the beautiful tale of my dental autobiography. End of story."
by Valeria Luiselli, translated by Christina MacSweeney
Coffee House Press, $16.95
The Bottom Line is a weekly review combining plot description and analysis with fun tidbits about the book.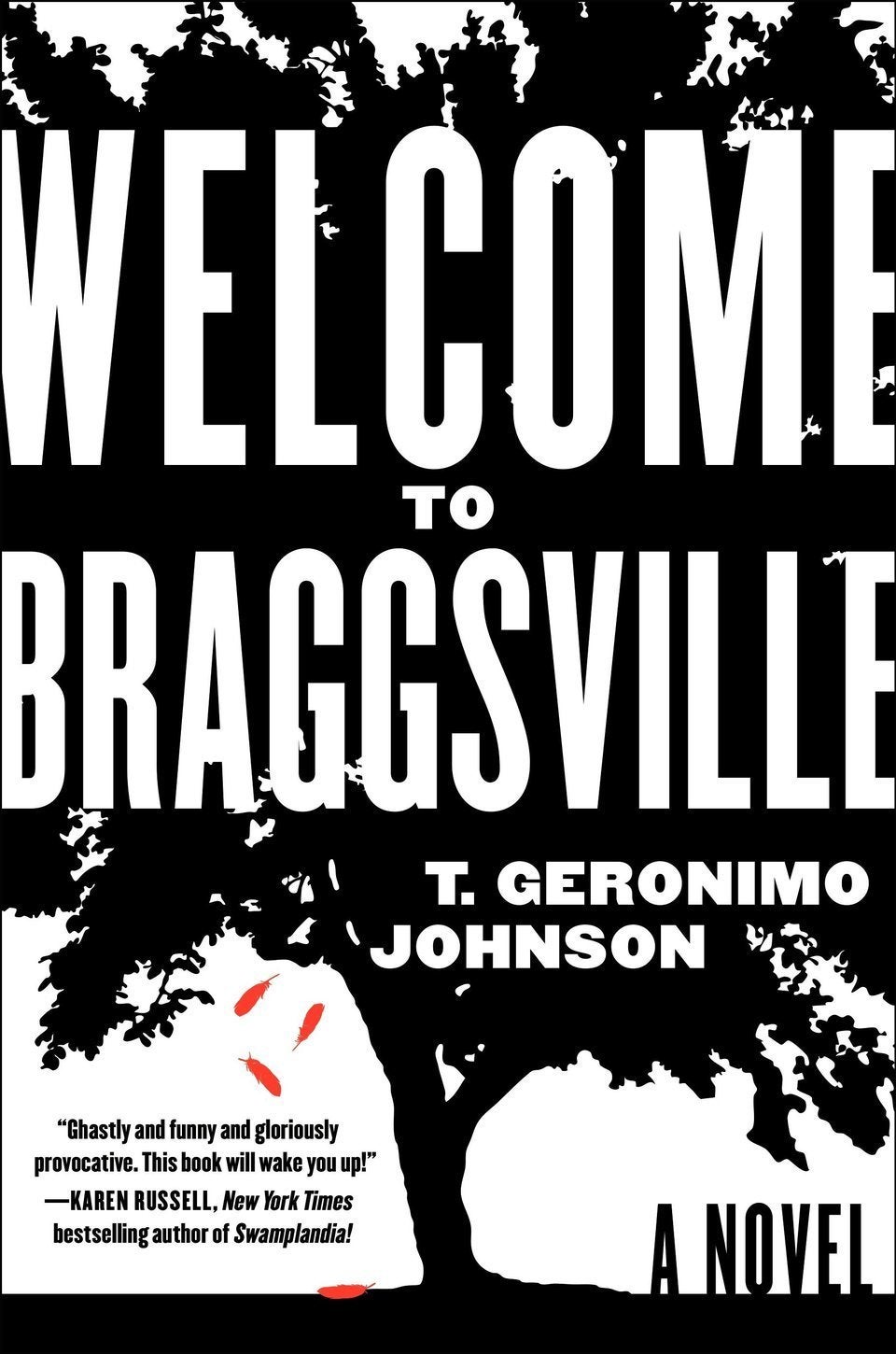 The Best Books Of 2015
Related
Popular in the Community