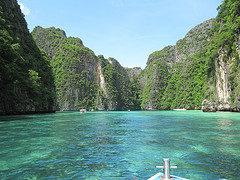 The scent of frangipani spilled from the trees like the earthy aroma of soil and sand rising from a gushing waterfall. It was July: the tip of the rainy season in southern Thailand, and early morning showers would greet us as the sun rose behind a cloak of clouds. When the storm had passed, and streams of light began to saturate the inside of my hotel room, I was lifted from bed and escorted by the seductive, balmy air to long stretches of sand that kissed the shoreline. Backed by lush rainforest, the beach was truly a tropical euphoria. The water, a hue of soft azure, commanded my attention as it flirted with the caressing rays of the sun. I could have spent each day of my trip the same way: basking, swimming, drinking and pondering, but there was far too much to see and appreciate in Krabi.
Approximately three hours east of Phuket, Krabi, sleeps undisturbed and unshaken. The large province is comprised of over 130 islands, most of which can be compared to Eden. There is something Jurassic about the place, with layers of rainforest lining the mainland and shrouds of limestone precipices piercing low lying clouds, you can't help but feel as though time has been rewound by thousands of years. It's possible to drive for miles without seeing a soul, or a store, but press on westward and you'll eventually be greeted by the tussle of glowing seas.

It is in this part of Thailand that the infamous Maya Bay lies. And yes, many of Krabi's stunning islands are inundated with tourists, boats, and bad food, but nothing can strip away the raw beauty of it all. The good news is that there are still many low-key islands to explore that are equally as beautiful, but to see them you might have trade the guided tours for the romantic putter of a long tail boat. Most day trips embark, and return to the main port in Ao Nang, one of the busiest spots in Krabi.
My advice would be to skip a stay in Ao Nang (although, I would suggest trying out a few of the many great restaurants here), and head straight for Tubkaak Beach, which is approximately 45 minutes from Krabi Town. I spent six nights on Tubkaak Beach at a nice boutique hotel called the Amari Vogue. The hotel calls itself five-star, but I would say it is more in the four range. There are only a few small resorts to choose from, minus the luxurious Ritz Carlton Phulay Bay that was built last year on a secluded section of the beach, but the setting makes up for the lack of accommodation choices.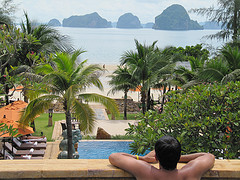 Many times after returning from a day trip to the islands, or a jaunt to the Krabi markets, my husband and I would walk along Tubkaak Beach leaving the only footprints in the sand. It became a love affair: my attention stolen by the raw beauty, tranquility and majestic vistas. The terms sunrise and sunset took on new meaning after watching the horizon bleed magnificent hues of scarlet, orange and purple as the blazing star levitated and sunk behind the clustered Hong Islands.
The allure of this region of Thailand is its seductive scenery, deserted ambiance and quiet spirituality. Most of the province is uninhabited; dotted with gorgeous coconut palms, rubber trees and coffee plantations. There are several temples worth a visit, most notably, Tiger Cave Temple, where visitors can climb the 1,272 makeshift steps, carved into the side of a limestone cliff, to a spectacular scenic overlook.
If Eve was indeed tempted in a place such as Krabi, I can understand how her will failed her. As a sucker for simplicity, I too fell victim to the complex beauty of the region, and intoxicated with the leisurely lifestyle. I trusted anyone I met, climbed cliffs that were nearly vertical, and prayed with strangers at local temples. Krabi had all the charm of Thailand bundled into a quieter, quainter package, and I had fallen deeply in love.