"Travel is the only thing you buy that makes you richer." We are suckers for travel quotes, and when we think of the experience, knowledge and friendships we have gained in our voyages around the world, these words really ring true. One of the drawbacks of travel is that once free of a daily routine that includes regular outdoor exercise, travel can also make you fatter. How many times have you heard a friend or colleague say that she needed a vacation from her vacation? Many people return home from trips feeling exhausted and drained thanks to overstimulation and overeating. Touring cities on foot provides for a decent amount of activity, but any calories burned walking are removed from the balance sheet by a sugary frappé and square of baklava or a glass of vino tinto and a plate of spicy patatas bravas.
We have discovered the secret to an active vacation that offers multiple benefits. We arrive back home with our pants sliding off our hips and our bellies just a little bit flatter, and we get to see a side of many destinations that is not possible either on foot or by tour bus. If you are a runner, it is easy to pack your favorite sneakers and some shorts and t-shirts that add almost no weight or volume to your luggage. As neither one of us was born to run (sorry, Bruce) we have to bring some larger equipment with us. One of our gigs places us on cruise ships visiting exotic ports of call for several weeks at a time, and we always make room in our luggage for our portside means of transportation. Our folding bicycles, inflatable kayak, and blow-up paddleboards provide us with portable pieces of exercise equipment and a means of touring a city or island that offer unparalleled views and experiences.
Imagine swimming atop your paddleboard just past the gentle wave line of the warm south Pacific in Moorea, and then standing up and paddling to a private island for a romantic picnic lunch. With the Boardworks Shubu X Rocket or Shubu Raven this fantasy is an achievable reality. SHUBU is Boardworks' shorthand for "Show Up and Blow Up," and that moniker is no exaggeration. These relatively lightweight boards fit into a backpack, allowing you to easily transport your SUP to any beach, lakefront, or stretch of river, and then inflate onsite with its own sturdy hand-pump.
Ours fit into a large duffle bag for air transport, and they have provided hours of enjoyment in the South Pacific and Mediterranean. At 12 feet, 6 inches, the Raven features eye-catching graphics, and is useful for touring, fitness paddling, racing, or river running. The matching adjustable Raven paddle sports the same Native American-inspired graphics and weighs in at less than two pounds. The slightly shorter X Rocket is based on a race board design and is ideal for fitness, touring, or racing. It also has extra-side handles for cross-country carrying and added width for extra stability.
On other trips we pack our folding Bike Friday bicycles, which allow us a unique view to any city or island. We can easily cover up to 40 miles in a somewhat leisurely day of riding. Our normal MO is to choose a beach that we can ride to in about two hours, with beautiful seafront sightseeing and ocean breezes in both directions.
Based on our body measurements and biking preferences the Eugene, Oregon-based company custom-built bicycles for us. Unlike many folding bicycles, Bike Friday's models fit into a Samsonite suitcase (available for an additional charge) and are well within weight guidelines of most airlines. (Oversized or overweight luggage can incur hefty fees!) We are significantly different in size, and the 16-speed Diamond Llama is made for larger riders, while the Pocket Expedition is perfect for shorter-statured cyclists.
We have also been known to travel with our Coleman inflatable two-man kayak, which never ceases to pique the curiosity of fellow cruise passengers and native children alike. This kayak is the least expensive and most lightweight option in our arsenal. We have had ours for over 15 years -- it has even outlasted several battery-operated pumps -- and the updated models all look terrific. The Coleman kayak easily fits into a large suitcase along with two multi-section paddles that assemble and come apart easily. Its bright yellow color is easily visible to people in motorboats and on jet skis, and five inflation chambers means that even with a puncture or leak (which has never happened to us) you can get back to shore safely. We also bring along a net dive bag for easy transport to the beach. Our Coleman kayak inflates in minutes, and it has provided hours and hours of warm-weather entertainment that hardly feels like exercise.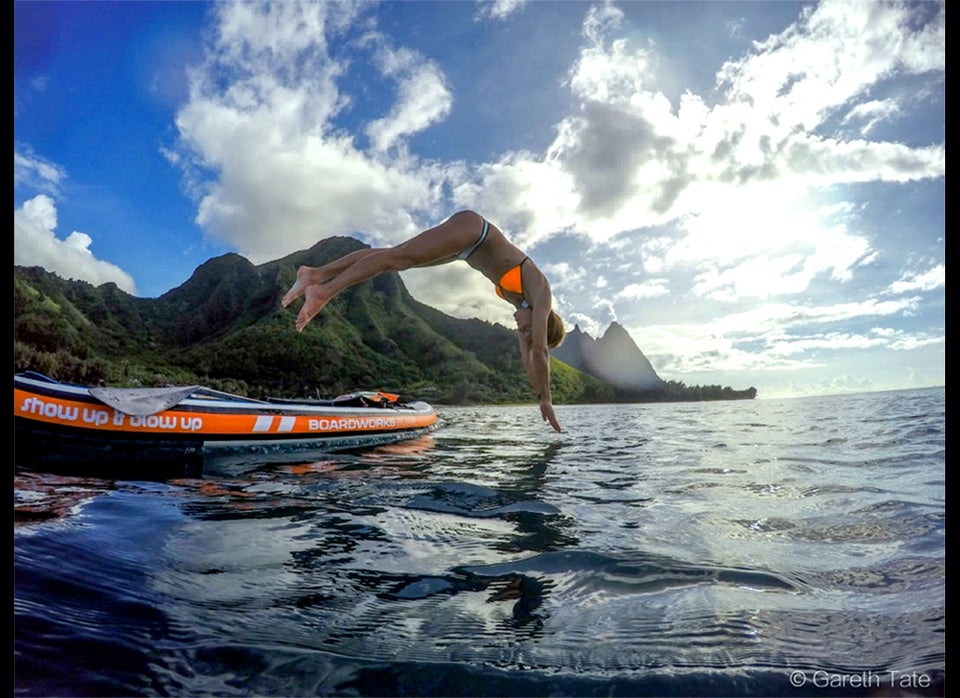 See the World While Staying Fit