I have never been to an ugly Christmas sweater party. I have never been to a Christmas party, for that matter. I grew up in a predominantly Jewish neighborhood, joined a predominantly Jewish sorority in college and moved to a predominantly Jewish neighborhood when I had kids, so the opportunity never arose. The majority of my friends have always been Jewish. Until now. Four and a half years ago, I moved to a quaint country town where the landscape abounded in rolling hills. On top of one sat a synagogue, but the Jewish population, I was to learn, was not even a full one percent of the neighborhood. The friendships I developed were with people of different backgrounds, beliefs and religions -- how wonderful for me! We get to share in each other's holiday traditions; I get to teach their children how to play dreidel and they, in turn, invite me to join in their Christmas festivities.
My evite arrived a few weeks ago, so I had plenty of time to hunt for an ugly Christmas sweater... or so I thought. I've seen photos of them on Facebook and in old movies, but I had no idea where to get one. I figured I could visit a thrift shop, but the thought of digging through the piles of sweaters to find the perfect one seemed overwhelming, so I turned to the only place I knew I could find the perfect sweater -- eBay. On a hopping Saturday night, I sat by my computer and found the perfect sweater vest, complete with Santa, reindeer and elf appliques, sequins and holly leaf buttons. I sat vigil by the screen until I entered my bid with 15 seconds left and swiftly won my first ugly sweater auction!
There was an identical one on auction ending 20 minutes later, and 20 minutes later, I snagged it! My husband and I would go as twinsies. I was set... or so I thought. Shipping can be slow, and one sweater arrived two days after purchasing it, while the other was nowhere to be seen.
I waited with baited breath for the mailman to come on the day of the party. It was a snowy day and the mail was late, but it finally arrived at 4:30. No sweater. Crap! The party was in 2-1/2 hours and I had nothing to wear. Not only did I not have an ugly Christmas sweater for my first ugly Christmas sweater party, I didn't have a nice Christmas sweater, or even a red or green sweater, to fake it. But this glitch in the plan was not going to stop this crafty Jew from enjoying her first Christmas party. To the craft room!
I had just donated a pile of sweaters earlier in the week, so I didn't have one I was willing to sacrifice for the night. Since my husband got to wear the authentic ugly sweater, I thought it only fair of him to donate one of his to my cause. I took a big, black, fuzzy, non-Christmas sweater and got to work. If ever a day to have glitter, this would have been it, but alas, I despise the stuff, so I had to look further. I pulled out fabrics and came up with a Christmas-themed idea. I looked all over my craft room for supplies, but it was time to pull out the big guns -- my daughter's crap collection (a.k.a., her treasures).
I found small toys, mis-matched socks and Mardi Gras beads from the last Bar Mitzvah we attended and got to work. I made a "Stockings hung by the chimney with care"-themed sweater. I took scraps of fabric left over from shadow box orders, some felt from a school project, a little ribbon and my handy-dandy glue gun and put together a masterpiece. I found some small LED lights that I used at my 40th birthday and hooked them to the Mardi Gras beads and lit them up for the party. I added mini toys to the "stockings," including a red-and-white-striped zebra, a stuffed dog and, as an homage to my people, a couple of dreidels.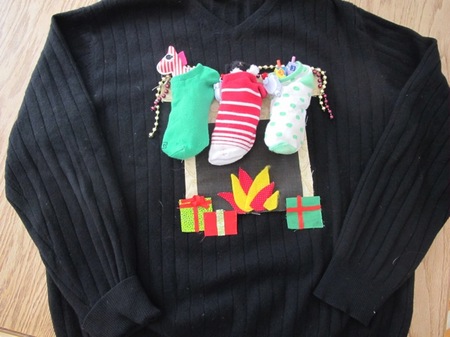 Once the sweater was complete, it was time to make the guacamole and jump into the shower and head out to the party. My husband put on his sweater and, good sport that he is, allowed me to dress him up in a ladies' turtleneck and add sound buttons to his sweater. When pressed, they played 10 seconds of Christmas music (and one Hanukkah song).
We had a great time at the party, checking out all of the sweaters and taking our very first photo in front of a Christmas tree. As the night went on and the Christmas music played and the drinks flowed, the host and hostess passed out secret ballots to vote for the best ugly Christmas sweater in the women's and men's categories. As the drumroll drummed and the first place for men's ugliest sweater was announced, my husband was victorious! I was happy for him because he really got into it, playing his musical sweater for anyone willing to listen. And then it was time to announce the first place sweater in the women's category. To my surprise, it was me! I really was shocked because mine was thrown together and not an actual Christmas sweater, but I guess it was ugly enough to win. How ironic -- the Jews swept the contest!
We had such a wonderful time at the ugly Christmas sweater party, and although it's not our religious tradition to wear ugly sweaters and drink milky cocktails, these Jews can't wait until the next Christmas party. And next time, I'll ditch eBay altogether and make an ugly sweater for each of us.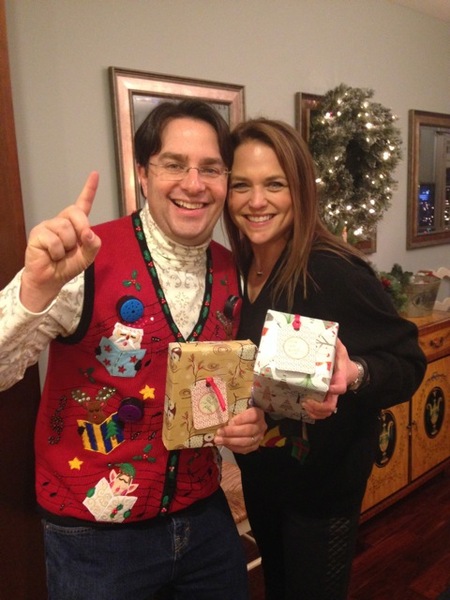 REAL LIFE. REAL NEWS. REAL VOICES.
Help us tell more of the stories that matter from voices that too often remain unheard.