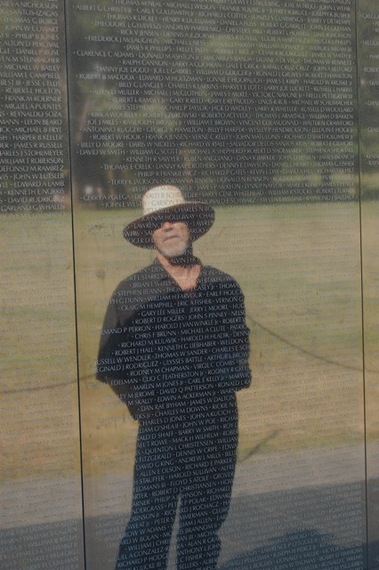 Vietnam veteran ponders the sordid result of youthful patriotic fervor at The Wall in Washington, D.C..
As official United States forges ahead with its controversial 13-year Commemoration of the 50th anniversary of the Vietnam War, which, incredibly, extends from May 28, 2012 to November 11, 2025, and the world celebrates the 40th anniversary of the end of the American War in Vietnam this month, here's a simple exercise that will help you comprehend the horrific magnitude of the loss of human and, more specifically, Vietnamese life during that war.
The next time you're standing at the Vietnam Veterans Memorial in Washington, D.C. thinking about the 58,000+ Americans who died in what was essentially a war of national liberation, perhaps including friends or family members, reach out, touch the black granite, close your eyes and multiply The Wall by 65.
Let that sink in for a moment:
Let's call it the Vietnamese Monument, the Ultimate Wall, inscribed with the names of 3.8 million mothers and fathers, sons and daughters, grandmothers and grandfathers, nearly 9 percent of the population at the time, including 2 million civilians, who were murdered by the U.S. military, its client state and various allies, e.g. Australia and South Korea. A U.S. veteran friend had this to say about one of the 1.8 million Vietnamese souls who perished fighting to rid their country of yet another foreign invader: "One of our victims was searched when the shooting stopped and the bleeding continued and was found to be in possession of a medal. Our interpreter told us it was for heroism at the Battle of Điện Biên Phủ fourteen years previous. While we were sent to war to fight communism, he had fought his whole life for his country's right to self-determination. We traveled 12,000 miles to kill him for that." (From I Would Rather Die Alone -- for Peace: A Soldier's Dream by Steve Banko, 2003)
3.8 million is not a statistic pulled out of thin air; it is the number of violent war deaths, according to researchers from the Harvard Medical School and the University of Washington. It does not include Vietnamese who died as a result of war-related disease, hunger or lack of medical care.
3.8 million lives snuffed out, 3.8 million family members become memories, ancestral spirits and pictures on family altars, 3.8 million fates frozen in time. In case you're counting, that's the current equivalent of 28.87 million Americans (as of 4/24/15) or the combined populations of Delaware, New Mexico and South Dakota. To put it in historical perspective that's over 60 percent of the number of Jews generally thought to have been exterminated during the Holocaust.
If you want to begin to grasp how it's humanly (or inhumanly) possible for so many people to be killed in such a short window of time and why so many U.S. veterans of that ill-begotten war suffer from PTSD, are disproportionately represented among America's legion of homeless and continue to take their lives at an alarming rate, read Nick Turse's best selling book, Kill Anything That Moves: The Real American War in Vietnam.
If the truth sometimes hurts, this particular truth -- in all of its technicolor brutality -- will devastate and haunt you. It will also set you free, as in no more illusions and no place to hide, both essential prerequisites to overcoming an inglorious past.
Now close your eyes again and let a much larger and longer polished black granite monument take shape in your mind's eye, the Vietnamese Monument, which extends from the Capitol to the Lincoln Memorial to the Washington Monument to The White House and back to the Capitol. It's not all about U.S., is it?
Support HuffPost
The Stakes Have Never Been Higher
Popular in the Community