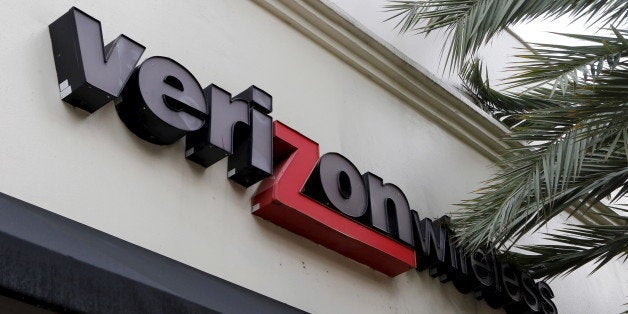 PART I: We were told that the phone networks are 'unprofitable' and that the companies are 'losing lines'. Yet:

5G Wireless Is Based on "Fiber-to-the-Antenna" (FTTA)... That's Right--a Wire.
Verizon's 2015 annual report states that the company is focused on a "digital-first mobile future", while AT&T's 2015 annual report proclaims that it is "Mobilizing your world".
But there is a problem with this. Verizon and AT&T (with Centurylink, who has a deal with Verizon for wireless) are also the incumbent, utility state-based telecommunications companies that have monopoly control of critical wired infrastructure, including the "Broadband Data Services" (BDS), (formerly called 'special access') which are the broadband wires that are used by businesses as well as for wireless services.
And the more we dig, the more we believe it's time for some serious state and federal investigations of the financial ties between and among each companies' wireline business and their other affiliate companies--such as Verizon New York or Verizon Massachusetts, the wireline incumbents, and Cellco Partnership, which does business as Verizon Wireless.

5G Wireless Is Based on "Fiber-to-the-Antenna" (FTTA)... That's Right--a Wire.
It turns out that the planned, new 5G wireless services are also known as 'Fiber-to-the-Antenna' because they require using fiber optic wires--that's right, wires. 5G is based on putting up lots of small antennas (known as 'densification') that connect every few hundred feet to a wire. So, the phone companies are now upgrading the networks to fiber optics for their wireless companies and while the wires may pass your home or office--you may not/can't get the fiber optic wires for fiber-to-the-home or for your office.

Boston Fiber? Don't Look Behind the Curtain
In our previous article we focused on Verizon's upcoming FiOS deployment in Boston, Massachusetts, and we uncovered some new things worth mentioning.
First, Boston is a 'test' to have people buy off on the idea of using a wireless connection to the home instead of wired services for broadband.
NOTE: I'll quote the actual transcripts provided by Seeking Alpha; thus the grammatical anomalies.
Verizon's CFO Francis J. Shammo, during the Verizon 1st Quarter 2016 earnings call, April 12th, 2016, confirmed that their plan is for "LTE" wireless, which will use the fiber optic wires that are supposedly for FiOS.

"When we looked at Boston, it was a city that we needed to densify for the LTE network. So as we looked at all of our current COs around the footprint and the fiber that we already had there, it kind of was a no-brainer to us to say, we can do the fiber bill (build) out to expand the LTE densification. But we also can use this opportunity with only an increment of about $300 million over the next 5 years to 6 years to expand our FiOS footprint."
But this plan appears to be different than the hype, I mean story being told--that Verizon is spending $300 million on their FiOS fiber-to-the-home services. We found:
Some/Most, if not all of fiber optic wiring has already been put in. After doing interviews with IBEW union crews who work in New England, the unions have been laying large bundles of 864 fiber optic strands (think of a thick plastic pipe), over the last two years in Boston.
These wires are already in the 'wireline' construction budgets. This confirmed Fran Shammo's statement that there wouldn't be any wireline CapEx for this--it's already been put in. (And notice it says "Wireline" budget.)

"So the $300 million, you're not even going to see it in the Wireline capital numbers. It's already there."
Start with Wireless. So where's the $300 million going? Well, it looks like the plan is to start with these wireless broadband services, not fiber-to-the-home.

"We will start this mid-year this year for especially the 5G and 4G LTE densification. We will start the Internet capability with the passing homes."
No Rush on the Cable Franchise. And, in talking to other experts, they pointed out that Verizon DOES NOT yet have a LFA (local franchise agreement/license) in Boston--i.e., they can't offer traditional bundled cable TV service but can offer OTT (Over-The-Top) video service.
"Boston is a unique situation. So we announced the intent to expand FiOS in Boston. Understand that the LFA has to be negotiated with city council. And that is a public process that will take approximately 6 months. We have been in discussions with some broad framework, but we need to go through that process. It's also important to note that the LFA is only for video linear TV services. It is not required for broadband or 5G."

See the pattern? The cable franchise is only for cable TV service and therefore the fiber-to-the home is tied to the cable service; it isn't required for the wireless delivery of 5G services, such as voice, video and data.

IMPORTANT: No Plans for Other Cities-- I.e., the Entire East Coast of America Is Toast.
To add insult to injury, Verizon has no plans to upgrade any other city on the East Coast except Boston, even though Verizon controls the state utility networks from Massachusetts to Virginia (and part of CT).
Shammo stated on the Verizon 1st Quarter 2016 earnings call:

"Well, I think what we'll have to do... is we'll take one city at a time. Obviously we still don't have Alexandria built out or Baltimore. So if we get to a position where we believe we're going to need to invest in densification in those cities, then that's an opportunity for us to take a look at it. But at this time we're concentrating on Boston."
Verizon is a $130+ billion dollar company, but is now planning on holding the entire East Coast hostage for months/years while it 'trials' a six year-$50 million dollar a year investment in FiOS, which may really be wireless, and the $300 million is, well, make believe? While we expect that Verizon will do some fiber-to-the-home deployments and some 'opportunistic' FiOS deployments, we believe that the focus is fiber for the wireless substitution of the wires.
AT&T Appears to be Doing the Same Thing.
AT&T also plans to use their 'fiber-to-the-home' plans, required by the AT&T-Direct TV merger, to build out their wireless infrastructure.
"AT&T Technology Plans: FTTP Expansion Benefits Wireless"
Quoting Scott Mair, AT&T senior vice president of technology planning and engineering:

"As AT&T densifies its landline network by deploying fiber to the premises (FTTP), an added benefit is that the fiber also can be used to support the company's small cell plans. Outside its local service territory, AT&T is deploying fiber to support small cells - and once in place, that fiber can support business services".
The Original Plans Were to "Shut Off the Copper Rural Networks", Starting in 2012.
In June 2012, Verizon's Lowell McAdam, Chairman and CEO of Verizon Communications, speaking at the Guggenheim Securities Symposium, stated that Verizon's plan was to 'cut the copper off'.
"And then in other areas that are more rural and more sparsely populated, we have got LTE [Verizon Wireless] built that will handle all of those services, and so we are going to cut the copper off there. We are going to do it over wireless. So I am going to be really shrinking the amount of copper we have out there, and then I can focus the investment on that to improve the performance of it."
AT&T also made it clear that they were planning on 'shutting off the copper' in rural areas as well. In their 2012, "VIP" Plan, AT&T stated:
"In the 25 percent of AT&T's wireline customer locations where it's currently not economically feasible to build a competitive IP wireline network, the company said it will utilize its expanding 4G LTE wireless network -- as it becomes available -- to offer voice and high-speed IP Internet services."

Wireless to Replace the Wires--Not Just In Rural America Anymore.
And in 2016, it isn't going to be just rural areas but cities that will have their wires shut off. The 'last mile'--the connection to the home or office--will be wireless.
And reflecting on the Boston plan, Verizon's CEO Lowell McAdam said at the 44th Annual J.P. Morgan Technology, Media and Telecom Conference, May 24, 2016, that Verizon, it appears, is not going to be deploying fiber to the home, but fiber-to-the-antenna--as an overall plan nationwide; a 'wireless-last-mile'.

"For 4G, it gives us the ability to deal with enterprise customers that may want a fiber into their home or into their business or a small business that might want fiber into their business and it sets us up for 5G, which I'm sure we'll talk about where that gives us the ability to do the last whatever we'll call it the last mile is probably not a mile, but the last distance into a home and provide either broadband over the top video or streaming video over one architecture."
Motley Fool is reporting that at this event, Verizon 'hinted' that 5G will be offered nationwide.

"Forget Your Cable Provider -- Verizon Just Hinted at Nationwide 5G Home Broadband

"The telecom giant said it doesn't see why it wouldn't eventually bring ultra-fast wireless broadband to the entire country."
There Are a Series of Subplots: Get Rid of the Unions, Get Rid of 'Wired Regulations', Get Rid of Other Expenses--Are Just a Start.
Lowell McAdam, at the event, claimed that they will make more money with wireless.
"So if you think about it if I can get we than say a 1000 meters of a business and I give them a router, a basic router that has a 5G service inside it and I'm up and operating immediately, I mean, think about the difference for the carrier in the cost structure; half of our cost to establish high speed data whether it's consumer business is inside the four walls of the business.

"Once you go wireless, you don't have to run co-ax, you don't have to do any of those high labor intensive activities and so you light up service overnight. So then you get into how much capacity do you want and you can - the pricing models can change dramatically."
Does 5G Actually Work? Not Yet.
5G doesn't exist and the official tests will continue through 2017, so these plans are just hype.
For example, 5G can't cover 1000 meters-- (3280.84 feet); 5G is very local and covers up to 300-500 feet. I asked a number of experts, including telecom veteran, Fred Goldstein, Principal of Interisle Consulting Group, who had the best line:

"5 follows 4 so whatever they end up doing is called 5G."
"The general consensus of 5G is that it will have a short range and it can't penetrate hardly anything. So yes it needs lots of fiber, and since it doesn't penetrate walls, it won't work indoors, or in cars, and it has a problem with trees in the way. And it requires lots of fiber optics to give it the speed as it is based on lots of small antennas attached every few hundred feet. (Note: According to Wikipedia, a standard NYC block is 264 by 900 feet; many cities are a square 600 feet.)

"Most areas never got upgraded to fiber optics, especially rural areas ... and the services offered to others to use the fiber -- Broadband Data Service (BDS also know as Special Access) services are still mostly a monopoly. So who will find it useful? Some city areas, stadiums... Not much of the rest of the country, either. But hey, they have gear, and stock, to sell."
Wireless Replacement Is NOT New - And People Don't Want it.

AT&T's Carbon Hill, Alabama "IP Transition" Trial is at "Phase Zero" at the End of 2015.
People have not been clamoring to replace the wires with wireless, as told by the failure of AT&T's "IP Transition trials" conducted over the last few years. While AT&T proclaimed this 'transition' was a technology change to "Internet Protocol (IP)", it was just a con to shut off the wired networks to go wireless--and people revolted.
The Daily Mountain Eagle's article, November 2015, (the link on the AT&T site doesn't work) quotes AT&T, pertaining to the trial going on in Carbon Hill Alabama, a rural area, and AT&T actually said that this project is now at 'Phase 0' -- i.e., nobody cares and throwing money at it still didn't work. The article quotes AT&T's Director of Regional and External Affairs, Terri Williams, at a town meeting:
"Since we've come and addressed the council, we've talked with several leaders, citizens and business leaders trying to make sure we know the community before we start working on, what we're calling, our trial for Carbon Hill to be the example of rural America for when we start changing how we do business with our phone services... So, I just want to give an update. In the past month, we've had a meeting with the FCC, and that was one of the things we were really talking about, different phases of this trial and how it would work. Well, we're officially in phase 0, which is what they're calling it, so we're still in an education mode where we're going around the community and talking about what services people are having and using, and finding and identifying any problems." (Emphasis added)

Verizon New Jersey's 100% Fiber Optic Coverage Is Now More Wireless Crap.
The plan to eliminate the wires is everywhere and nasty - very nasty. Take the case of Verizon New Jersey, which was able to create a 'stipulation agreement' with the NJ Board of Public Utilities to erase the existing laws that require 100% of Verizon NJ to be upgraded, replacing the aging copper wires with a fiber optic service capable of 45Mbps in both directions by 2010.
These are not 'loosey goosey' commitments but part of the state law dubbed "Opportunity New Jersey" and it was signed in 1993. Verizon not only didn't do any upgrades from 1993-2005 in New Jersey--or any other state that had a similar agreement, such as PA, or MA, but Verizon NJ actually filed annual reports claiming it had fulfilled the obligations. In 2001, Verizon NJ, (which covers 96% of the state) claimed it had completed 52% of their territory; in that year zero percent of residential households had bi-directional 45Mbps fiber optic services.
It's a long story, but customers were overcharged about $15 billion and counting to do these upgrades as state laws were changed to give the company more profits to be used for the construction of the replacement of the copper wires with fiber-to-the-home.
Instead, FiOS was deployed, starting in 2007, to about 50% of the Garden State, then stopped, and after a series of twists and turns, the fiber optic deployment requirement was erased in the remainder of the state for a wireless substitute, which is now only required to deliver the slow speed of DSL and not the statewide buildout of fiber to the premises with 45Mbps delivery that it committed to in 1993.

And this is the requirement for Verizon New Jersey, from the state law and regulations, which passed in 1993.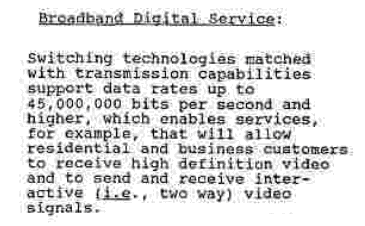 How is it that the speed of broadband slowed down to about 4Mbps download, 1-2Mbps upload?
The New Jersey Rate Counsel has appealed the State's decision, but every Verizon East Coast state had some commitment to do fiber optic services, starting in the 1990's; every state changed the laws to give Verizon's state utilities more profits to allegedly be used for new construction--which wasn't done.
The Fire Island, New York Revolt
But all of these pale to the Fire Island revolt after the Sandy Storm that took out large parts of the telecommunications networks in areas of New Jersey and New York. Fire Island was hit particularly hard and the plan was to force customers onto the infamous "VoiceLink" service, a wireless phone replacement that can't do basic regular copper wire phone-based applications like DSL, or any data application, from sending faxes to alarm services. In the end, Verizon was forced to replace the existing copper on Fire Island with another wire, this one fiber optics.
Read "The Book of Broken Promises", (now on sale as an inexpensive PDF for summer reading) for details about Verizon, as well states in the AT&T and CenturyLink territories.
These new plans aren't simply, then, a new wrinkle in the failure of these companies to properly upgrade, as promised, their network infrastructure for very high speed broadband services over a period of decades.
This is the end game designed to maximize their profits at our expense.
PART II: Time to Investigate the Wireline and Wireless Financial Cross-Subsidies of AT&T and Verizon
There are so many problems with all of this wireline-wireless collusion that it is hard to know where to start...
Popular in the Community